Acting on the Indian government's proposal, supported by 72 countries, the United Nations announced 2023 as the International Year of Millets (IYOM). The Narendra Modi government is promoting millets,
also known as a superfood or smart food
, with the belief that it could play a crucial role in handling issues like malnutrition and food security.
Recently, many federal ministries have been hosting "millet lunches," inviting journalists to the events.
Moreover, India has plans to include millet-based food in the G20 marquee event, which will be held in September in New Delhi, since the country has been holding the presidency of the group since December 1.
However, the government's aim lies beyond creating a global awareness campaign or simply hosting millet lunches.
What Are Millets?
Millets are a group of small seeds grown as grain crops, also known as cereal, in dry and sub-tropical regions. They are the oldest foods known to humans and possibly the first among cereal grains to be domesticated.
There are multiple types of millets. The most popular are: sorghum (jowar), foxtail (kangani/kakun), prose (chena), pearl (bajra), and kodo millet.
They are also known as nutri-cereals as they are gluten-free, mostly anti-allergic, and considered to be rich sources of nutrients like carbohydrates, protein, dietary fiber, and good-quality fat. They have substantially higher amounts of minerals like calcium, potassium, magnesium, iron, and B complex vitamins.
Thus, millets are worthy competition for rice and wheat. Delhi-based integrative nutritionist and holistic life coach Surendra Yadav explained more about millets and holistic life to Sputnik:
"Just 100 gm of wheat contain 76 gm of carbohydrates, 2.7 gm of fiber, 10 gm of protein and 364 kilo calories. Whereas, 100 gm of white rice contain 80 gm of carbohydrates, 1.3 gm of fiber, 7 gm of protein and 365 kilo calories."
The numbers are slightly different for various sorts: for instance, Bajra (pearl millet) contains 67 gm of carbohydrates, 1 gm of fiber, 12 gm of protein and 360 kilo calories, 42 gm of calcium, and 242 mg of phosphorus, Yadav explained, adding that Bajra has the highest iron content of all.
Moreover, rice is not gluten-free, which triggers gastrointestinal and autoimmune disorders.
Additionally, millets are quite heavy cereals, and they take longer time to digest, hence one will be full for a longer time and keep one's sugar levels in check, too. The same goes for other millets.
Another reason why the Modi government is promoting millets is because they require less water than rice or wheat. Also, its cycle is short (70-100 days. 350-500 mm of water), compared to 115-150 days and 600-1,200 mm of water for wheat and rice.
Not just India, but West Africa, China, and Japan are home to indigenous varieties of millets. However, India is a top producer of millets, accounting for 80 percent of Asian and at least 20 percent of global production.
According to the Indian Institute of Millet Research, the current market for millets is $9 billion, and is expected to touch $25 billion by 2025.
Why Are Millets Off the Table Despite Being Healthy?
Umedra Dutt, a spiritual ecologist and also a member of the Indian Council of Agriculture Research, told Sputnik: "Millets are a staple food of rural India and there's enough evidence which suggests that India and parts of China have been consuming millets for the past 7,000 years."
"In fact, rice and wheat started replacing millets from Indian kitchens only in the 1960s, upon the arrival of the revolution. After which millets got sidelined from the food basket," Dutt said. "At that time, most of the farmers stopped cultivating millets as the government assured incentives on wheat, rice, sugar and cotton."
© Sputnik / Deexa Khanduri
Millet Chapati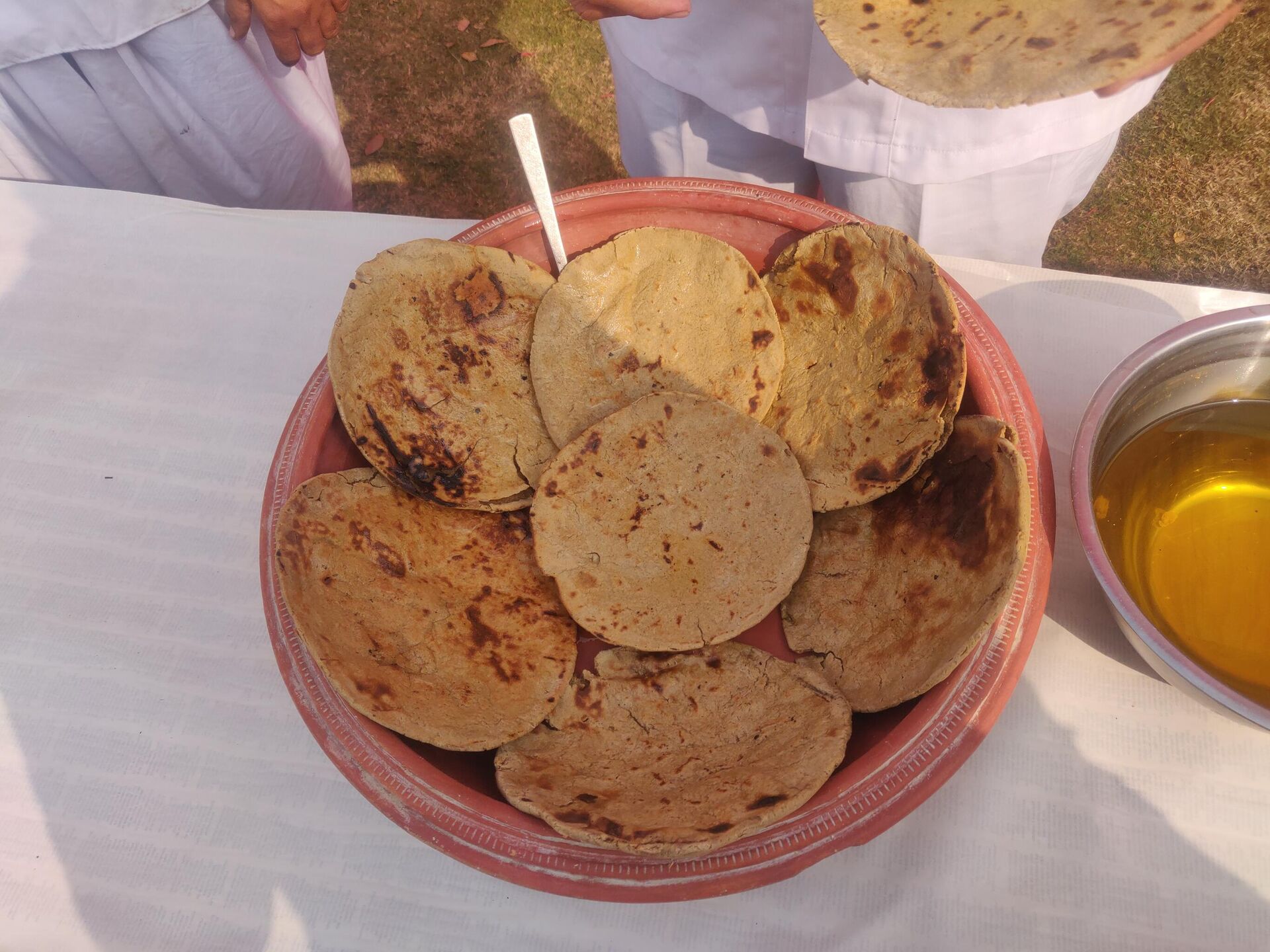 Millet Chapati
© Sputnik / Deexa Khanduri
Over the years, millets turned into orphan crops.
Wheat chapatis are easy to make, and similarly, rice gets cooks in 10 minutes. However, as millets are high in fiber and gluten-free, it takes time for them to cook. Moreover, it takes time for people to develop a taste for millets.
Modi Government Promote Millets
The Modi government has taken several steps for the International Year of Millets (IYOM), 2023, including:
Setting up a core committee, which includes professors and experts who will consult on how to promote millet production and supply in the country.
The Indian Institute of Millet Research (IIMR) has been made a nodal institute for keeping track of all policies, activities, and communication.
Six task forces have been constituted to ensure on-ground implementation.
Meanwhile, the central government is also discussing with state governments whether millets can be introduced in midday meals.
The authorities are also looking to elevate nutrient content in midday meals — especially iron and zinc, since the lack thereof leads to anemia among children. This would also help prevent cognitive disorders and diarrhea.
© Sputnik / Deexa Khanduri
Millet Products Launched By Agriculture Ministry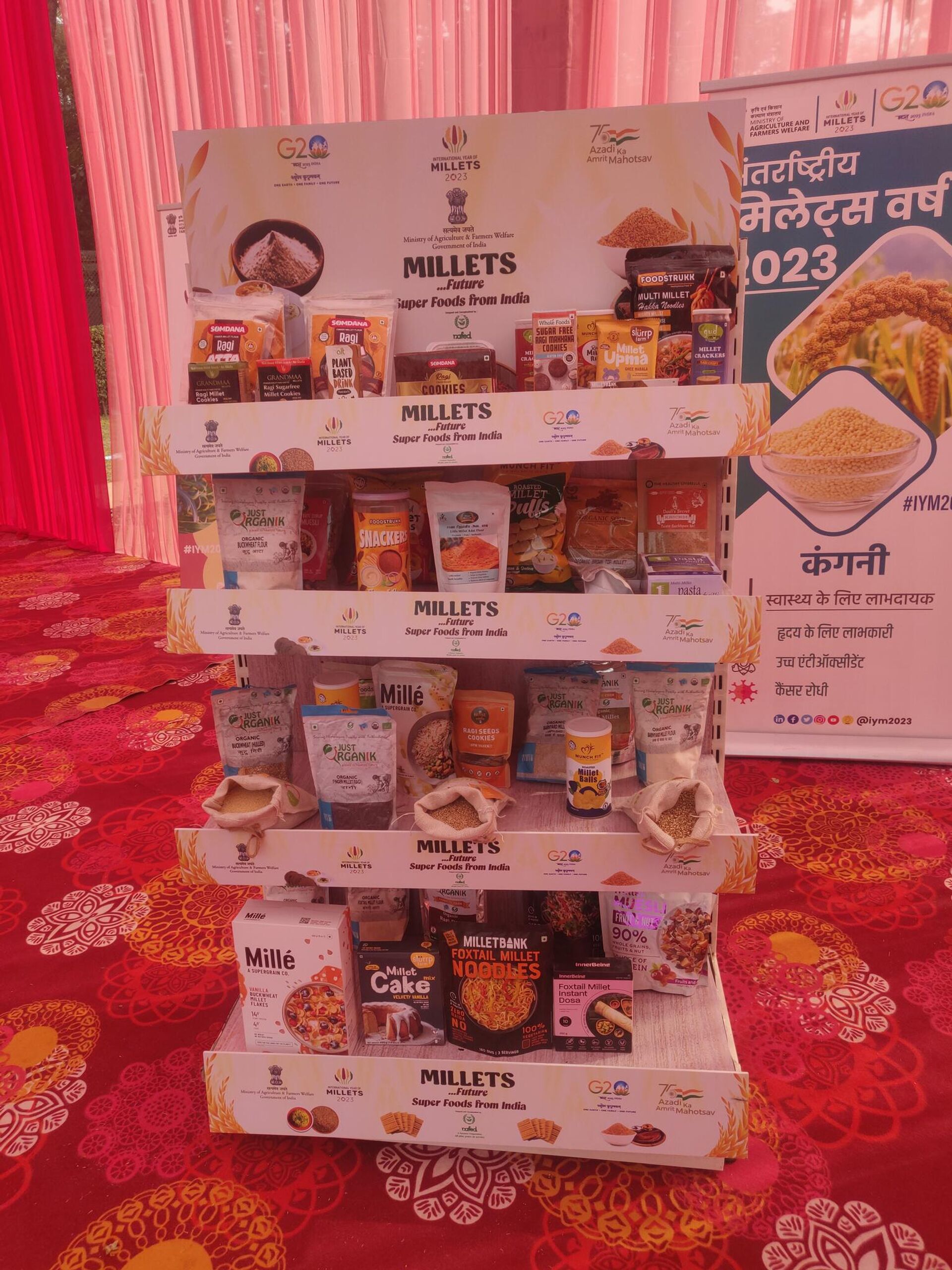 Millet Products Launched By Agriculture Ministry
© Sputnik / Deexa Khanduri
Furthermore, the demand for millet in the market will grant much-needed extra income to small farmers.
The Modi government has also increased the Minimum Support Price (MSP) for millets, which was introduced just a few years ago, in 2018.
Private Sector Promoting Healthy Solutions
Sorung, a restaurant in Indirapuram, Ghaziabad city, Uttar Pradesh, is seeing more people order millet-based food these days. People are now
ordering millet khichdi
(millets billed in Indian spices), makke ka parantha (chapatis), and kheer, made of foxtail millets.
Rekha Dimri, the restaurant's owner, said:
"In 2014 when we started this restaurant, millet was not really on our menu. The doctor advised my husband to skip rice from his meal, and then I started experimenting with millet for him, introducing it to our menu. After the pandemic, we see more people ordering millet-based food. Although the orders are not even 15 percent of total orders, it's increasing."
Not only are small restaurants reporting such stories, but in 2020, international brands like Britannia, ITC, and Nestle have procured millets and are launching cookies and numerous snacks with millets.
ITC has procured 200 tons of millets and launched "multi-millet mix flour" under their Aashirvaad brand. At the same time, Britannia has launched ragi cookies and five-grain digestive biscuits under its NutriChoice brand.