From kite flying, and gala feasts to bonfires, singing, and dancing, the harvest festival in India, which also marks the culmination of winter and the onset of summer, is celebrated on 13 and 14 January every year.
Indian TV actors have taken a walk down memory lane and recalled some of their fondest memories of celebrating the harvest festival.
Gorging on Maharashtrian delicacy 'Gulachi Poli'
For actress Chinmayee Salvi, famous for playing Sakhi Wagle in the 'Wagle Ki Duniya' TV show on Sony SAB, the celebration of harvest festival is incomplete without the Maharashtrian delicacy Gulachi Poli, a sweet flatbread stuffed with sesame seeds, poppy seeds, and jaggery.
"My day starts with eating my favorite Maharashtrian delicacy called Gulachi Poli, followed by flying kites," Salvi tells Sputnik.
Salvi recalled that flying kites with friends and having til laddoos (sesame sweets) accounted for some of the best times of her life when she was a child.
However, what's more exciting, she said, is to offer til laddoos (sesame sweets) and greet each other by saying a popular marathi proverb, "Til gul ghya ni goad goad bola" ("Eat til [sesame] and gur [jaggery] and talk sweetly").
Singing Sunder Munderiye Folk Song During Bonfire
The festival of Lohri, which is largely celebrated in the state of Punjab, has a popular tradition of singing the Punjabi folk song 'Sundar Mundariye Hoye' which celebrates the bravery of a man called Dulla Bhatti who used to rescue young girls from being trafficked by Mughals and instead find them suitable boys to marry with the money which he would steal from the rich.
© AFP 2023 ARUN SANKAR
Students prepare sweet pongal during celebrations for 'Pongal', the Tamil harvest festival, at a college in Chennai on January 12, 2023. (Photo by Arun SANKAR / AFP)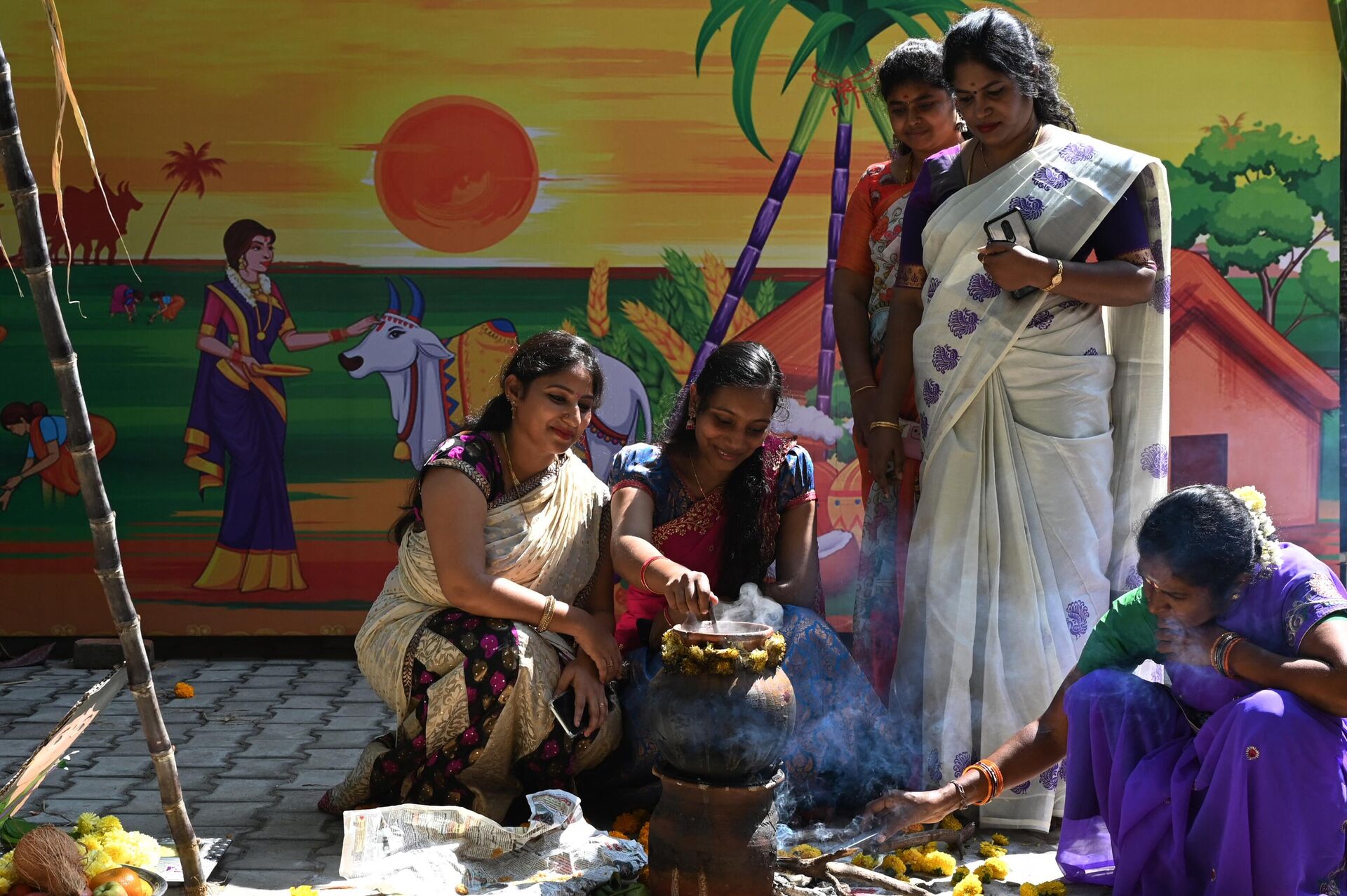 Students prepare sweet pongal during celebrations for 'Pongal', the Tamil harvest festival, at a college in Chennai on January 12, 2023. (Photo by Arun SANKAR / AFP)
Among the many, there were two girls named Sundri and Mundri who were mentioned in the song.
Continuing the folk tradition around Lohri even now, veteran actor Pankaj Berry, known for playing Dilpreet in TV show 'Dil Diyaan Gallan' recalls, singing the song around the bonfire used to be one of his favorite moments while celebrating Lohri.
"It was also very cold around this time, so we used to really love warming up around the fire. My mother used to hand me revdi (sesame sweets) and make me walk around the fire throwing 'til' (sesame) into it," Berry recounts.
"All the kids used to run around the neighborhood collecting Lohri [sweets and money]. At that time, even receiving 50 paisa [half a rupee] was a lot!" he recalls.
Famjam & More
For actress Hema Sood, who plays the character Riya in 'Dil Diyan Gallan', Lohri is all about togetherness and family.
"Being the first celebration of the year, we used to celebrate together in a grand way. In my childhood, my uncles, cousins, and every family member would catch up with each other and it felt like a camp!" Sood remembers.
Actor Ravi Gossain, who plays Randeep in TV show 'Wagle Ki Duniya', says that his grandparents used to be a big part of Lohri celebrations.
"I remember learning to make Gajak (jaggery sweets) with my grandmother! It's one of my favorite things to look back on. My grandmother would quietly pass along INR 5 or 10 currency notes to us and we always saved those," Gossain recalls.
"As kids, we used to run around gathering kindling for the fire picking up pieces of wood, trying to make sure every bonfire was bigger than the one before," he adds.