The Indian Air Force (IAF) is gearing up to showcase 50 power-packed aircraft ahead of the grand Republic Day celebration which marks the formation of the Indian Constitution, said Wing Commander Indranil Nandi on Wednesday.
These 50 aircraft will fly over Kartavya Path during the Republic Day parade and include 45 Indian Air Force (IAF) aircraft, one from the Indian Navy and four helicopters from the Indian Army, Nandi added.
The biggest highlight is the Indian Navy's IL-38 maritime reconnaissance aircraft which has completed 44 glorious years of service to the nation, and it will be flying over the Kartavya Path for the first and last time on Republic Day this year.
Nine Rafale aircraft will also participate in the fly-past.
The IAF officers will be seen flying in 13 different formations in the sky, out of which Bheem formation will be new this year and comprises 40 degree Pitch-UP and SU-30 streaming fuel by three aircraft.
Some other formations that citizens will get to see during the Republic Day include arrow, abreast, arrowhead, diamond and others by aircraft like Mig-29, Rafale, Jaguar, SU-30 and others, Nandi said.
© Photo : Twitter/@anishsingh21
Indian Navy's IL-38 maritime reconnaissance aircraft will be flying over for the first and last time during the Republic Day parade at Kartavya Path in Delhi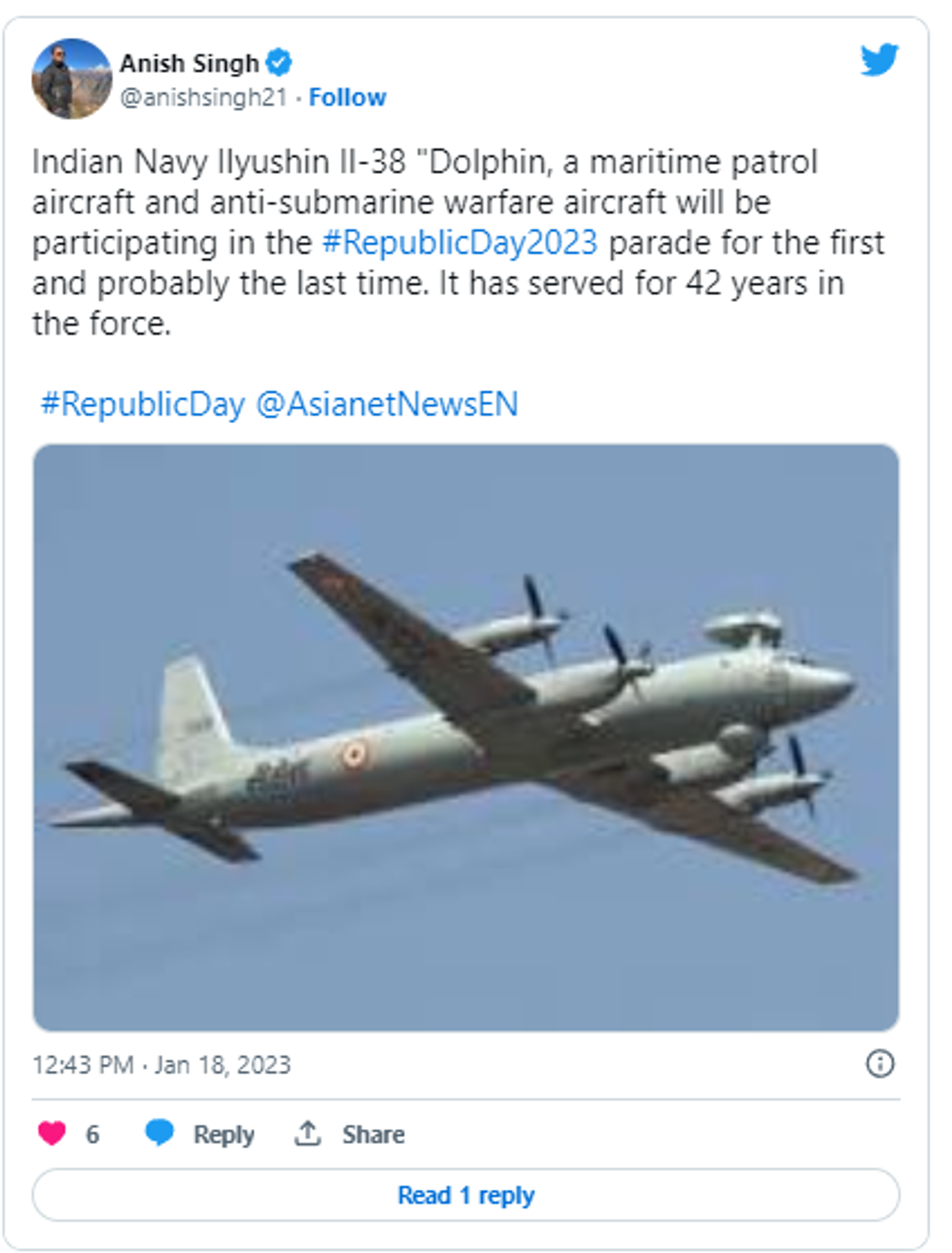 Indian Navy's IL-38 maritime reconnaissance aircraft will be flying over for the first and last time during the Republic Day parade at Kartavya Path in Delhi
© Photo : Twitter/@anishsingh21