Indian Prime Minister Narendra Modi on Monday virtually unveiled a model of a proposed memorial of iconic freedom fighter Netaji Subhas Chandra Bose.
The federal government declared January 23 as Parakram Diwas in 2021 to commemorate the birth anniversary of Bose. Today, India celebrates his 126th birth anniversary.
The memorial is set to be built on Netaji Subhas Chandra Bose Dweep, earlier known as the Ross Island. The islands were renamed by Modi during his official visit in 2018.
According to media reports quoting official sources, the memorial will have a museum, a cable car ropeway, a laser-and-sound show, a guided heritage trail through historical buildings, and a theme-based children's amusement park, as well as a resto lounge.
Paying tribute to Bose on social media, Modi recalled his "unparalleled contribution to India's history."
"He will be remembered for his fierce resistance to colonial rule. Deeply influenced by his thoughts, we are working to realize his vision for India," Modi added.
After inaugurating the model, Modi also announced the names of 21 uninhabited islands in the union territory after Param Vir Chakra awardees. Param Vir Chakra is India's highest military decoration.
The largest unnamed island was named after the first Param Vir Chakra awardee, Major Somnath Sharma, who lost his life in action on November 3, 1947 while fighting Pakistani infiltrators near Srinagar Airport.
Apart from Modi, several other politicians from across the political spectrum paid tribute to Bose, including Rahul Gandhi.
© Photo : Twitter/ @RahulGandhi
A screenshot of Rahul Gandhi's tweet commemorating Chandra Bose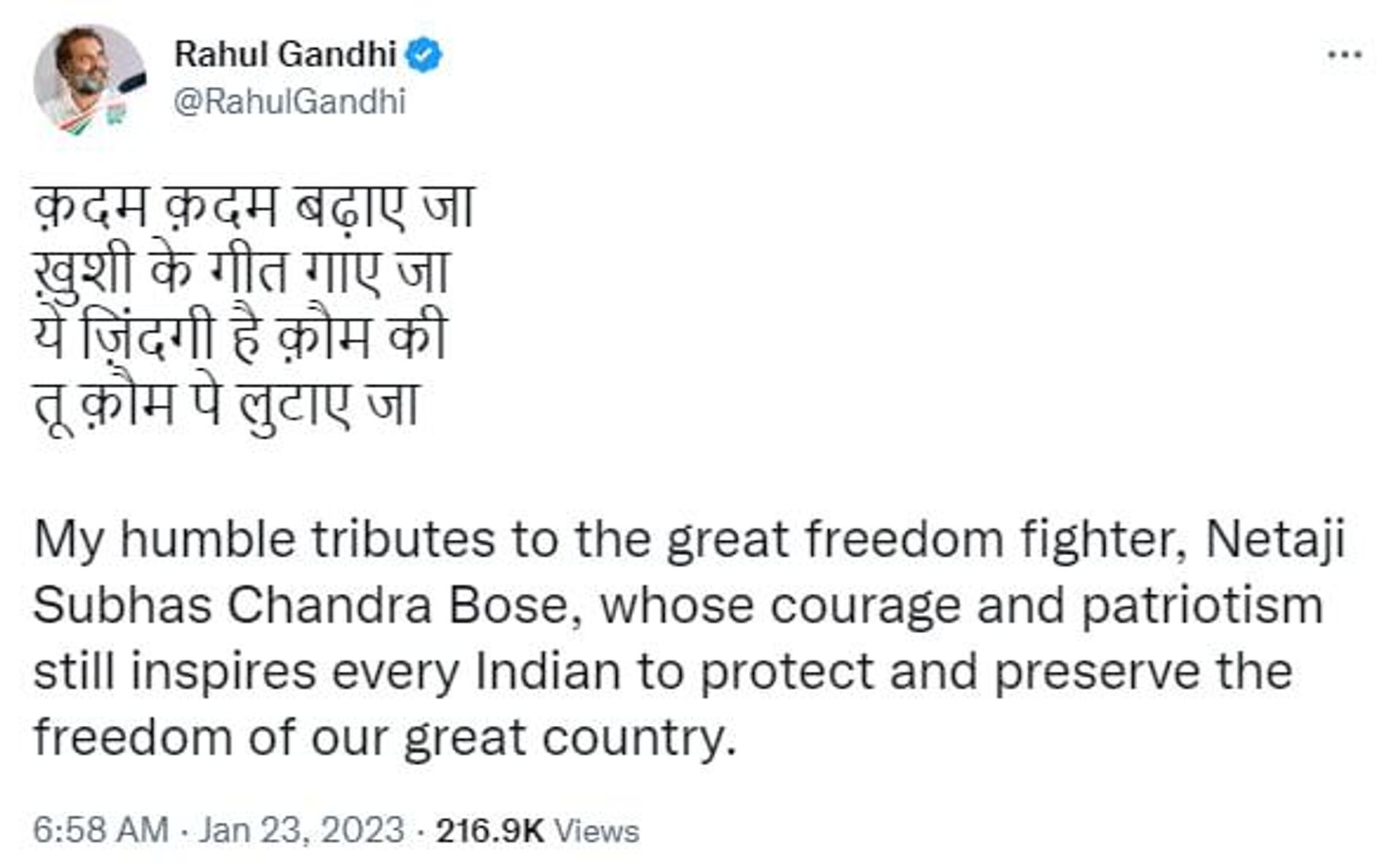 A screenshot of Rahul Gandhi's tweet commemorating Chandra Bose
© Photo : Twitter/ @RahulGandhi