India's Assam State Chief Himanta Biswa Sarma on Friday invited Oscar-winning actor Leonardo DiCaprio to visit Kaziranga National Park (KNP) after the latter gave kudos to the state government for having stopped the poaching of the one-horn rhinoceros in 2022.
"In 2021, the government of the Indian state of Assam set out to end the poaching of the Endangered Greater One-Horned Rhinoceros in Kaziranga National Park following the killing of around 190 animals for their horns between 2000 and 2021. In 2022, they met their goal, and no rhinos were poached in the area for the first time since 1977," Di Caprio wrote on his social media account on Thursday.
Stating that Kaziranga National Park is home to 2,200 Greater One-horned Rhinos, which is about two-thirds of the world's population, he wrote that "this triumph in India also comes with more good news, as @wwf (World Wildlife Fund) also reports that the world population of the rare rhino soared to around 3,700 from about 200 at the turn of the 20th century."
Assam's response did not take much time.
© Photo : Twitter
Assam CM Himanta Biswa Sarma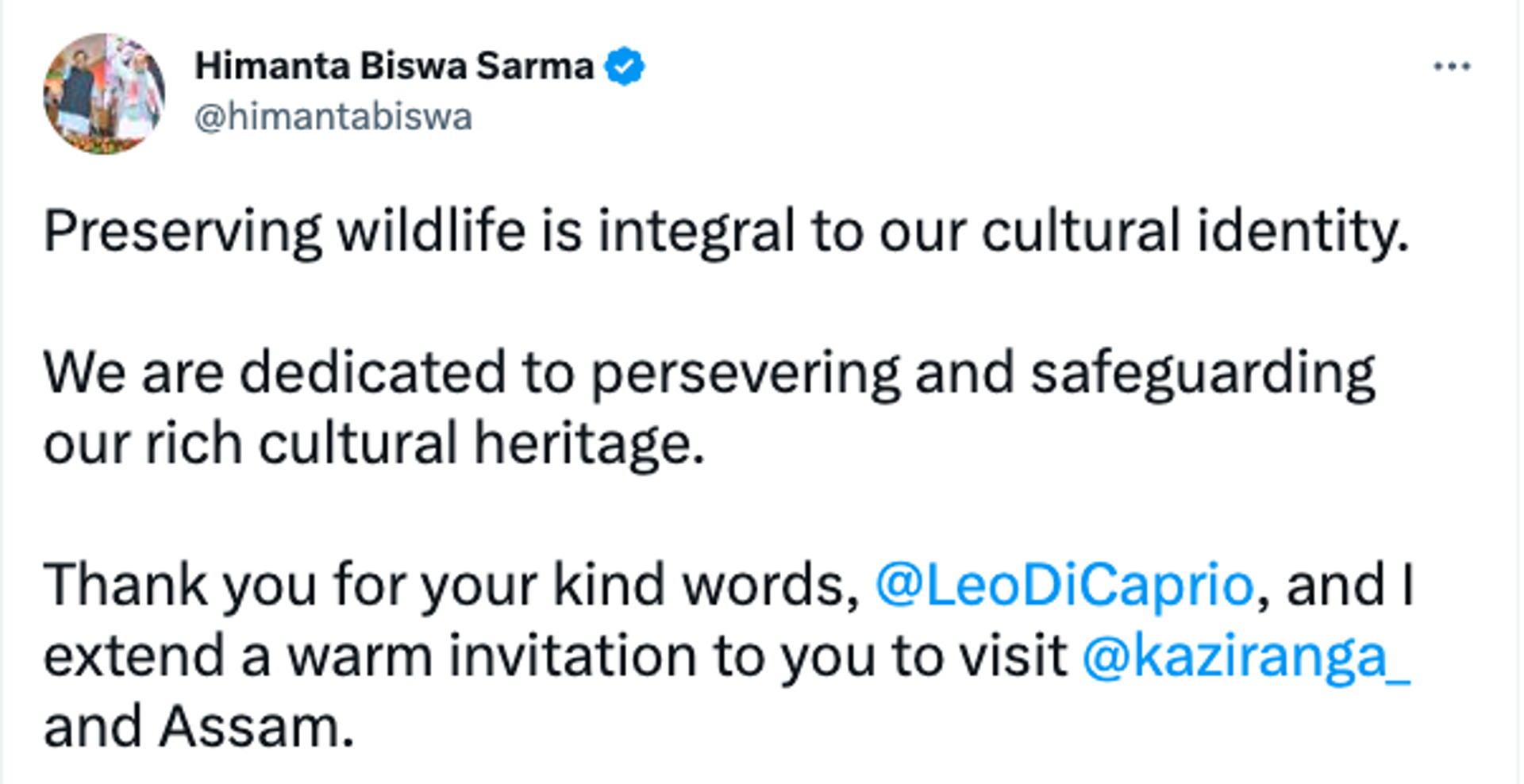 Assam CM Himanta Biswa Sarma
Kaziranga National Park is located at the Brahmaputra River floodplain.
Why Are Rhinos an Endangered Species?
The rhinoceros is among the most critically-endangered animals in the world and poaching was quite common in the region, as many people believe that the rhino's horn has curative properties.
However, the government has launched a massive anti-poaching campaign in the past few years.
The state police and forest officials had recovered all these horns from poachers.
Meanwhile, the officials said the highest number of poaching since 2000 was done in 2013 and 2014, a total of 27 each year. In 2015 and 2016, the number was 17 and 18, respectively, declining to two in 2020 and 2021 and zero in 2022.