About 800 manufacturers from India and 100 countries around the world are taking part in the expo in Karnataka's Bengaluru, known as the "Silicon Valley of India".
Foreign and Indian defence companies are expected to sign memorandums on mutual understanding, technology transfers and product launches worth a record 750 billion rupees ($9.1 billion) during the show.
Check out the most impressive scenes from the airshow in our photo gallery!
© AFP 2023 Manjunath Kiran
The Indian Air Force (IAF) Surya Kiran aerobatics team performs during the inaugural day of the 14th edition of 'Aero India 2023' airshow at the Yelahanka air force station in Bengaluru on February 13, 2023. (Photo by Manjunath KIRAN / AFP)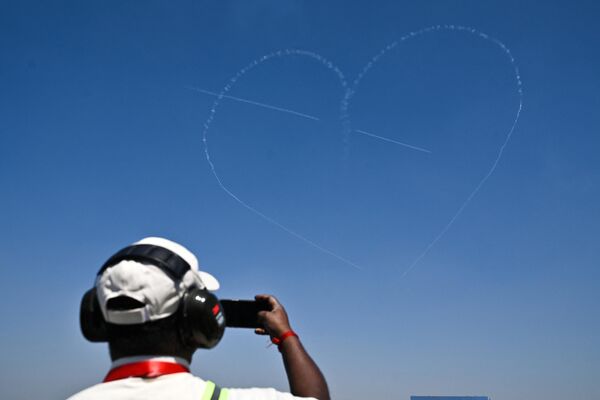 © AFP 2023 Manjunath Kiran
The Indian Air Force (IAF) Surya Kiran aerobatics team performs during the inaugural day of the 14th edition of 'Aero India 2023' airshow at the Yelahanka air force station in Bengaluru on February 13, 2023. (Photo by Manjunath KIRAN / AFP)
© AP Photo / Aijaz Rahi
Indian Air Force's Sukhoi Su-30MKI takes off during the inauguration of the Aero India 2023 at Yelahanka air base in Bengaluru, India, Monday, Feb. 13, 2023. Aero India is a biennial event with flying demonstrations by stunt teams and militaries and commercial pavilions where aviation companies display their products and technology. (AP Photo/Aijaz Rahi)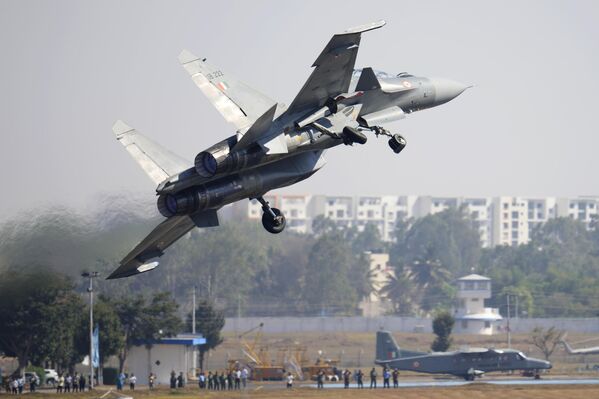 Indian Air Force's Sukhoi Su-30MKI takes off during the inauguration of the Aero India 2023 at Yelahanka air base in Bengaluru, India, Monday, Feb. 13, 2023. Aero India is a biennial event with flying demonstrations by stunt teams and militaries and commercial pavilions where aviation companies display their products and technology. (AP Photo/Aijaz Rahi)
© Sputnik / Alexander Melnikov
 / Go to the mediabank
Scenes from the Aero India 2023 at Yelahanka air base in Bengaluru, India
Scenes from the Aero India 2023 at Yelahanka air base in Bengaluru, India
© AP Photo / Aijaz Rahi
Indian Air Force's aerobatic team Suryakiran perform maneuvers on the first day of the Aero India 2023 at Yelahanka air base in Bengaluru, India, Monday, Feb. 13, 2023. Aero India is a biennial event with flying demonstrations by stunt teams and militaries and commercial pavilions where aviation companies display their products and technology. (AP Photo/Aijaz Rahi)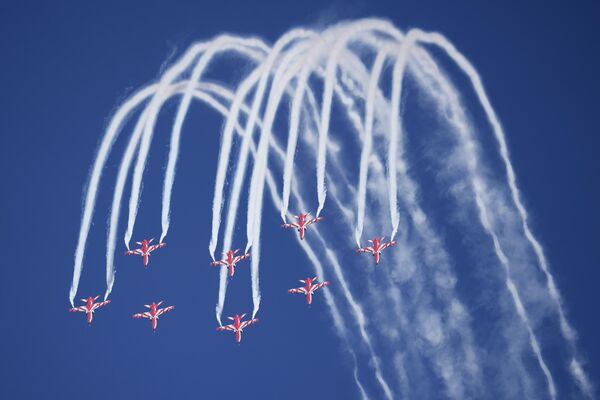 Indian Air Force's aerobatic team Suryakiran perform maneuvers on the first day of the Aero India 2023 at Yelahanka air base in Bengaluru, India, Monday, Feb. 13, 2023. Aero India is a biennial event with flying demonstrations by stunt teams and militaries and commercial pavilions where aviation companies display their products and technology. (AP Photo/Aijaz Rahi)
© Sputnik / Alexander Melnikov
 / Go to the mediabank
Scenes from the Aero India 2023 at Yelahanka air base in Bengaluru, India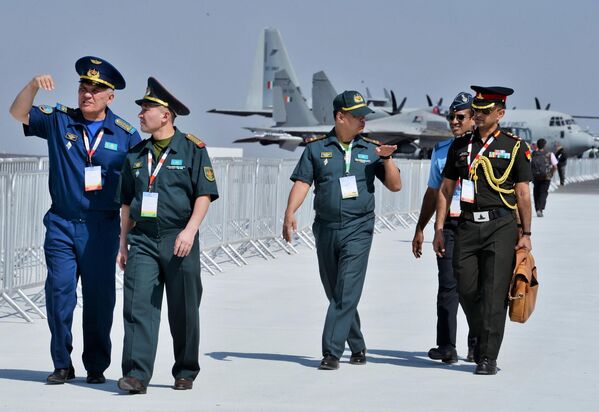 Scenes from the Aero India 2023 at Yelahanka air base in Bengaluru, India
© Sputnik
 / Go to the mediabank
Scenes from the Aero India 2023 at Yelahanka air base in Bengaluru, India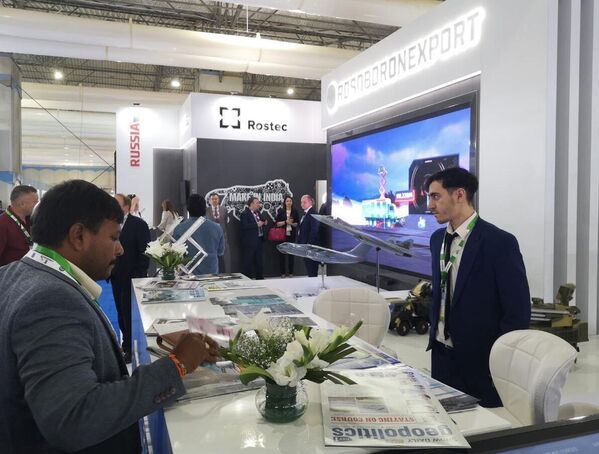 Scenes from the Aero India 2023 at Yelahanka air base in Bengaluru, India
© AFP 2023 Manjunath Kiran
Indian Air Force (IAF) aircrafts fly past during the inaugural day of the 14th edition of 'Aero India 2023' airshow at the Yelahanka air force station in Bengaluru on February 13, 2023. (Photo by Manjunath KIRAN / AFP)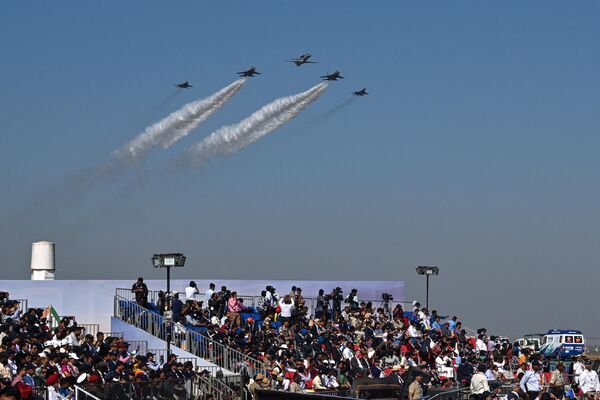 © AFP 2023 Manjunath Kiran
Indian Air Force (IAF) aircrafts fly past during the inaugural day of the 14th edition of 'Aero India 2023' airshow at the Yelahanka air force station in Bengaluru on February 13, 2023. (Photo by Manjunath KIRAN / AFP)
© AP Photo / Aijaz Rahi
Indian Air Force's Sarang helicopters crisscross each other as they perform aerobatic maneuvers during rehearsals ahead of the Aero India 2023 at Yelahanka air base in Bengaluru, India, Saturday, Feb. 11, 2023. Aviation companies from around the world are expected to participate in the five-day event that starts Feb. 13. (AP Photo/Aijaz Rahi)
Indian Air Force's Sarang helicopters crisscross each other as they perform aerobatic maneuvers during rehearsals ahead of the Aero India 2023 at Yelahanka air base in Bengaluru, India, Saturday, Feb. 11, 2023. Aviation companies from around the world are expected to participate in the five-day event that starts Feb. 13. (AP Photo/Aijaz Rahi)
© Sputnik / Alexander Melnikov
 / Go to the mediabank
Scenes from the Aero India 2023 at Yelahanka air base in Bengaluru, India
Scenes from the Aero India 2023 at Yelahanka air base in Bengaluru, India
© Sputnik / Alexander Melnikov
 / Go to the mediabank
Scenes from the Aero India 2023 at Yelahanka air base in Bengaluru, India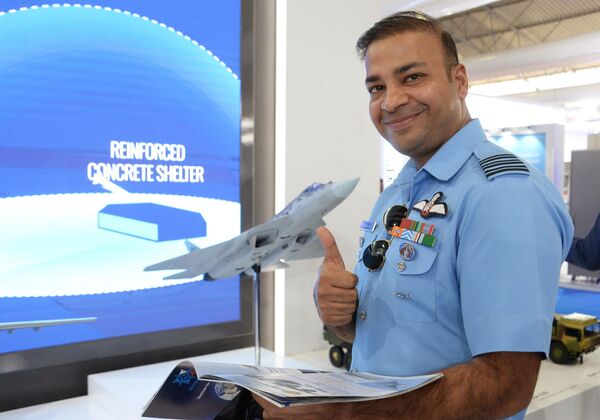 Scenes from the Aero India 2023 at Yelahanka air base in Bengaluru, India
© Sputnik / Alexander Melnikov
 / Go to the mediabank
Scenes from the Aero India 2023 at Yelahanka air base in Bengaluru, India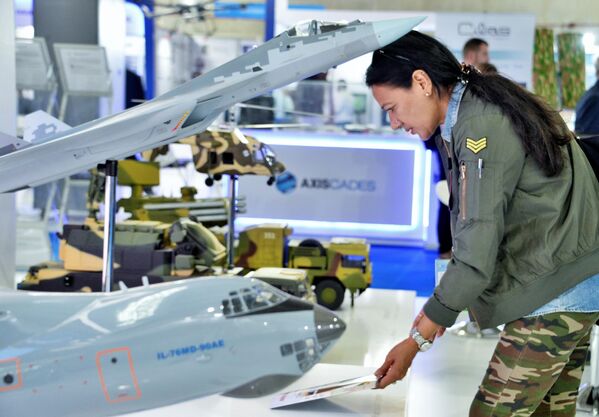 Scenes from the Aero India 2023 at Yelahanka air base in Bengaluru, India
© AP Photo / Aijaz Rahi
Flags of the participating countries are placed in a row during the inauguration of the Aero India 2023 at Yelahanka air base in Bengaluru, India, Monday, Feb. 13, 2023. Aero India is a biennial event with flying demonstrations by stunt teams and militaries and commercial pavilions where aviation companies display their products and technology. (AP Photo/Aijaz Rahi)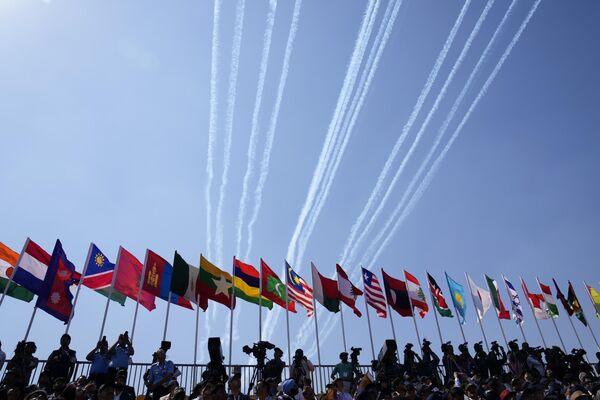 Flags of the participating countries are placed in a row during the inauguration of the Aero India 2023 at Yelahanka air base in Bengaluru, India, Monday, Feb. 13, 2023. Aero India is a biennial event with flying demonstrations by stunt teams and militaries and commercial pavilions where aviation companies display their products and technology. (AP Photo/Aijaz Rahi)
© Sputnik / Alexander Melnikov
 / Go to the mediabank
Scenes from the Aero India 2023 at Yelahanka air base in Bengaluru, India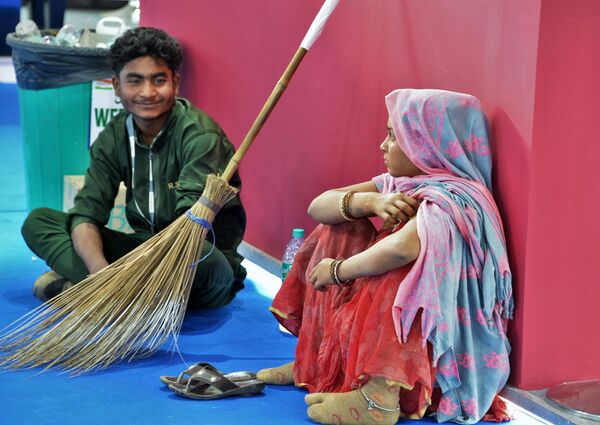 Scenes from the Aero India 2023 at Yelahanka air base in Bengaluru, India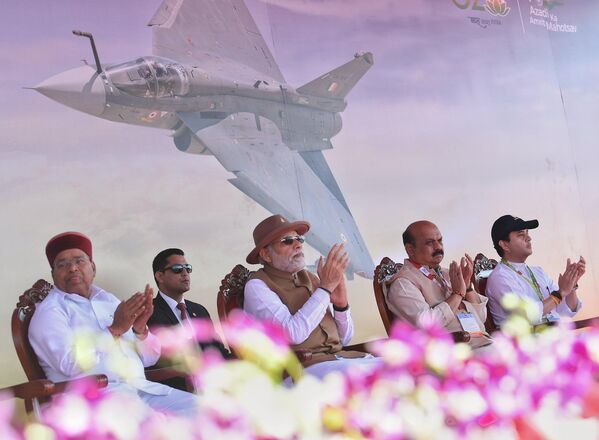 © AP Photo / Aijaz Rahi
Indian Air Force C-17 Globemaster leads nine Suryakiran aircraft as they fly in a formation during rehearsals ahead of the Aero India 2023 at Yelahanka air base in Bengaluru, India, Saturday, Feb. 11, 2023. Aviation companies from around the world are expected to participate in the five-day event that starts Feb. 13. (AP Photo/Aijaz Rahi)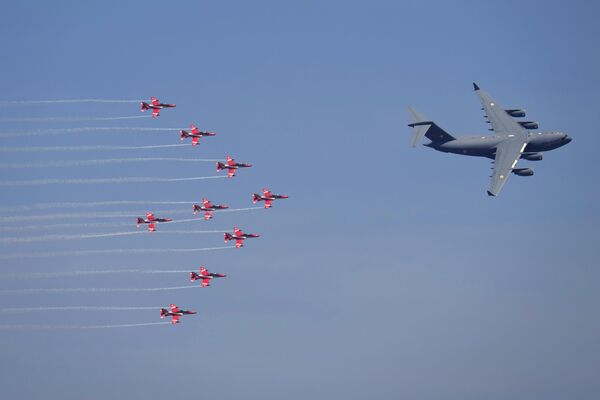 Indian Air Force C-17 Globemaster leads nine Suryakiran aircraft as they fly in a formation during rehearsals ahead of the Aero India 2023 at Yelahanka air base in Bengaluru, India, Saturday, Feb. 11, 2023. Aviation companies from around the world are expected to participate in the five-day event that starts Feb. 13. (AP Photo/Aijaz Rahi)