Threads of gold, red gold or simply "saffron", the one-of-its-kind exotic spice is popularly believed to be the world's most expensive flavor.
A mere pinch of its strands not just adds a magical taste to any dish, but is also quite beneficial for one's health and beauty.
From being loaded with abundant health benefits to its sweet aromatic fragrance, its rich color or fine texture, saffron has made its way to people's kitchens.
Saffron has always been in demand worldwide, especially for medicines and beauty products. So much so that even saffron cultivators and manufacturers are now looking at new technological ways to meet demand by increasing farming while providing the finest threads of gold.
Journey to 'Baby Saffron' Factory
One of India's oldest and most popular saffron brands - 'Baby Saffron' - opened the door of its factory to Sputnik to give a glimpse of the production of high-quality saffron from farm to market.
According to Maanavi Chhabra, director of Baby Saffron, in the 1840s, her great-grandfather started saffron trading from a small room-house in Delhi's Khari Baoli area, Asia's present-day largest spice market.
In the 1960s, a company was formed by the name of Baby Saffron. Since, it has become a million-dollar company, with a vast factory in Rajasthan state's Neemrana city with over 300 workers. The family's present generation is working to bring out the best quality saffron in the market.
Chhabra, who herself belongs to the fourth generation of saffron traders, is taking the rich legacy of her ancestral business forward.
We get our saffron from various sources across the world, and after it reaches our factory, it undergoes several rounds of purity and quality check. The workers manually check the saffron and filter out to get thick, long maroon strands of saffron.
Why is Saffron Called 'Red Gold'?
Asked why saffron is called threads of gold or red gold, Chhabra told us that it is for its purity and the abundance of health benefits it carries.
"Saffron is as valuable as people consider gold to be. We call saffron liquid gold because of the number of health benefits it has," Chhabra said.
During the onset of COVID-19, a lot of people opted for natural ways to build immunity and among the many spices, saffron too was recommended for daily consumption.
"Several studies have shown that saffron has high anti-inflammatory properties that help boost immunity. It's good for skin care, lungs, prevents cancer cells and also regulates hormonal balance and women-related problems like PCOS, PCOD and PMS," Chhabra said.
To reap the health benefits of saffron, Chhabra insists that one must consume a pinch of saffron daily in warm water.
"It's not like a magic pill that you have it once, and it's done. You have to consume saffron daily by adding the strands or powdered in warm water and keep drinking it throughout the day. It will really make a difference," Chhabra argued.
Why is Saffron So Expensive?
While saffron is touted to be the most expensive spice in the world, Chhabra debunked the myth. She said that it is considered to be expensive because of its laborious cultivation, harvesting, and production process.
"Saffron cultivation is a labor-intensive work right from sowing the seeds, delicately plucking the maroon strands of the purple flower, drying them to processing through machines and undergoing several rounds of human checks to get high-quality saffron," Chhabra shared.
© Sputnik / Sangeeta Yadav
The largest selling Saffron brand in India - "Baby Saffron"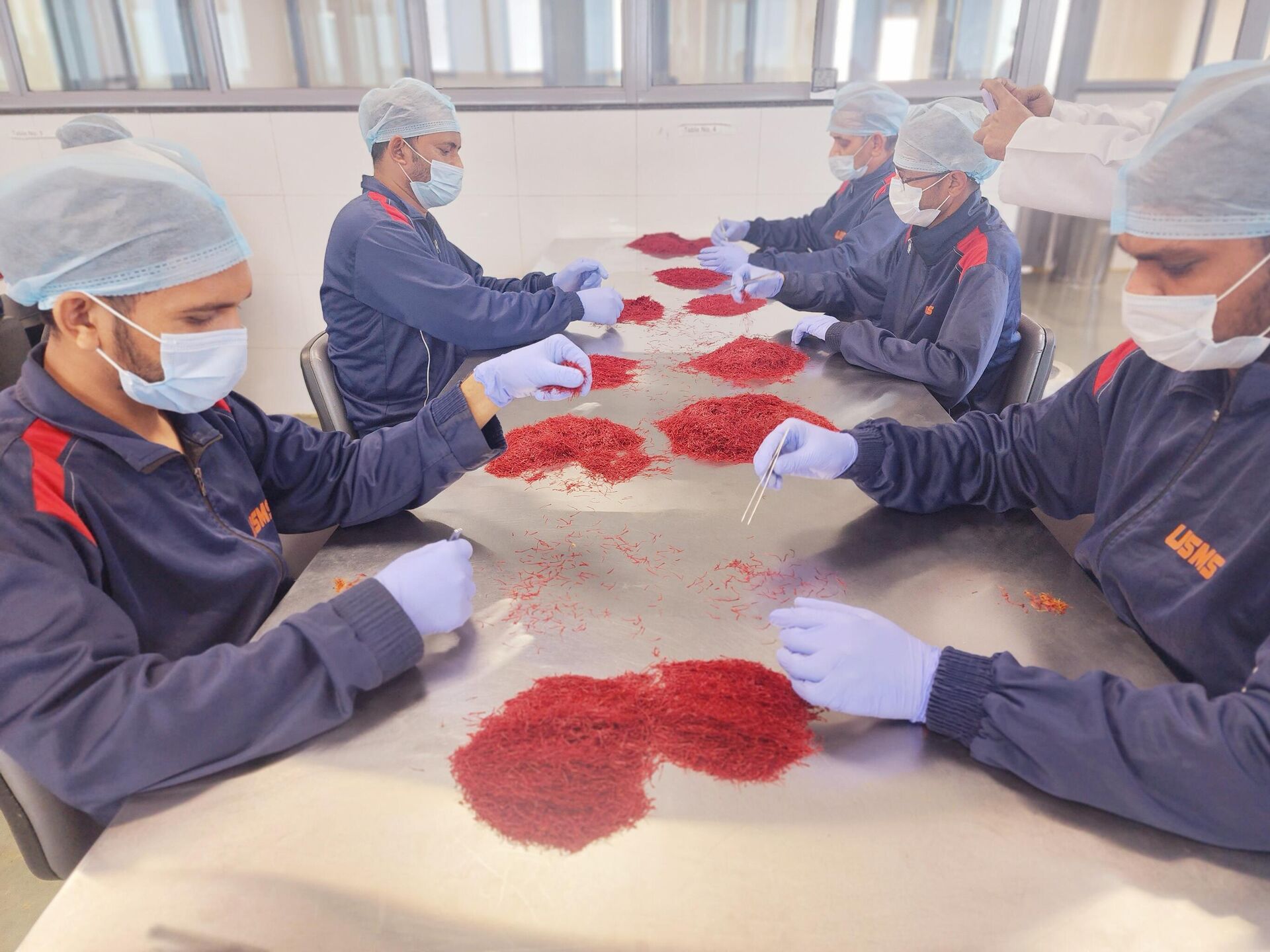 The largest selling Saffron brand in India - "Baby Saffron"
© Sputnik / Sangeeta Yadav
Producing a mere kilo of saffron takes around 15,000 flowers. Just a few strands of saffron are enough for daily consumption.
"Saffron is not at all expensive. For the ease of customers, we have come up with a single-day pack wherein we've divided half a gram into 10 doses, which is anywhere from 15 to 20 strands of saffron. That just costs INR 20 ($0.24), that hardly costs a bottle of water," Chhabra said.
Worldwide Saffron Cultivation
When it comes to saffron production across the world, Iran ranks first as it supplies for almost 80% of the world's demand. India is the second top saffron-producing country, as it produces 90 percent of the spice in Jammu and Kashmir's Pulwama, Budgam, Srinagar, and Kishtwar districts.
The popularity of saffron is such that many countries have started growing it, including Spain, Greece, Morocco, Italy, Turkey, France, Switzerland, Pakistan, China, Japan, and Australia.
Apart from Kashmir, famous as 'saffron town', saffron cultivation has expanded to Himachal Pradesh state as well. Districts like Kinnaur, Chamba, Mandi, Kullu, and Kangra have been found to have favorable climates apt for saffron cultivation.
In 2010-11, the Indian government also introduced the National Saffron Mission to help farmers irrigate their fields.
While the Council of Scientific and Industrial Research (CSIR) and Institute of Himalayan Bioresource Technology in Palampur, are training people in saffron cultivation in Himachal Pradesh, technological advancement is also playing a big role in increasing saffron cultivation in India.
"People are experimenting by cultivating saffron in greenhouses in their homes, which is revolutionary. Cultivating saffron through an indoor hydroponic vertical farming system is a great way to increase a lot more saffron cultivation in India and source it as local as possible," Chhabra said.
In 2020, Prime Minister Narendra Modi appealed to the people to make Kashmiri saffron a globally popular brand and to boost the prominence of Kashmiri saffron in the international market, a geographical indication (GI) tag was also assigned.
"India already has the expertise and the groundwork ready for technological advancement in saffron cultivation to be able to become the pioneers and lead in this field," Chhabra shared.
Why is Saffron Cultivation in Decline?
Despite such a push to boost saffron cultivation in India, there has been a decline in its production with each passing year.
Chhabra says that saffron cultivation in India was previously much higher, but that consumption was roughly similar to production. Now, consumption has gone up, so its production needs to improve.
Asked about the reason behind low saffron production in comparison to high demand, she shared various factors.
"Climate change and global warming are the main reasons for its decline. Many families, who were into saffron cultivation, have sold their farmland or switched to some other farming due to climate change. There has been a disruption in saffron's distribution channel as well from Kashmir and other countries due to geopolitical issues," Chhabra said.
However, this doesn't deter the trade of Baby Saffron as they procure the best saffron from the world over.
"My father, an expert in all this, himself goes and purchases and trades in saffron. We would love to source our saffron as local as possible. He does manage this very well. And I'm actually looking forward to how the technology is going to increase saffron production in India," Chhabra concluded.