If the idea of camping in front of a bonfire in a tent in the hills doesn't excite you anymore, think again. Many people in India are on an spree experimenting with luxury camping experiences, with all-new cutting-edge concepts of glamping including geodesic domes in Himachal Pradesh and Uttarakhand.
Glamorizing the camping concept, Glamping tourism has been booming in India over the past year, combining a spectacular view of the snow-capped mountains and a lush green forest with a touch of luxury, allowing you to float above the clouds in a cozy adobe.
One such site is Uttarakhand's first Eco-Glamp resort in Kanatal. Opened last year, it has caught the attention of not just Indians but foreigners too, who wish to escape the city and enjoy nature by sleeping in modernized geodesic domes with luxurious amenities.
Sanjay Sharma, co-founder of Eco-Glamp resort, shares that while glamping tourism kicked off in India this year, its popularity has been skyrocketing all over the world over the past five years.
She says glamping domes are revolutionizing the hospitality industry in India. These elegant geodesic dome solutions are perfect for all glamping purposes and can easily be adapted into eco-living pods, garden studios or lounges.
"The concept is already quite popular in foreign countries and India has joined the bandwagon, but geodesic domes are still a novelty," Sharma tells Sputnik.
Revamping Ancient Camping Tradition
While the trend of geodesic domes started in 2017 in Germany, the concept of glamping has existed since ancient times.
"Back in the times of rajas and maharajas (Kings and great rulers), while travelling from one place to another, they used to set-up huge glamorous camps called shamiyanas (tents) made of fabric which had luxurious amenities," Sharma says.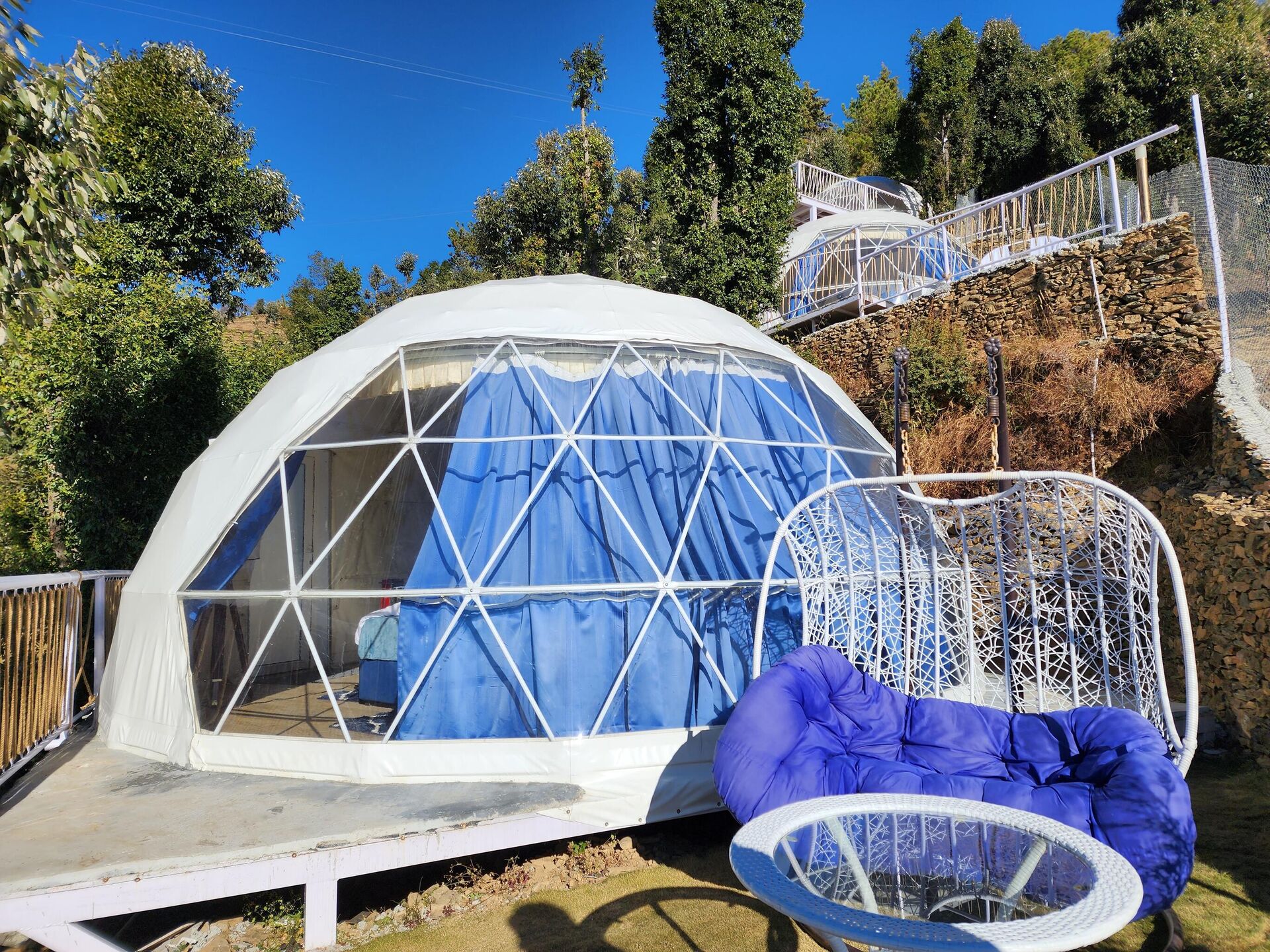 Glamping view
The concept of glamourous tents has been brought to life again with the revamped geodesic dome structures, which are well-insulated and weather-proof. They offer cozy beds, an attached modernized bathroom with all the amenities, and allow glampers to enjoy breathtaking views.
"The engineering has changed a lot. Membrane fabric makes the geodesic domes weatherproof, be it heavy rain, snowfall, or bright sunlight. The structures are sturdy, stay for a long time, and are easy to dismantle," Sharma adds.
The geodesic domes in resorts are becoming a hit in the hospitality sector for several reasons.
"Building a normal conventional hotel in the hills takes three to four years of construction time whereas geodesic domes get ready in a maximum one year. The investment is large in setting up hotels whereas it takes one-third of the cost to build glamping units."
"Third, it is easy to get permission from the government for setting up the glamping unit as it is a temporary structure and a sustainable project where you end up maintaining an ecological balance by not cutting a single tree or using earthmovers," Sharma adds.
Glamping Boom Post-Covid
In the past year, the glamping trend has spread like a wildfire in India at Himachal Pradesh's Manali, West Bengal state's Kalimpong, Uttar Pradesh state's Gurugram city and others.
"Social distancing, remote work, wellness tourism, and corporate retreats have all given a push to create more of a demand for glamping. People want to live close to nature yet in homely accommodations instead of a rough camping stay," Vipin Mamgain, co-founder of Eco-glamp resort tells Sputnik.