Women in Pakistan make up 48% of the population, according to a recent census. They have played an important role throughout Pakistan's history and are allowed to vote in elections since 1956. Over the years, Pakistani women have held high offices, including that of prime minister, speaker of the National Assembly, leader of the opposition, as well as federal ministers, judges and serving commissioned posts in the armed forces.
Some Pakistani women like Lieutenant General Nigar Johar, attaining the highest military post for a woman, and Benazir Bhutto, the first female prime minister, were pioneers of women in power in a country that is often deemed patriarchal.
Although Pakistan is often portrayed by western media as a nation with little empowerment for women, it is not particularly true. Women in Pakistan are allowed to drive, work, divorce, receive education and pursue a career of their own choice. They can file a complaint at a police station if they face harassment or abuse as there are many laws that aim to protect women in Pakistani society.
However, the status of women in Pakistan differs considerably across classes, regions and the rural/urban divides due to the uneven socio-economic development and the impact of tribal and feudal social formations. In many cases women are completely financially dependent on their fathers and later husbands, hence abuse faced at home is not always reported because it is not easy for a woman to move out, rent a house on her own and support herself independently.
In smaller cities and villages women are not even aware of their rights because of a lack of education and awareness.
Nevertheless, the overall situation for women in Pakistan has improved with an increasing number of women being educated and literate. Awareness campaigns regarding women's rights by various NGOs and female parliamentarians have also improved the conditions for women in the country.
But cases of rape, honor killing, murder, and forced marriages in backward areas are still prevalent and all these issues are related to constraints due to a lack of education, poverty, and perceived underperformance of law enforcement agencies in the country.
Hence, women of Pakistan have been gathering in rallies to raise awareness and highlight some of the issues that they still face on March 8 since 2018.
Why Ban the March?
Lahore city authorities cited reportedly "controversial cards and banners" commonly displayed by participants of the rally and security concerns as reasons behind the decision to ban this year's women's march.
The Aurat March (Aurat is "woman" in Urdu) has faced controversy because of banners and placards waved by participants that raise issues such as divorce, sexual harassment and menstruation. The organizers and participants have been accused of promoting western, liberal values and disrespecting religious and cultural sensitivities.
Following the ban, women activists signed a petition which has been filed in the Lahore High Court against the deputy commissioner's decision.
Their application was turned down by the commissioner, citing threat alerts and fears of clashes between Aurat March participants and members of the Jamaat-e-Islami (JI) party and religious groups.
Many members of civil society, political parties, and rights organizations have condemned the order.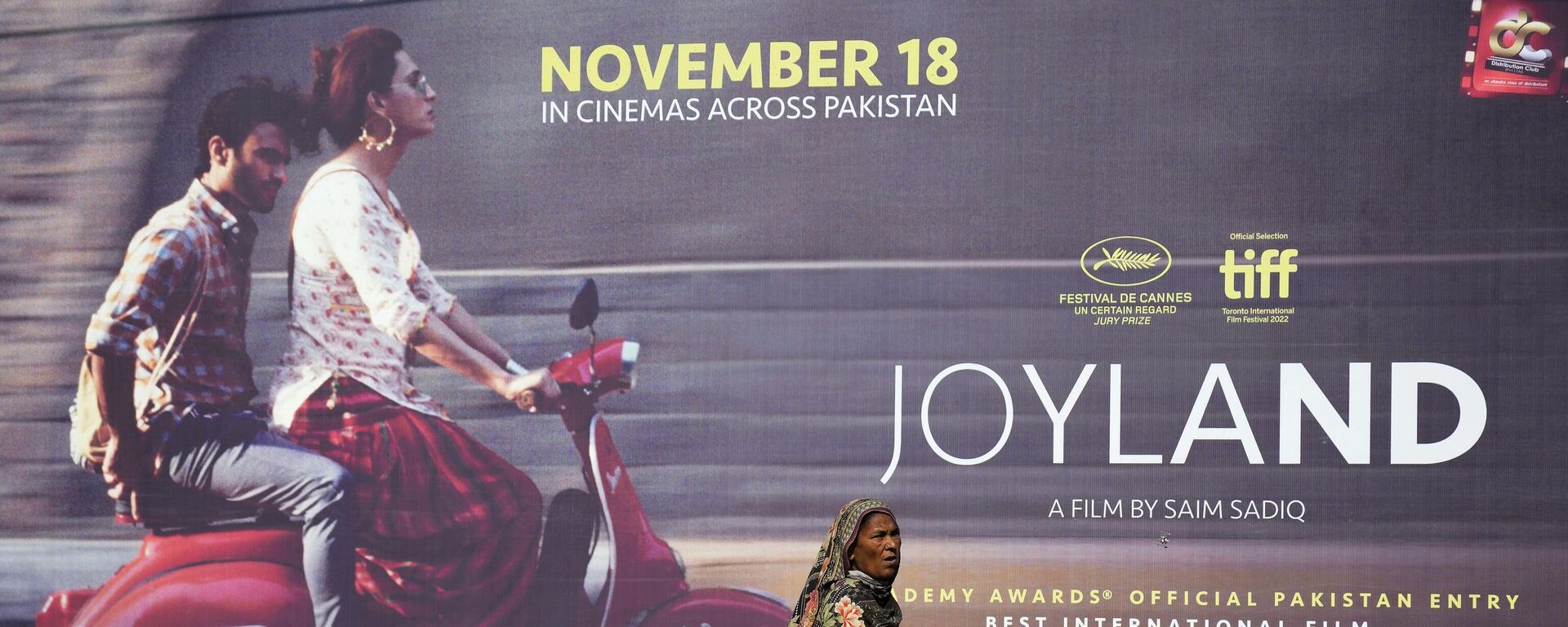 However, this is not the first time that the authorities have tried to stop the rally. Organizers of the Aurat March in Pakistan have repeatedly taken legal action to counter attempts to ban it.
"It's a violation of our rights. This raises questions about the state's ability to manage the right to freedom of assembly for both groups," Hiba Akbar, an organizer for Aurat March Lahore, was cited as saying.
Last year, thousands of women attended the rallies marking International Women's Day despite the attempt to ban them.
In 2020, groups of hardline Islamist men turned up in vans and hurled stones at women participating in the Aurat March. There were cases of cyberbullying that women attending the rallies faced. Many women came forward on social media after the last year's rallies sharing how they received death threats and sexual harassment from men over their participation in the march.
Despite such difficulties, women did not back down and marched on in all the major cities of Pakistan, including Lahore, Karachi, Islamabad and Multan.
"We are a feminist movement, we will not be in parks but rather on the streets," a statement by march organizers said.
The women marched through the streets, chanting slogans such as "Give respect to women," "End the patriarchy," and "We have only one slogan: 'Equal wages, protection and peace'."