Hailing from a farmer's family in India's Gujarat state, Dr. Pratik Desai was one of the first from his generation who branched out from farming to become a computer scientist in California's Silicon Valley, on the US West Coast.
However, he stuck to his roots in agriculture and made use of his knowledge to launch an advanced AI-powered voice assistant - Kissan (Farmer's) GPT to help farmers find real-time advice or answers in nine Indian regional languages on a wide range of topics related to farming.
Be it questions about which crops are most suitable and beneficial to grow in which type of soil and weather, or inquiries about modern ways of farming, Desai and his team are continuously working on building a storehouse of knowledge on Kissan GPT about agriculture and farming techniques.
"My team and I have been working with farmers and Indian agricultural communities building AI applications for the last four years to uplift the whole domain. Kissan GPT is an AI voice assistant that is tailored to address the unique challenges posed by Indian farmers," Desai told Sputnik.
Need for Kissan GPT
Desai realized that there is a gap in the agriculture domain in providing accurate information in real-time.
"Farmers either rely on their neighbors or unreliable sources to get their answers. And that can end up creating more problems for them," he said.
"We've recently seen the prevalence of smartphones in rural India, especially after Jio 5G Internet reaching every corner of India. Most of the farmers, at least, have some kind of smartphone and Internet availability. So we thought that an AI application like Kissan GPT can actually help them in a way of providing real-time seamless advice," he stated.
The challenge is not the accessibility of a smartphone or the internet, but to educate farmers on how to make the best use of apps like Kissan GPT and asking the right question to get an appropriate answer to their query to resolve any problem.
Kissan GPT not only helps farmers in resolving issues with their current crop, but it also offers advice on starting a new farming business or guidance on what kind of tools, pesticides, fertilizers, and seeds need to be used.
Technology behind Kissan GPT
Built on the ChatGPT-3.5-turbo version and the Whisper automatic speech recognition (ASR) system, what differentiates Kissan GPT from Chat GPT is it exclusively caters to answering questions related to Indian agriculture and is a voice assistant compatible with nine Indian regional languages.
For Desai, creating a multilingual AI assistant app that can identify different dialects and provide appropriate answers correctly was the most challenging thing, and he continues to develop that.
"There are some dialect-related issues for some languages. So, we are receiving feedback, collecting audio samples, and will be using it to further train or improve this speech recognition system," he said.
© Photo : Twitter/@Rasoolpanjaa
Twitter reaction on Kissan GPT app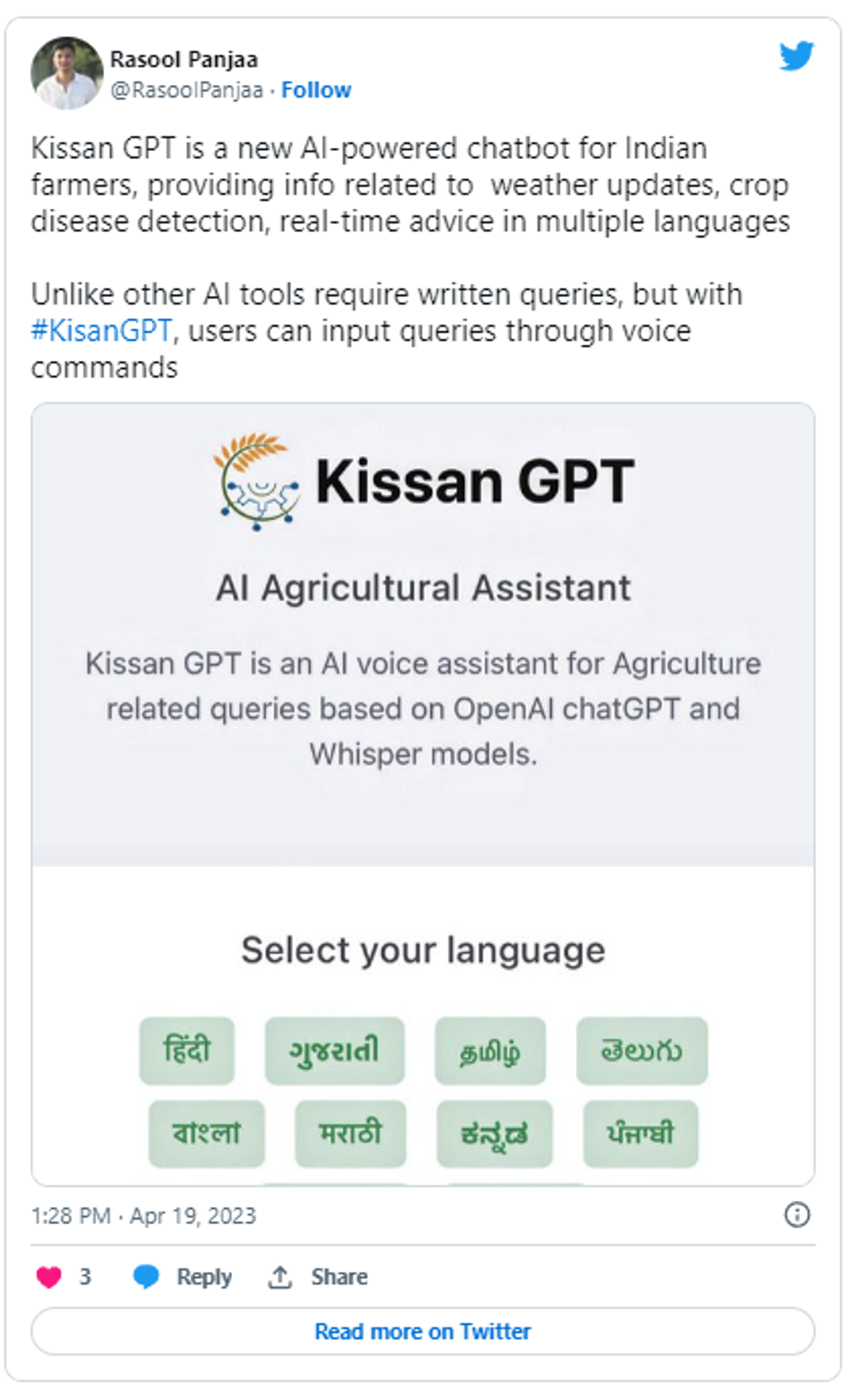 Twitter reaction on Kissan GPT app
© Photo : Twitter/@Rasoolpanjaa
Impact of Kissan GPT on Farming
Within a month of its launch, Desai revealed that Kissan GPT had received over 30k voice-based Agriculture related queries and over seven-plus potential customers have shown interest in integrating API (Application Programming Interface) into their platforms.
He went and asked professors in agricultural universities for a review, and they were surprised by the results.
"They (Professors) ended up checking one specific type of mango grown in the state of Rajasthan, and they were surprised that AI was able to narrow it down to that and provide reliable information. It worked out very well. So, now they are actually using AI for their research to do a high-level overview of finding out something related to agriculture," Desai said.
He added that if you asked Google or any other conventional platform to find out particular information, you will get hundreds of thousands of websites showing different results for you to read for an answer, which is a difficult task.
Desai added that many times, the results are not updated, or maybe not be a part of the knowledge base.
For this, he shared that they have joined hands with several farmers and agriculture professionals who are helping them as a feedback mechanism to update the knowledge base. Several groups of Kissan GPT have been created on Clubhouse, Whatsapp, and others connecting farmers and home gardeners from across India, including tribal farmers.
© Photo : Twitter/@chheplo
Founder of Kissan GPT, Pratik Desai tweets about user's response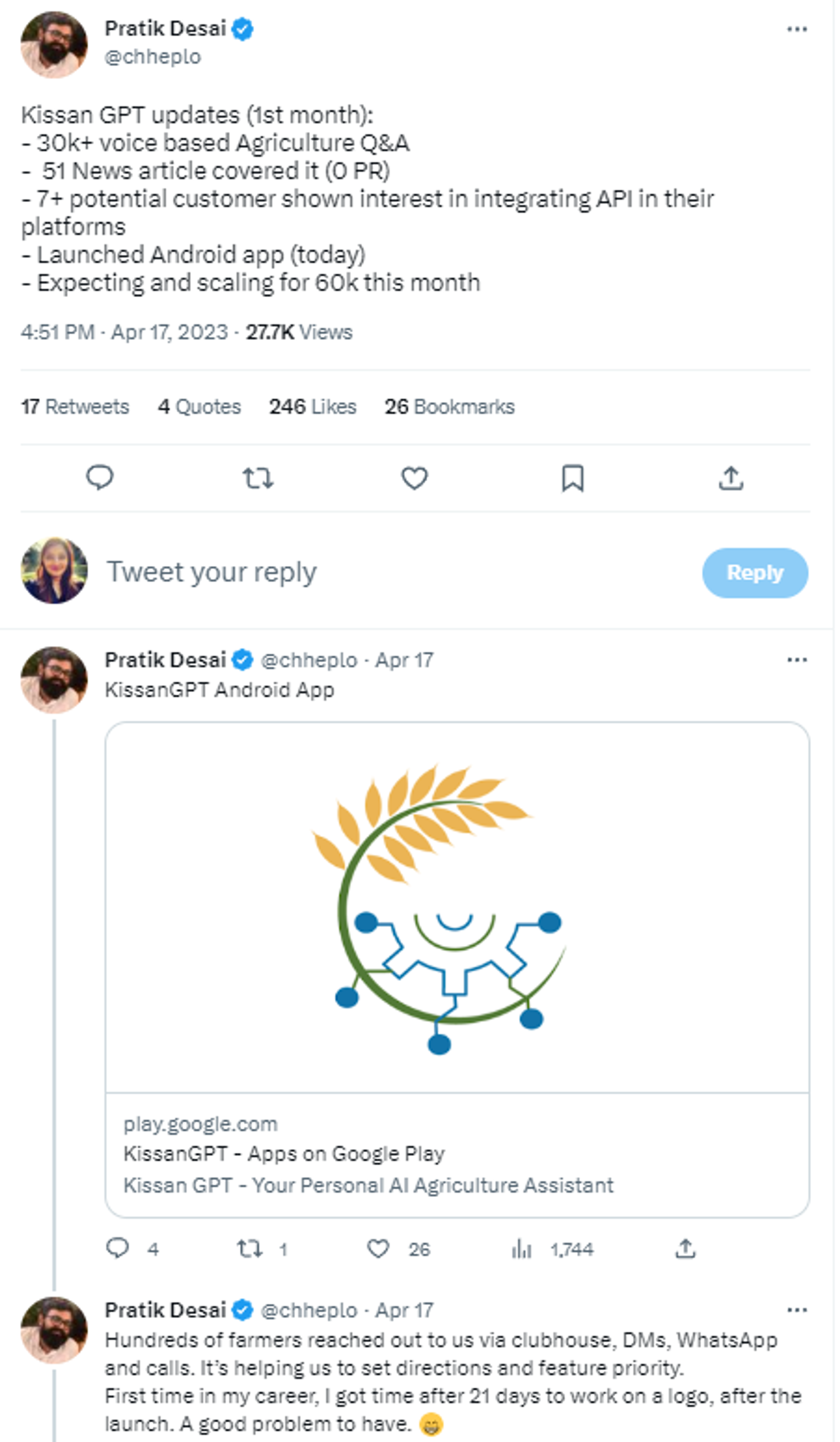 Founder of Kissan GPT, Pratik Desai tweets about user's response
© Photo : Twitter/@chheplo
Future Plans
Based on the feedback, Desai and his team have been working on supplementing some more features to Kissan GPT such as adding more regional Indian languages.
"Users will be able to create their own account that will keep a record of their regular questions. We can provide them with more personalized recommendations on what they're trying to grow at which location and weather conditions. We are also adding market insights and prices of mandi [Agricultural Produce Marketing Committees (APMC)]. All they'll have to do is ask the app the average price of a vegetable month-wise across districts," Desai said.
Future of India's Farming
AI in the agriculture field is advancing rapidly with the emergence of new agri-based start-ups and innovation.
Desai opined that AI combined with a smaller size of sensors will be the future of farming everywhere.
"We have smaller farms and different farming techniques economically because of which we cannot afford huge machinery. Hence, robotics and IoT (Internet of Things) will probably bring the smaller sensor and smaller devices to the ground, and maybe doing as a rent-a-robot kind of thing, can help farmers," he maintained.
While most of the youth in India today have moved away from farming to industrial employment, services, jobs or manufacturing occupations, Desai shared that if the number of workers is going down, then farmers will have to figure out a way to kind of carry on farming.
"Robotics and IoT were limited because of image recognition and the controls of the robots in the field. But, with new language models and image segmentation models, robots are going to become smarter and will be viable to use and trusted by farmers to be kind of autonomously left alone on the farm. This is something which I see in the upcoming future," Desai contended.
Prediction on Raising the Dead Through AI
Desai's prediction is that humans will soon be able to keep their loved ones alive by creating a digital footprint and personality traits to communicate with after their demise has sparked a heated debate on Twitter.
While Desai now finds the entire incident funny, he told Sputnik that it was not about digitally uploading consciousness.
"I never said about transferring the soul or something. It was about how with today's technology, your voice can be cloned. There is an AI model that can mimic the way you speak and behave. If you start taking pictures or videos of your parents, you will be able to create them digitally. And they will also live forever not in the physical sense but digitally. If you're missing them, you can say hi and hear their voice," Desai shared.
© Photo : Twitter/@chheplo
Scientists Stir Debate Over Bringing Dead People Alive Digitally With AI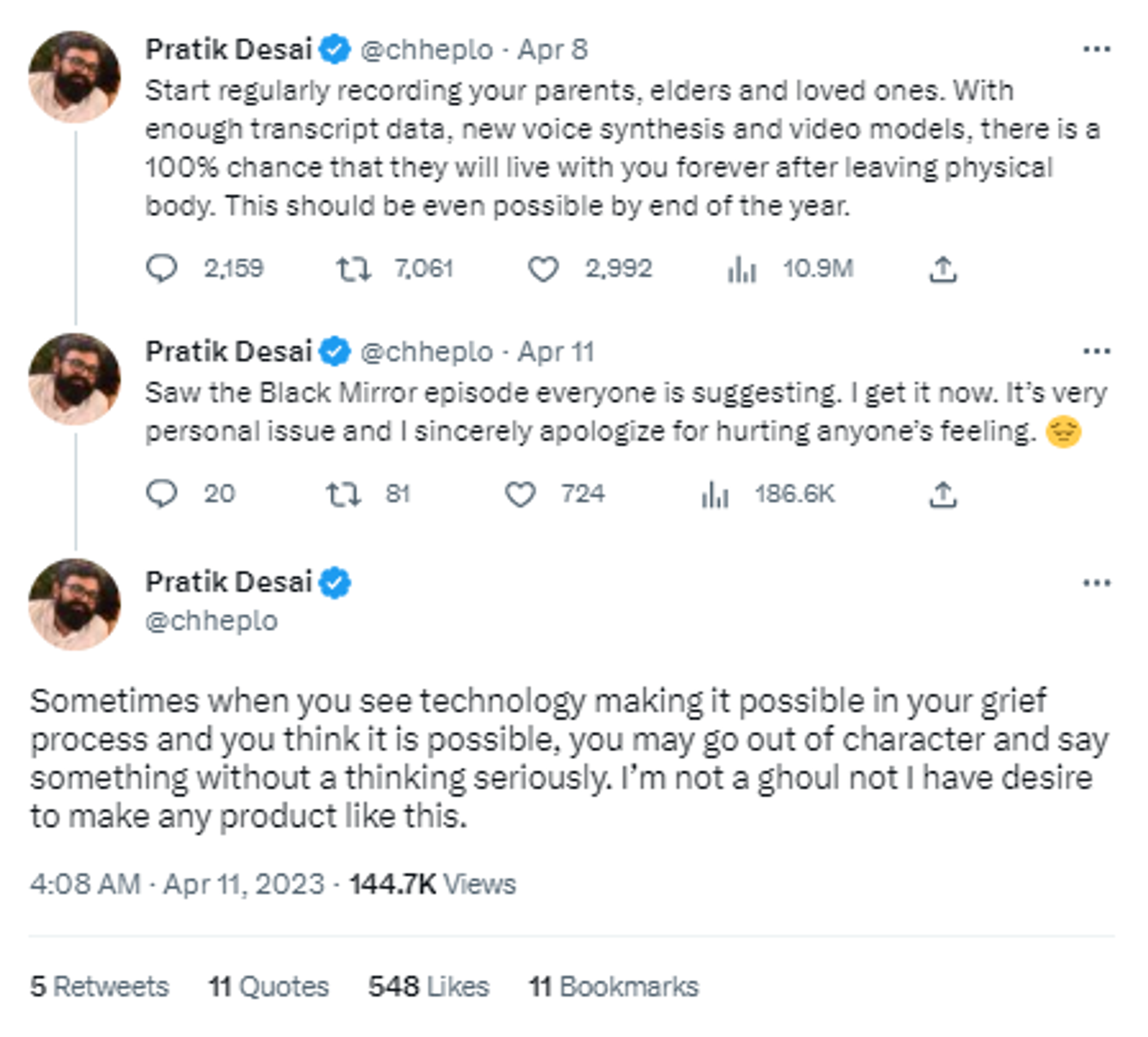 Scientists Stir Debate Over Bringing Dead People Alive Digitally With AI
© Photo : Twitter/@chheplo
He added that his tweet was taken out of context.
"There was my mistake of not clarifying what exactly I meant until it became viral. And then it kept going on. I want to focus on Kisaan GPT and never wanted to be a part of any controversy," Desai insisted.