Ending the suspense over the top post in Karnataka, Congress on Thursday announced Siddaramaiah as Karnataka state chief, with local head D.K. Shivakumar as his deputy.
Shivakumar, however, will continue to be party chief in the state unit until the 2024 parliamentary elections.
The announcement was made by All India Congress Committee (AICC) General Secretary K.C. Venugopal during a press conference in Delhi.
Karnataka in-charge and party General Secretary Randeep Surjewala was also present during the press conference.
While addressing the presser, Venugopal said: "Congress president took the decision to make Siddaramaiah as Karnataka State Chief after consulting Sonia Gandhi, Rahul Gandhi and Priyanka Gandhi Vadra and also after series of discussions with senior leaders of the party. He also held one-to-one discussions with Siddaramaiah and Shivakumar".
Venugopal also announced that Siddaramaiah, Shivakumar, and a group of ministers will be sworn in on 20 May.
Commenting on the delay in announcing the state chief, the Congress general secretary said: "In the last few days we [have been] trying for a consensus. In Karnataka, we have dynamic leaders. Siddaramaiah is an experience and senior most politicians… everyone has the wish to be state chief and both deserve it also. Our Congress leader has a series of consultations with senior leaders. Finally, the Congress president took a decision".
Meanwhile, Karnataka in-charge and General Secretary Randeep Surjewala said: "Congress party is determined to implement all [of] its five guarantees promised in the manifesto".
"The party will work for the people of Karnataka and along with this we will build Brand Karnataka by introducing a new model in Karnataka with a transparent, honest and accountable government".
Signalling that the oath-taking ceremony will serve as a platform for opposition unity ahead of the 2024 parliamentary polls, Surjewala said that members of "like-minded" political parties will be invited to the ceremony.
Meanwhile, Congress President Mallikarjun Kharge shared a photo with Siddaramaiah and Shivakumar on Twitter, and said that "Team Congress is committed to usher progress, welfare and social justice for the people of Karnataka. We will implement the 5 guarantees promised to 65 million Kannadigas (people of Karnataka)".
While talking to the media, Shivakumar said that he had agreed to be deputy state chief in the larger interests of the party.
"We have a commitment before the people of Karnataka. Parliament elections are ahead. So, I have to bow to the AICC president and the Gandhi family. [...] we have a commitment to the people of Karnataka and we have to deliver," Shivakumar said.
Meanwhile, he shared the photo of himself, Kharge, and Siddaramaiah on Twitter, and said that "Karnataka's secure future and our people's welfare is our top priority, and we are united in guaranteeing that".
Siddaramaiah also shared the photo on Twitter, and said in the Kannada language that "Our hands will always be united to protect the welfare of Kannadigas. The Congress party will work as a family to deliver a pro-people, transparent, corruption-free governance and fulfill all our guarantees".
© Photo : Twitter/@siddaramaiah
Siddaramaiah Shares Photo With DK Shivakumar and Congress Chief Mallikarjun Kharge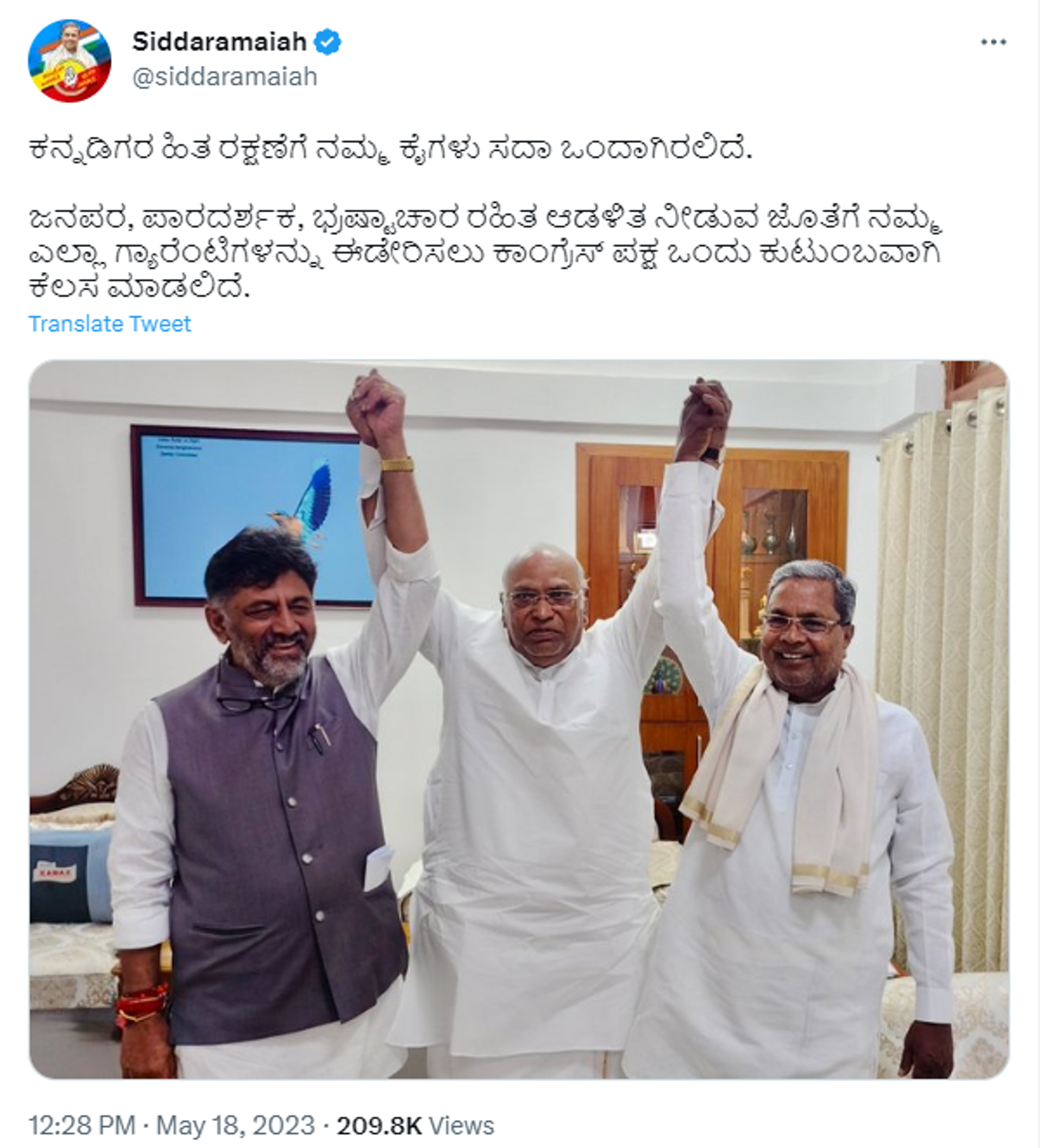 Siddaramaiah Shares Photo With DK Shivakumar and Congress Chief Mallikarjun Kharge
© Photo : Twitter/@siddaramaiah
However, Shivakumar's brother D. K. Suresh expressed some displeasure over the announcement, as he said: "I am not fully happy but in the interest of Karnataka we wanted to fulfil our commitment...That is why DK Shivakumar had to accept. In future we will see, there is a long way to go. ...I wish it (state chief post for DK Shivakumar) but it didn't happen, we will wait and see".
Congress has been deliberating over the Karnataka state chief since 14 May.
However, media reports quoting sources said that both Siddaramaiah and Shivakumar were adamant about the top post. But later Shivakumar agreed to take up the deputy state chief post following the intervention of Sonia Gandhi.