Nearly 800,000 people in Myanmar are in dire need of humanitarian assistance due to the impact of Cyclone Mocha, with the number of those requiring aid is expected to increase further, according to Anthea Webb, the Bangkok-based deputy regional director of the World Food Programme (WFP) for Asia and the Pacific.
"Cyclone Mocha has left a trail of destruction in Myanmar's Rakhine state, with homes flattened, roads blocked by uprooted trees, hospitals and schools damaged, and telecommunication and power lines severely affected. Torrential rains have caused sudden flooding and landslides. At least 800,000 people are currently in urgent need of emergency food assistance. As more areas are assessed, the needs for food, shelter, water, healthcare and other humanitarian assistance are expected to increase," she said at a briefing.
Earlier, it was reported that the cyclone, which originated in the Bay of Bengal, ravaged the western coast of Myanmar and adjacent areas for five hours on Sunday. Wind speeds reached up to 260 kilometers per hour, toppling trees, ripping off roofs and destroying wooden structures. Search and rescue operations are underway in the affected areas, with hundreds of volunteer rescuers joining professionals.
See for yourselves in our infographic.
© AP Photo
An ethnic Rakhine man stands inside a damaged pagoda to help for repairing roof after Cyclone Mocha in Sittwe township, Rakhine State, Myanmar, Friday, May 19, 2023. Cyclone Mocha roared in from the Bay of Bengal on Sunday with high winds and rain slamming a corner of neighboring Bangladesh and a wider swath of western Myanmar's Rakhine state.(AP Photo)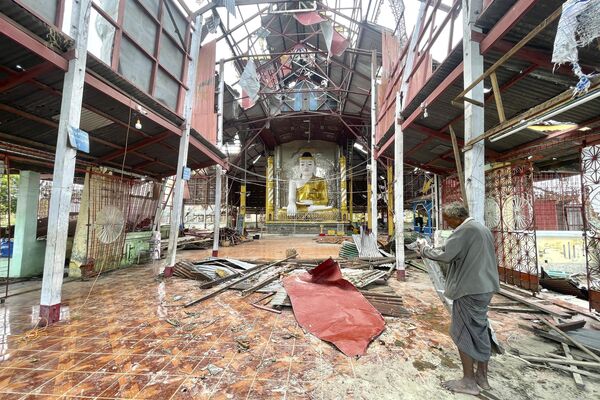 An ethnic Rakhine man stands inside a damaged pagoda to help for repairing roof after Cyclone Mocha in Sittwe township, Rakhine State, Myanmar, Friday, May 19, 2023. Cyclone Mocha roared in from the Bay of Bengal on Sunday with high winds and rain slamming a corner of neighboring Bangladesh and a wider swath of western Myanmar's Rakhine state.(AP Photo)
© AP Photo / Al-emrun Garjon
A woman surveys the damage caused to her home by Cyclone Mocha at Saint Martin island in Cox's Bazar, Bangladesh, Monday, May 15, 2023. Mocha largely spared the Bangladeshi city of Cox's Bazar, which initially had been in the storm's predicted path. Authorities had evacuated hundreds of thousands of people before the cyclone veered east. (AP Photo/Al-emrun Garjon)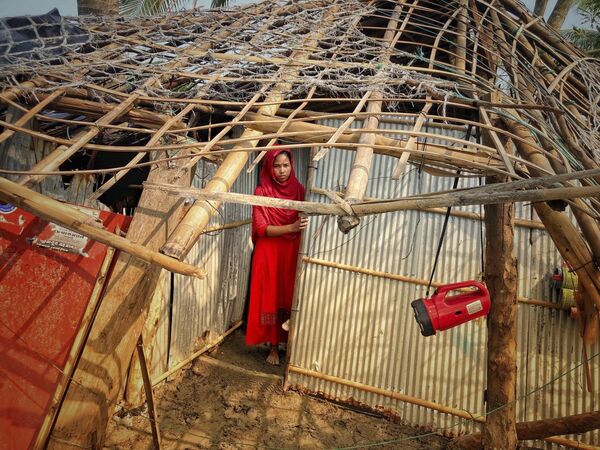 © AP Photo / Al-emrun Garjon
A woman surveys the damage caused to her home by Cyclone Mocha at Saint Martin island in Cox's Bazar, Bangladesh, Monday, May 15, 2023. Mocha largely spared the Bangladeshi city of Cox's Bazar, which initially had been in the storm's predicted path. Authorities had evacuated hundreds of thousands of people before the cyclone veered east. (AP Photo/Al-emrun Garjon)
© AFP 2023 Sai Aug Main
A Rohingya woman carries her baby next to her destroyed house at Basara refugee camp in Sittwe on May 16, 2023, after cyclone Mocha made a landfall. The death toll in cyclone-hit Myanmar's Rakhine state rose to at least 41 on May 16, 2023, local leaders told AFP. (Photo by SAI Aung MAIN / AFP)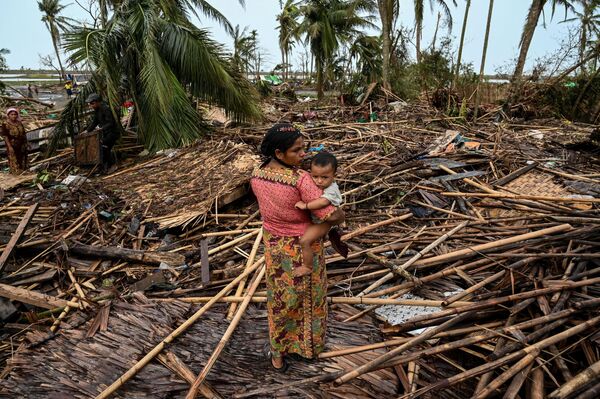 A Rohingya woman carries her baby next to her destroyed house at Basara refugee camp in Sittwe on May 16, 2023, after cyclone Mocha made a landfall. The death toll in cyclone-hit Myanmar's Rakhine state rose to at least 41 on May 16, 2023, local leaders told AFP. (Photo by SAI Aung MAIN / AFP)
© AP Photo / Al-emrun Garjon
FILE- A child runs through the wreckage of her home damaged by Cyclone Mocha at Saint Martin island in Cox's Bazar, Bangladesh, Monday, May 15, 2023. Early warnings from weather agencies and preparedness by local governments and aid agencies likely saved thousands of lives from a power Cyclone in that might have been claimed by the cyclone that slammed into the joint coastline of Bangladesh and Myanmar on Sunday. But there are concerns over the large number of people still unaccounted for in regions where preventative action was lacking. (AP Photo/Al-emrun Garjon, File)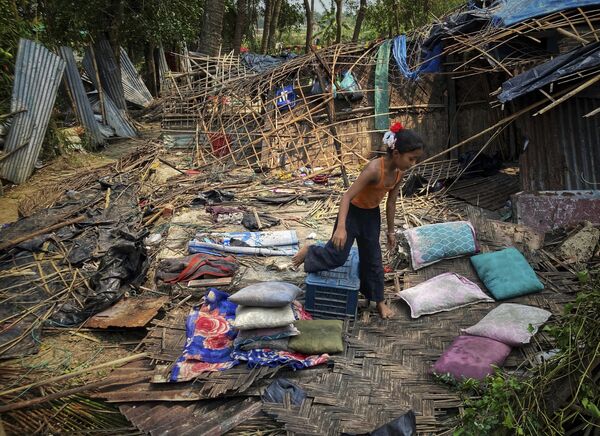 © AP Photo / Al-emrun Garjon
FILE- A child runs through the wreckage of her home damaged by Cyclone Mocha at Saint Martin island in Cox's Bazar, Bangladesh, Monday, May 15, 2023. Early warnings from weather agencies and preparedness by local governments and aid agencies likely saved thousands of lives from a power Cyclone in that might have been claimed by the cyclone that slammed into the joint coastline of Bangladesh and Myanmar on Sunday. But there are concerns over the large number of people still unaccounted for in regions where preventative action was lacking. (AP Photo/Al-emrun Garjon, File)
© AP Photo / Al-emrun Garjon
A woman salvages belongings from her home damaged by Cyclone Mocha at Saint Martin island in Cox's Bazar, Bangladesh, Monday, May 15, 2023. Mocha largely spared the Bangladeshi city of Cox's Bazar, which initially had been in the storm's predicted path. Authorities had evacuated hundreds of thousands of people before the cyclone veered east. (AP Photo/Al-emrun Garjon)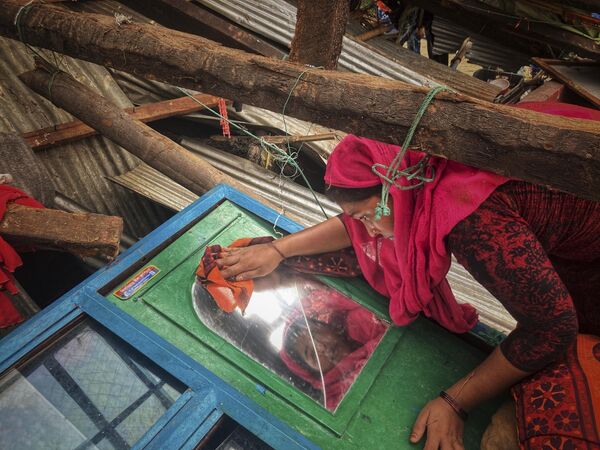 © AP Photo / Al-emrun Garjon
A woman salvages belongings from her home damaged by Cyclone Mocha at Saint Martin island in Cox's Bazar, Bangladesh, Monday, May 15, 2023. Mocha largely spared the Bangladeshi city of Cox's Bazar, which initially had been in the storm's predicted path. Authorities had evacuated hundreds of thousands of people before the cyclone veered east. (AP Photo/Al-emrun Garjon)
© AFP 2023 SAI AUNG MAIN
A man walks past a destroyed pagoda in Sittwe on May 17, 2023, in the aftermath of Cyclone Mocha's landfall. The death toll in cyclone-hit Myanmar rose to at least 81, according to local leaders, officials and state media, as villagers tried to piece together ruined homes and waited for aid and support. (Photo by SAI Aung MAIN / AFP)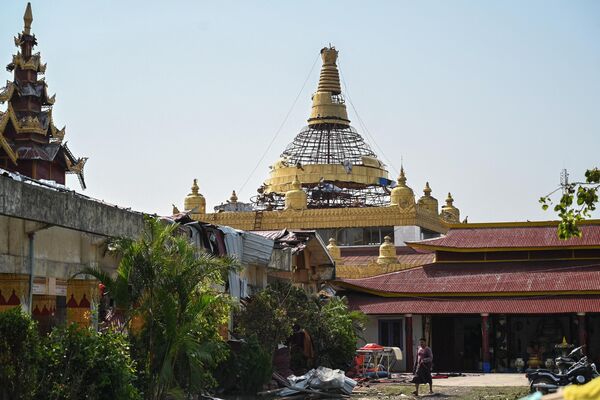 A man walks past a destroyed pagoda in Sittwe on May 17, 2023, in the aftermath of Cyclone Mocha's landfall. The death toll in cyclone-hit Myanmar rose to at least 81, according to local leaders, officials and state media, as villagers tried to piece together ruined homes and waited for aid and support. (Photo by SAI Aung MAIN / AFP)
© AFP 2023 SAI AUNG MAIN
This picture shows damaged roofs and buildings caused by cyclone Mocha in Sittwe in Myanmar's Rakhine state on May 17, 2023. The death toll in cyclone-hit Myanmar rose to at least 81 according to local leaders, officials and state media, as villagers tried to piece together ruined homes and waited for aid and support. (Photo by SAI Aung MAIN / AFP)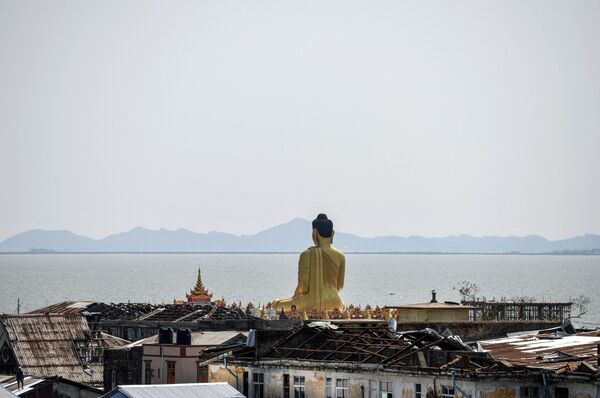 This picture shows damaged roofs and buildings caused by cyclone Mocha in Sittwe in Myanmar's Rakhine state on May 17, 2023. The death toll in cyclone-hit Myanmar rose to at least 81 according to local leaders, officials and state media, as villagers tried to piece together ruined homes and waited for aid and support. (Photo by SAI Aung MAIN / AFP)