India is well-positioned in terms of paddy productions, Ravishankar Mantha, co-founder and CEO of Agrisk Data Analytics, told Sputnik India on Monday.
Mantha has slammed the news article
published by Reuters
, which said that the Indian rice output could fall as much as eight percent from last year despite an increase in the paddy production area.
"Till October, 22 million tonnes of rice was available. If we compare this with the last year at that time it was 20 million at that time. However, in 2021, the
stock was around 25 million
. This clearly shows that we are doing better than the last year," Mantha stated while sharing the stock availability data of the Food Corporation of India (FCI).
"In terms of stock availability, there's absolutely no problem," Mantha stressed while sharing the statistics on unmilled paddy which suggested that India had a better output than 2022.
What Does Rainfall Data Indicate?
Mantha stated that a total of 447 districts, mainly from
Uttar Pradesh
,
Punjab
,
Odisha
,
Assam
, and Telangana, the major paddy producer states — received average rainfall.
However, he also said that
a total of 140 paddy-producing districts
received less rains. These included 30 districts from Uttar Pradesh and about five from
Andhra Pradesh
.
"But we've overall received normal rainfall. Although the overall rain pattern has been erratic, we have received adequate rainfall in large parts of the districts," he stressed.
© AP Photo / Eranga Jayawardena
A laborer pulls a cart load of imported rice at a wholesale market in Colombo, Sri Lanka, Sunday, June 26, 2022.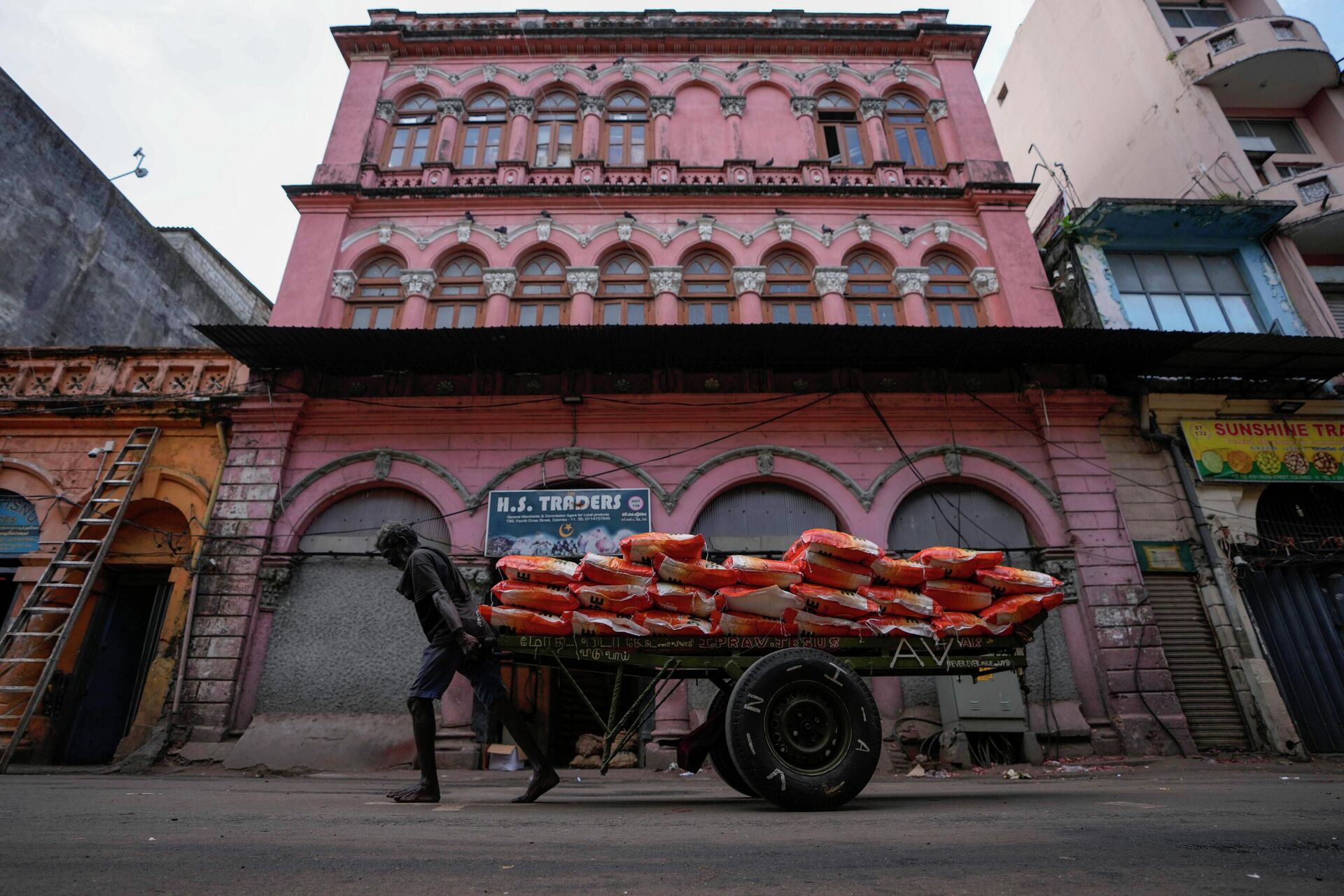 A laborer pulls a cart load of imported rice at a wholesale market in Colombo, Sri Lanka, Sunday, June 26, 2022.
© AP Photo / Eranga Jayawardena
Curb on Exports?
India, which accounts for 40 percent of the global rice trade, banned
non-basmati white rice
exports this July. Later, it initiated the government-to-government procurement with many countries.
The government is approaching rice exports with great caution due to many traders' practice of hoarding to sell it at inflated prices, Mantha explained.
Why Are There so Many Reports about Decline in Rice Production?
Traders want to create panic in the market. But how does one do it? "It's done by fabricating stories, and creating panic by saying many times that the wolf is coming," he stated.
"It's not the first time this year that any Western media organization has made up such stories. The Internet is full of such stories that quote anonymous sources, but they are actually based on unverified reports. But in-ground check, we have not seen any such news so far," the expert said.
He stated that the Indian government had read the market very well, and was "nicely managing the situation".
With the Indian general election slated for next year, the government is attentively monitoring the market to ensure the prices of
essential food items
remain stable. It is, particularly, focusing on curbing food inflation, as this issue holds immense sensitivity in the country.
Meanwhile, last Saturday, Prime Minister
Narendra Modi
announced extension of the free food grain programme that would provide free or subsidized cereals to more than 800 million people for next five years.