In his first such remarks, Russian President Vladimir Putin highly praised the Indian people in November, calling them "very talented" and "purposeful" who will help the country achieve outstanding results in its development.
He also underlined the strong Russia and India relationship, saying that the two countries have "special ties that are built on the foundation of really close allied relations for decades."
Putin added that Russia and India have never had any major issues and have always supported each other, and exuded confidence that this would continue in the future as well.
Notably, despite a turbulent geopolitical climate, India and Russia have maintained a strong and resilient bilateral relationship, built on a foundation of deep trust between Prime Minister Narendra Modi and President Vladimir Putin.
While India has consistently called for an end to hostilities and a diplomatic resolution to the conflict in Ukraine, the India-Russia relationship has been quite robust, with frequent meetings between Foreign Ministers S. Jaishankar and his counterpart Sergey Lavrov.
The year 2022 also showcased a string of significant events that offered a glimpse into India and Russia's rapidly consolidating bilateral relationship.
Russia Among India's Top Five Trade Partners
Trade between India and Russia is
expected to reach $30 billion
ahead of schedule due to an increase in energy and fertilizer purchases from Russia. This target was originally set to be achieved by 2025, but trade had already reached $27 billion in the first nine months of the year.
As a result of this increase, Russia has become India's fifth-biggest trading partner, moving up from 25th position last year.
India's exports to Russia have also started rising, with a goal of achieving $5 billion in exports for the financial year.
The two countries have a list of around 500 items that they wish to import from each other and have regular engagement to expand and sustain their trade.
During the 7th Eastern Economic Forum, Prime Minister Narendra Modi expressed a desire to strengthen India's partnership with Russia on Arctic subjects and increase investment in Russia's Far East region.
He also said that Russia could become an important partner for India's steel industry through the supply of coking coal, and that the two countries could have good cooperation in the mobility of talent.
Defense Cooperation and Deployment of First S-400 Regiment
In September, the
US attempted to pressure India
amid the Ukraine crisis by mentioning that New Delhi was "coming to understand" that Russia was "no longer a reliable weapons supplier."
A US State Department official said that New Delhi and Washington had been in "deep conversation" as the US wanted to help India, which relies heavily on Russia, diversify its defense options.
However, Indian Foreign Minister Jaishankar made it clear that India had no difficulties with Russia in receiving military equipment and spare parts following the Ukraine crisis and emphasized that where India gets its military equipment and platforms from is not a new or changed issue due to geopolitical tensions.
An Indian Foreign Ministry spokesperson also stated that India is not a country that can be pressured and the country's position is based on its national interests.
In the days leading up to the start of 2022, India and Russia announced the expansion of their defense ties during a visit by President Putin to New Delhi. This included the details of the $5.4 billion sale of an S-400 missile defense system to India, despite the risk of US sanctions.
© AP Photo / Turkish Defence Ministry
Military vehicles and equipment, parts of the S-400 air defense systems, are unloaded from a Russian transport aircraft, at Murted military airport in Ankara, Turkey, Friday, July 12, 2019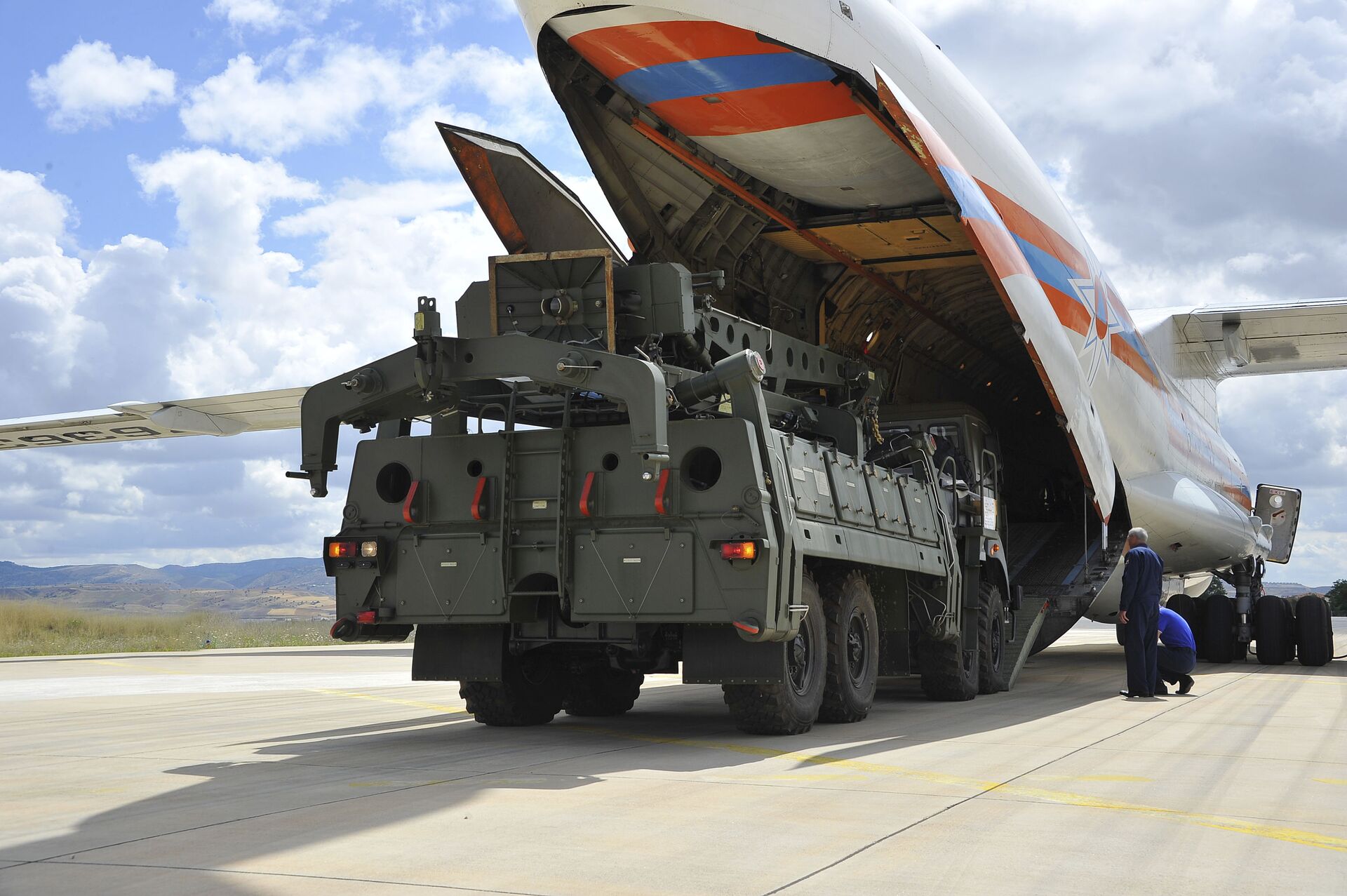 Military vehicles and equipment, parts of the S-400 air defense systems, are unloaded from a Russian transport aircraft, at Murted military airport in Ankara, Turkey, Friday, July 12, 2019
© AP Photo / Turkish Defence Ministry
In addition to the S-400 missile defense system, India and Russia also signed a $600 million deal for the local manufacture of hundreds of thousands of Russian AK-203 rifles and an additional agreement to extend cooperation on military technology for the next decade.
In October, the director general of Rosoboronexport, Alexander Mikheev, stated that India's Korwa Ordnance Factory was ready to start producing Kalashnikov AK-203 assault rifles by the end of 2022.
India Defies West's Pressure on Oil Purchase
Since the beginning of the special operation in Ukraine, India has attempted to maintain a neutral position in order to maximize its global influence without restricting its economic opportunities.
Despite pressure from the US and Europe, India has continued to purchase Russian oil, arguing that it is necessary to meet rising food and fuel prices.
Russia became its top oil supplier, replacing traditional exporters such as Iraq and Saudi Arabia.
According to customs data,
India has purchased crude oil
worth over $21 billion from Russia since April. India has defended its decision to purchase Russian oil, stating that it is important to ensure that the country's 1.3 billion people have access to international markets on favorable terms.
Indian Finance Minister Nirmala Sitharaman also revealed that Prime Minister Modi made the decision to continue relying on Russian oil due to Moscow's willingness to offer a discount.
Bonhomie on Multipolar World
Russia and India have consistently worked together on multilateral forums such as the UN, G20, and SCO to advocate for a multipolar world in the changing geopolitical environment.
They have collaborated on a range of issues and emphasized the importance of multilateralism in addressing global challenges.
Russian Foreign Minister Sergey Lavrov has underscored India's role as one of the most important pillars of the emerging multipolar world order, citing the South Asian country's strong economic growth and extensive diplomatic experience in resolving various problems.
He also noted that India is an active member of the Shanghai Cooperation Organization (SCO) and the UN, and is at the center of the formation of a multipolar world.
After assuming the presidency of the United Nations Security Council (UNSC) in December, India will also chair the Shanghai Cooperation Organization and the G20 in 2023.
As a strong advocate of multilateralism, this presents a historic opportunity for India to push for a rules-based multilateral order and elevate its global leadership role.
Rupee Based Trade Settlement
To strengthen India's trade in the rupee with Russia, which has been affected by sanctions, the Reserve Bank of India (RBI) has granted permission to 14 Indian banks, including UCO, YES, SBI, HDFC, Canara, and IndusInd, to establish special rupee vostro accounts in collaboration with correspondent banks in Russia.
The Indian government anticipates that exports to Russia will increase once the rupee trade mechanism is fully implemented, as Russian buyers will be able to utilize rupee payments received from Indian oil purchases to make their own purchases.
China a Common Factor
Throughout the year, China has been a frequent topic of conversation between India and Russia, as border tensions between the two Asian powers have persisted.
India's participation in the Vostok-2022 military exercise shows that it is willing to stand by its longtime ally Russia, even if it means potentially ignoring or downplaying its strategic relations with the US or tensions with China.
However, experts believe that Russia has managed to effectively engage with both India and China in order to deescalate border tensions and maintain good relations with both countries.
In April, Russian Foreign Minister Lavrov stated that he had had a conversation with Jaishankar about actively working on the Russia-India-China trilateral mechanism in order to stabilize international relations and promote "equity in international affairs."
© Sputnik / Alexey Kudenko
 / Go to the mediabank
Russian Foreign Minister Sergei Lavrov, right, and his Indian counterpart Subrahmanyam Jaishankar shake hands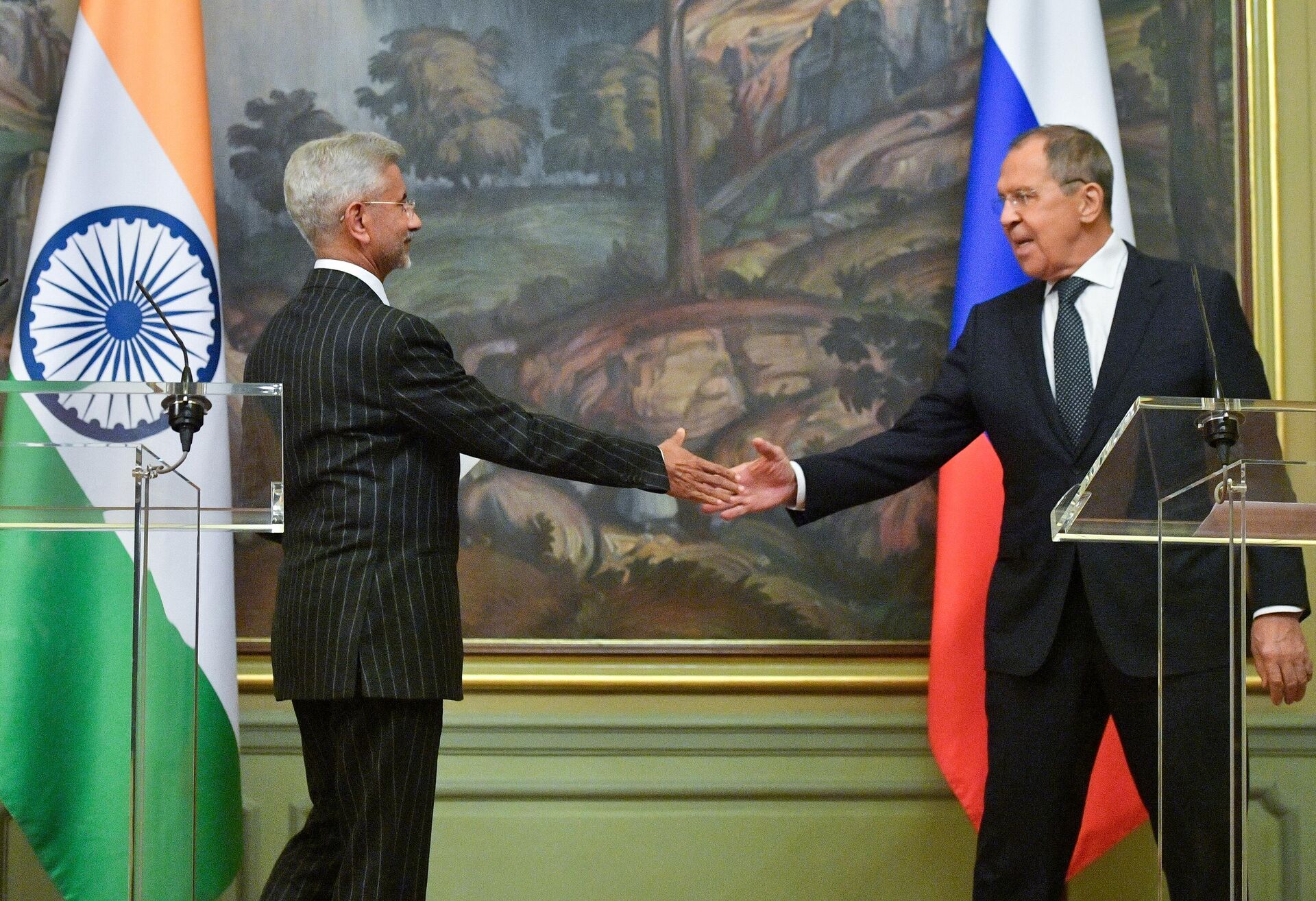 Russian Foreign Minister Sergei Lavrov, right, and his Indian counterpart Subrahmanyam Jaishankar shake hands
© Sputnik / Alexey Kudenko
/
Troika on Afghanistan
Russia has further strengthened its cooperation on Afghanistan by inviting India to join the extended Troika, a group that also includes Iran and the Central Asian Republics (CARs). This marks the first time that India has participated in the Troika format on Afghanistan.
In addition to representatives from India, Russia, Iran, and the CARs, the meeting also included participants from China, Pakistan, Qatar, Saudi Arabia, Turkey, and the United Arab Emirates.
The newly formed Troika, which includes India, Iran, and Russia, aims to indirectly influence the Taliban by encouraging it to fulfill its promise to create a truly inclusive government.
It is possible that the Troika may be able to counterbalance the influence of the Pakistan-China duopoly in Afghanistan.
Modi-Putin Meets/Calls
The 22nd India-Russia Annual Summit was not held this year due to scheduling conflicts with Prime Minister Modi, who was occupied with elections and other domestic issues.
Despite the postponement of the summit,
Modi and Russian President Vladimir Putin
have remained in contact throughout the year, holding at least five phone conversations since February, when Moscow launched its military operation in Ukraine.
The two leaders met in person at the annual summit of the SCO in Samarkand, where they discussed a range of bilateral and global issues, including the situation in Ukraine.
Prime Minister Modi stated that the global community was currently facing significant challenges, with food and energy crises disproportionately affecting developing countries.
"I know that today's era is not of war," he said. "Today we will get a chance to discuss how we can move forward on the path of peace in the coming days," he stated on the occasion.
First Export of India-Russia JV BrahMos
The BrahMos supersonic cruise missile, a joint venture between India and Russia, found its first buyer in the Philippines this year.
BrahMos Aerospace signed a $375 million deal to export three batteries of the missile system, which includes two missile launchers, a radar, and a command-and-control center. Each battery is capable of firing two missiles within 10 seconds.
The BrahMos missile is a unique weapon that can be launched from a variety of platforms, including submarines, ships, aircraft, and land-based systems.
© Sputnik / Evgeny Odinokov
 / Go to the mediabank
BrahMos display at the Army-2022 International Military-Technical Forum. August 16, 2022.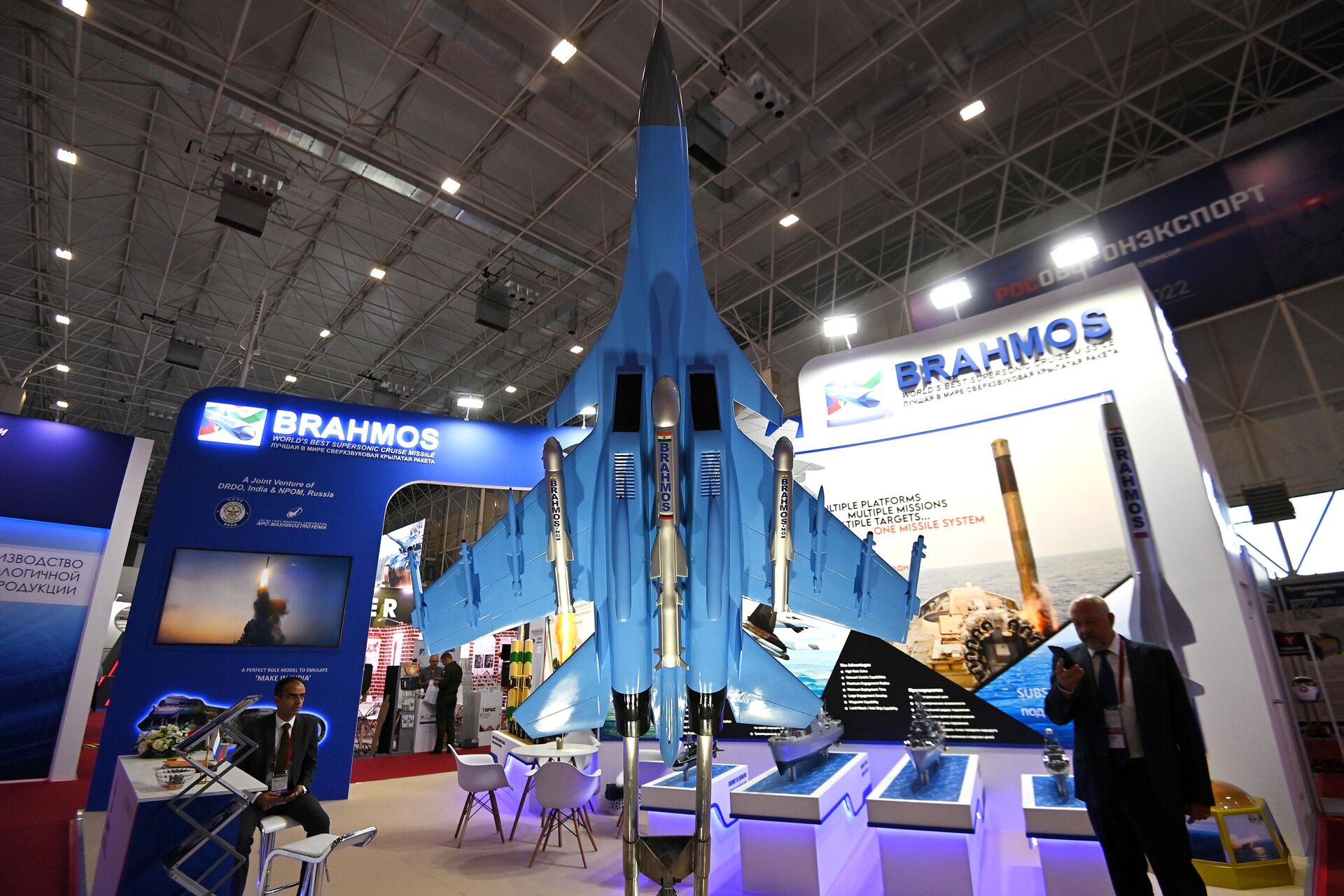 BrahMos display at the Army-2022 International Military-Technical Forum. August 16, 2022.
© Sputnik / Evgeny Odinokov
/
International North-South Transport Corridor
After years of slow progress, there has been a surge of diplomatic activity aimed at opening the International North-South Transport Corridor (INSTC), a 7,200 kilometer transport network that aims to facilitate seamless connectivity between St. Petersburg in Russia and ports in Iran and India.
New Delhi has hosted a range of activities with Central Asian countries, Iran, and Russia to expedite the development of the INSTC.
"Chabahar Day" was commemorated on July 31, 2022 in Mumbai, the starting point of the INSTC.
In June 2022, the INSTC began operation with the first shipment from Russia to India.
The cargo traveled from St. Petersburg by rail to the Caspian Sea port of Astrakhan in Russia, then by ship to the Caspian Sea port of Anzali in Iran, and from there by rail to the port of Bandar Abbas in Iran, before finally being shipped to Mumbai.