Former Congress President Rahul Gandhi resumed his "Bharat Jodo Yatra," a march to unify Indians, from the Hatli Morh area of Jammu and Kashmir's Kathua border district on Friday.
The march was flanked by prominent politicians, including Shiv Sena (Uddhav Thackeray) parliamentarian Sanjay Raut, among others.
Interestingly, Gandhi, who has invariably
donned a white t-shirt
for the 125 days during the march, opted to wear jacket on the rainy morning, ending the buzz created on social media and by opposition parties.
Gandhi marched through northern India in peak winter wearing just a t-shirt, even when the temperature touched five degrees Celsius in some places. His minimal clothing evoked a lot of curiosity and admiration from many, as well as snarky comments from opposition parties. He clarified he would wear more clothes if he felt cold.
He removed the jacket later.
Meanwhile, the 52-year-old leader has been given a massive security cover, with police and paramilitary ring-fencing the Gandhi scion and his co-travellers.
Security agencies advised Gandhi not to walk certain stretches during the Bharat Jodo Yatra in Kashmir, NDTV reported.
The march entered Jammu and Kashmir on Thursday and will culminate with a rally in Srinagar on January 30.
On Thursday, while entering Jammu and Kashmir, Gandhi described the visit to the region as a "homecoming," as his great grandfather and first Indian Prime Minister Jawaharlal Nehru were part of the Kashmiri Pandit community.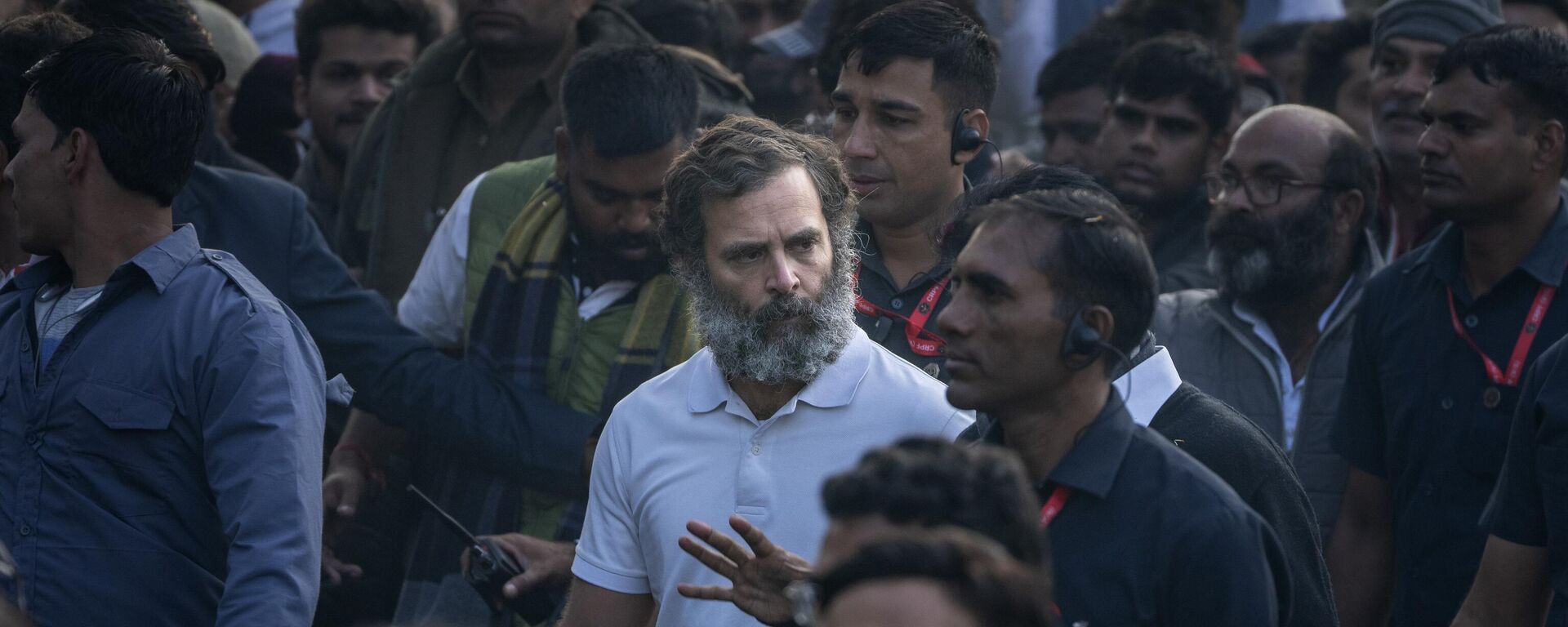 Gandhi was also welcomed by National Conference leader and former Jammu and Kashmir chief Farooq Abdullah, and other senior politicians.
Meanwhile, taking a swipe at Congress, federal minister and BJP parliamentarian from Jammu and Kashmir's Udhampur, Jitendra Singh, took a jibe to highlight that the Congress-led government objected to the BJP's yatras (marches) taken out in the 1990s.
"We had seen that era when bloodshed was going on in the name of J&K, and terrorism was at its peak in the 1990s. BJP took out a yatra at that time. It was this party and its leaders who opposed it then. They had attempted to stop it," Singh said.
"In 2011, when 'Tiranga Yatra' (Tricolor march) was taken out, three of our senior politicians - Arun Jaitley, Sushma Swaraj and Ananth Kumar were arrested at the airport in Jammu and sent to Pathankot area. How can we forget that?" he recalled.
The Kashmir region has witnessed an anti-India insurgency for more than three decades. Tensions were further exacerbated following the central government's decision to revoke the region's semi-autonomous status in 2019. Currently, the erstwhile state exists as
federally administered union territory
.