However, this trend of over-the-top weddings has raised concerns about the widening gap between the rich and the poor in the country.
An inquiry by the Federal Board of Revenue (FBR) into one of Pakistan's most expensive weddings in Lahore showed that a sum of Rs 150 million ($618,000) was spent on booking a private country club for a period of 120 days by the bride's father.
An additional sum of Rs 15-20 million (USD 82,000) was given to the event management company which made the arrangements, and a similar amount was paid for decorations at the wedding.
The sources also shared that a huge sum was spent on fireworks, while Rs 9.5 million ($40,000) was spent on photography and a studio. According to the FBR, over Rs 15 million ($61,000) was paid to a popular singer who performed at the wedding reception.
© Aneela Rashid
Wedding decor from Hello Magazine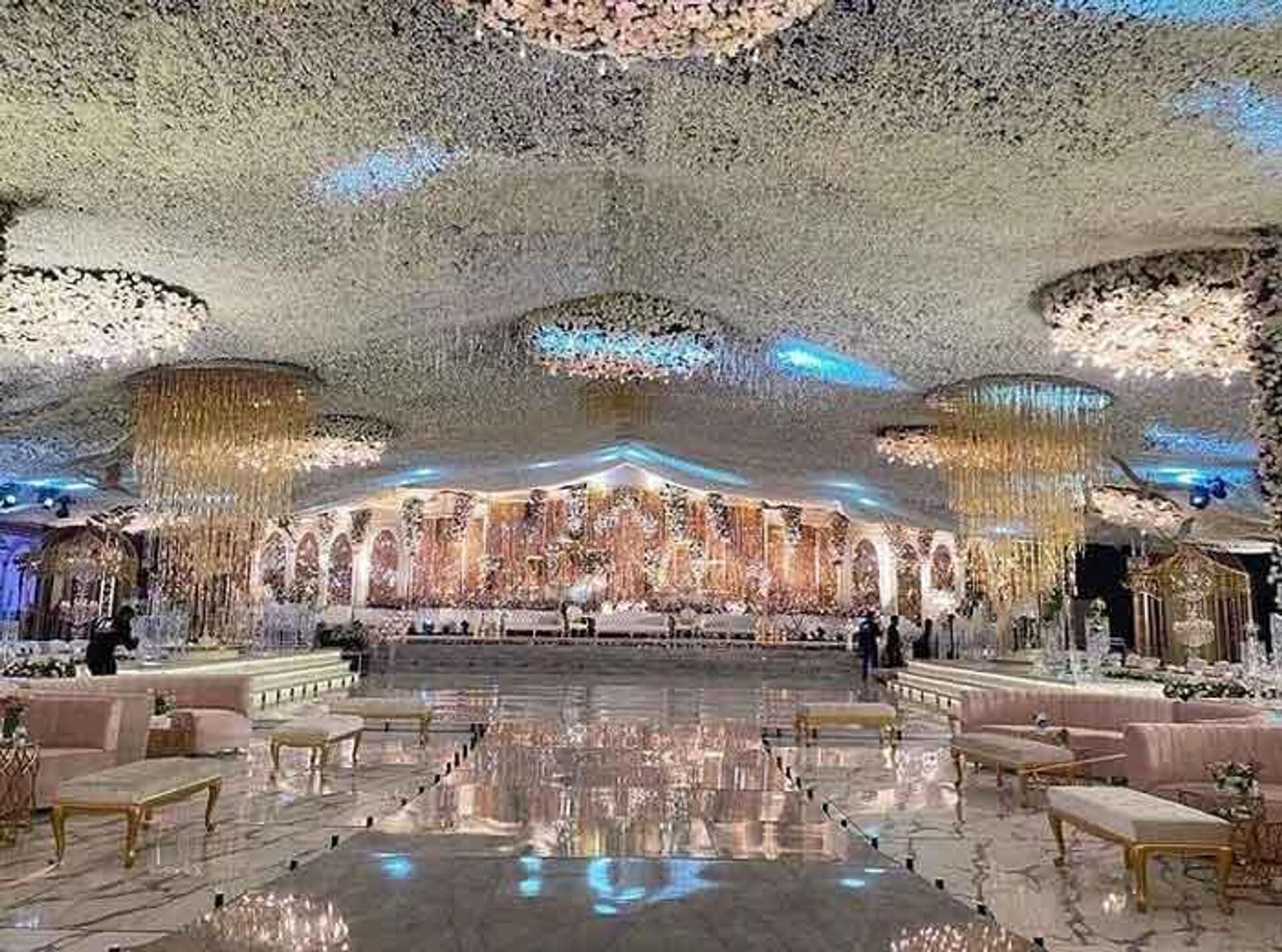 Wedding decor from Hello Magazine
Many political families in Pakistan spend a lot on their children's weddings, with parties taking place in Pakistan, Dubai, Turkey and even London.
One of the main reasons for the high cost of weddings in Pakistan is the cultural expectation that the event should be grand and elaborate. This includes renting expensive venues, getting top-notch catering services, and inviting a large number of guests.
Additionally, families often spend a lot of money on the bride's attire, jewelry, and makeup. The groom's attire and accessories are also a significant expense.
Another factor contributing to the high cost of weddings is the competition among families to outdo each other. Many families feel pressure to put on a lavish wedding to maintain their social status and impress their friends and family. This has led to a culture of overspending and extravagance, which is not sustainable for many families, especially those living in poverty.
Party All Night Long!
Some of the most expensive weddings over the last few years that took place in the country were thrown by the families of politicians and business tycoons. Attending such a wedding is like watching a Bollywood movie come to life - colorful clothes, expensive décor resembling a movie set, bride coming in on a horse or decorated Range Rovers, while flowers are being thrown at her majesty! The lavish banquet is usually more than enough to feed 500 guests, in many cases there's enough food to feed a whole village in Punjab.
The ceremonies also include a huge stage in the middle of the hall/tent where elaborate dances are performed by the families and friends of the newlyweds. These days a new "trend" includes calling international singers and performers to entertain the guests for a few hours.
One such example of a recent wedding was Sharmila Farooqi who is a member of Pakistan Peoples Party (PPP) married to Hasham Sheikh, a former Wall Street investment banker and presently an advisor to the former president Asif Ali Zardari.
Their wedding festivity began with a grand bridal shower, followed by the performance of a famous singer, Sukhbir Singh, from neighboring India.
People attending the wedding mentioned that Sharmila's traditional outfit was worth approx. Rs 2.1 million ($8,000) and she arrived at her wedding on a white horse. During the next day's celebration (Pakistani weddings are a minimum five days long) Sharmila's dress was allegedly worth Rs 6 million ($33,000).
© Aneela Rashid
Sharmila Farooqi's wedding by Nina Alam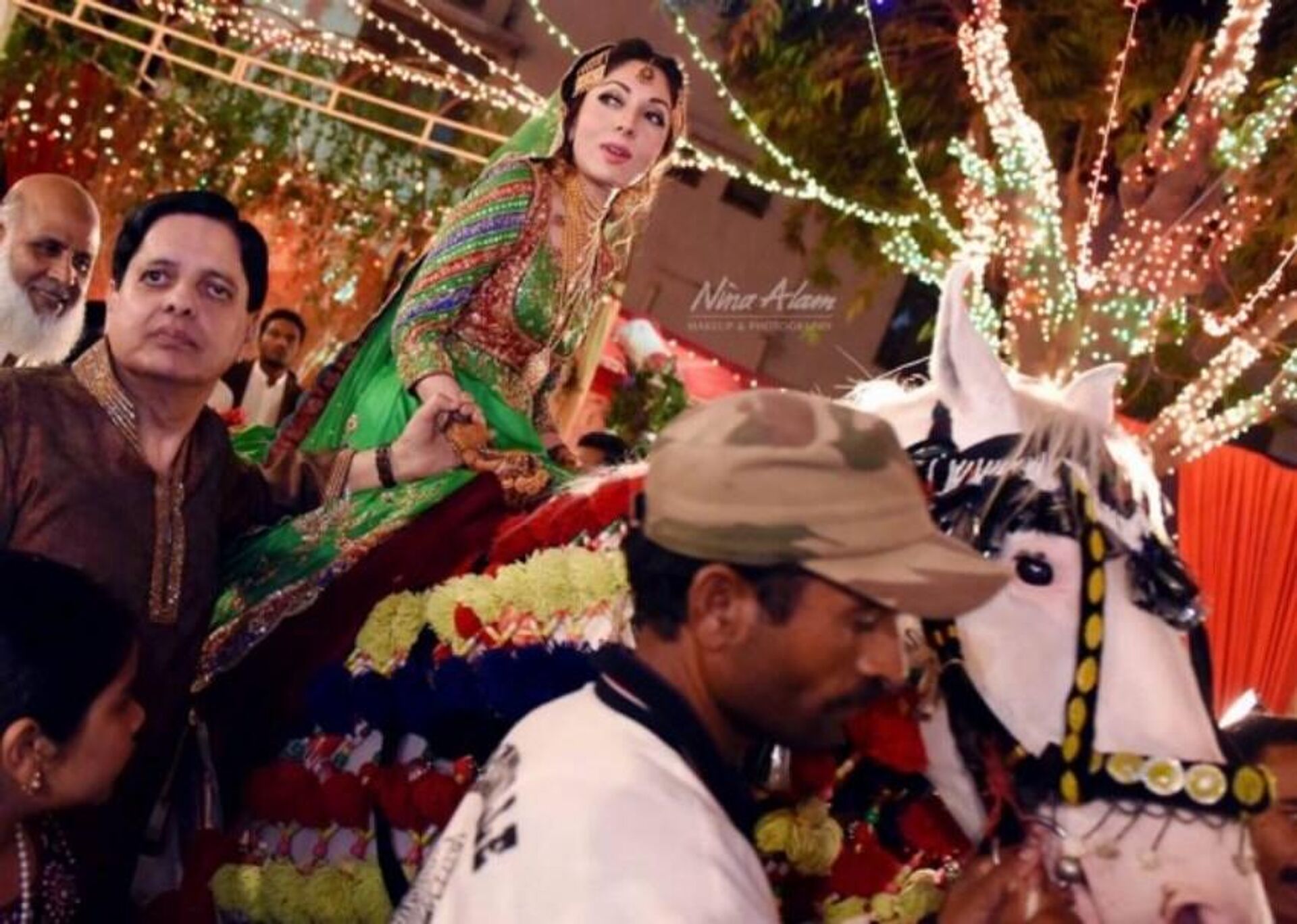 Sharmila Farooqi's wedding by Nina Alam
Similarly, property business tycoon Malik Riaz's granddaughter's wedding was also a lavish affair. The wedding was attended by famous personalities of Pakistan and many joined from abroad. When the newlyweds left their wedding at the end, they went in a helicopter!
© Aneela Rashid
Hamza and Maryam Malik's wedding photo by Irfan Ahson Photography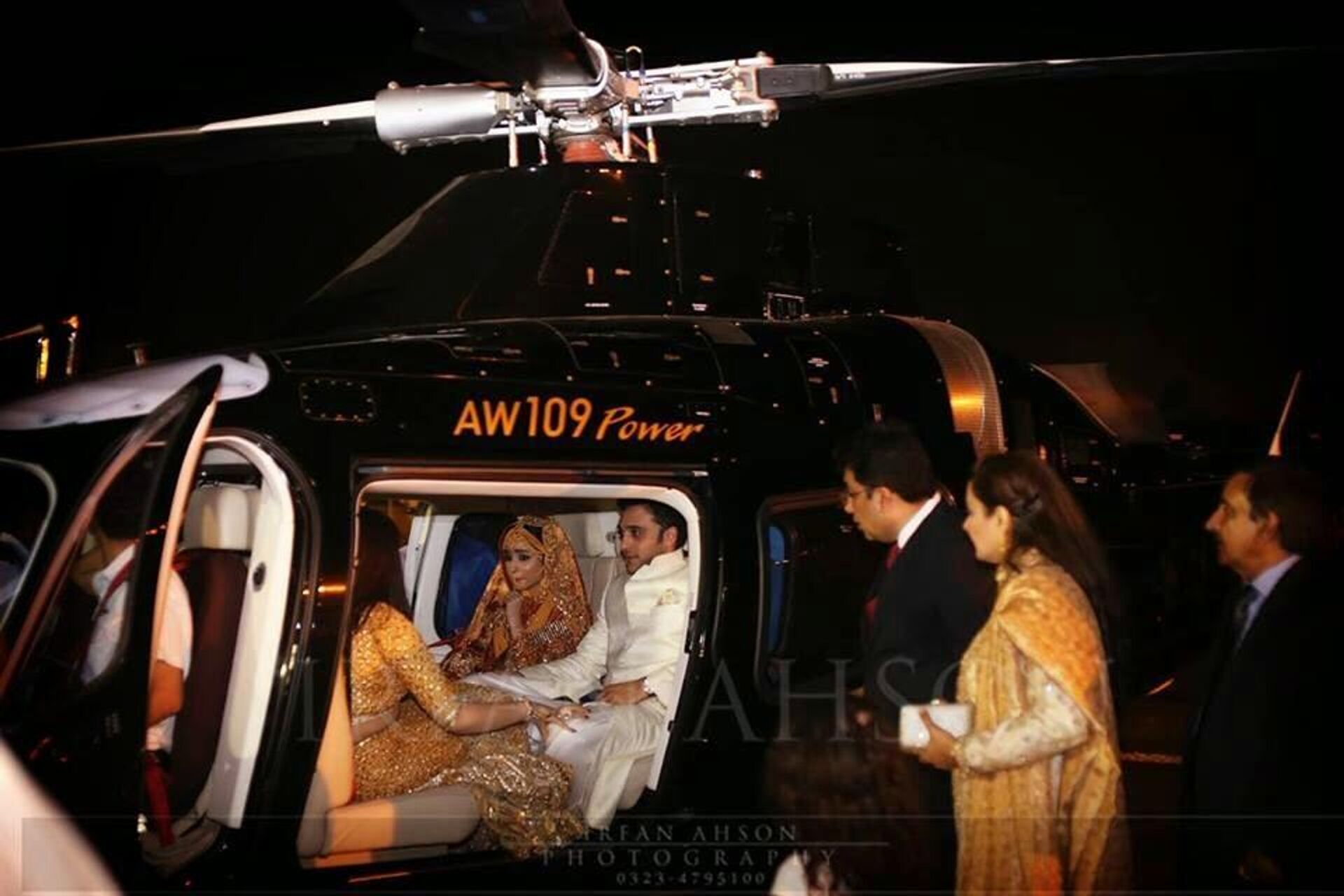 Hamza and Maryam Malik's wedding photo by Irfan Ahson Photography
Reportedly Malik Riaz gifted an Audi R8 to the groom, worth around $200,000. The same business tycoon gifted a Bugatti to his grandson, Zoraiz, when he got married. Ironically, the wedding lasted longer than the marriage. The grandson married a Pakistani Instagram model shortly afterward, causing a scandal in the family.
However, the biggest wedding was that of Mehrunnisa Safdar, the granddaughter of exiled politician Nawaz Sharif and grand-niece of current Prime Minister Shahbaz Sharif. Her marriage to Munir Ahmed took the cake!
The first day of the wedding took place in Masjid Nabvi (a historic mosque) and then the marriage was solemnized in Pakistan, Dubai and London. Reportedly more than 4,000 people attended the wedding celebrations; many were Sharif's VIP guests and were accommodated in five star hotels.
© Aneela Rashid
Mehrunnisa and Nawaz Sharif by Dunya News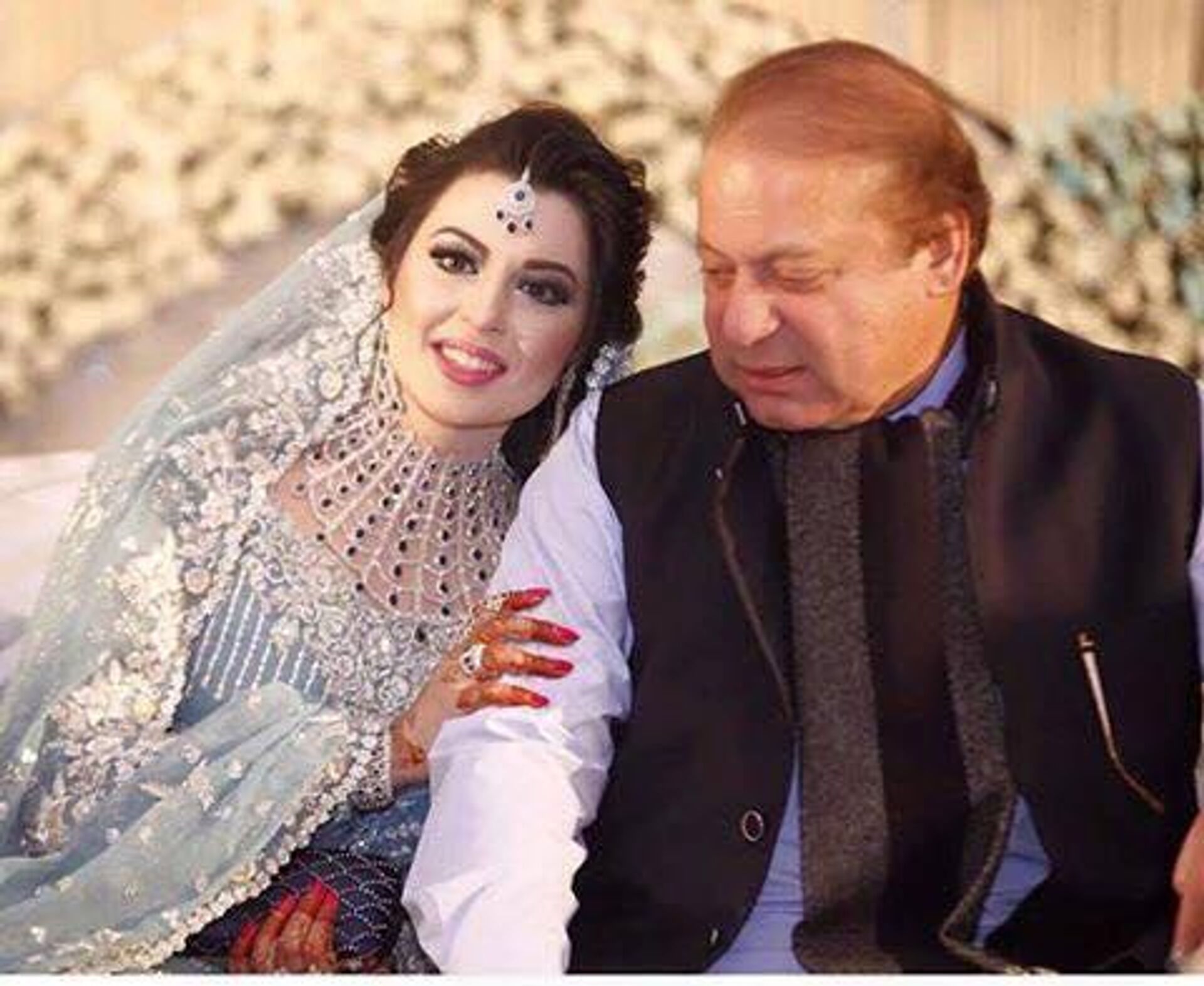 Mehrunnisa and Nawaz Sharif by Dunya News
Detrimental Effect on Society
The trend of lavish weddings in Pakistan has significant social and economic implications. Many families, particularly those living in poverty, struggle to afford the high cost of weddings. They often have to take out loans or sell assets to pay for the event, which can have long-term financial consequences.
The poverty rate in Pakistan is among the highest in the world, with over 30% of the population living below the poverty line. The country also has a high rate of income inequality, with a small percentage of the population controlling a large portion of the country's wealth.
This disparity is obviated by the trend of lavish weddings, which only a small percentage of the population can afford.
To address this issue, there have been calls for the government to introduce policies to regulate the cost of weddings. This could include setting limits on the number of guests that can be invited, or capping the amount of money that can be spent on the event.
Additionally, there have been calls for the government to provide financial assistance to families living in poverty to help them cover the cost of weddings.
More Democracy, Less Show
Extravagant wedding ceremonies, especially of public or political figures, who aspire to hold elected public office, should not be reminiscent of the glamor displayed in movies.
In most democratic countries, media coverage of wedding ceremonies of political figures is not permitted, nor are videos of the events uploaded on social media. Security measures are adopted to maintain the privacy of such events. At the most, a picture is released of the event to the media.
Even many celebrities are now keeping wedding ceremonies private and low-key, as that is the new "cool".
In Pakistan the cultural mindset towards weddings needs to change, promoting simplicity and humility. Instead of competing with each other and trying to outdo each other, families can focus on the true meaning of marriage and celebrate it in a more meaningful and sustainable way.
This can be achieved through education and awareness campaigns, encouraging people to be mindful of their spending and the impact it has on the country's economy and society.
The views and opinions expressed in this column are those of the author and do not necessarily reflect the position of Sputnik.