Tensions continue to simmer in Jammu and Kashmir, where the local administration is in the midst of a massive eviction drive aimed at residents whom the authorities accuse of encroaching upon state land.
On Monday, multiple senior politicians in the region, including two former state chiefs, questioned the J&K government's motives behind the evictions and use of bulldozers for "destroying property."
The political statement also comes at a time when local militant group the Resistance Front has issued a threat against officials of the Revenue Department, which is at the forefront of the eviction drive.
The Issue
Last month, an official directive to evict anyone encroaching upon government-owned land in Jammu and Kashmir was issued by the local administration. Besides this, the government also began to retrieve land granted to people at cheaper prices under the Jammu and Kashmir State Land (Vesting of Ownership Rights to Occupants) Act.
Also known as the
Roshni Act
, the law granted land ownership to people who had encroached on state land over the past several decades.
Those people had to pay a certain amount of money for their land, with which the local government wanted to raise funds for investments in the power sector and finance hydel projects. However, the act was rendered illegal by the Jammu and Kashmir High Court in 2020.
Several other executive orders have also been issued seeking to retrieve other state land deemed occupied by local residents who are not necessarily beneficiaries of the Roshni Act.
The basis of land retrieval was established in August 2019, when New Delhi revoked Jammu and Kashmir's semi-autonomous status, dividing the region into the centrally governed union territories of Jammu and Kashmir, and Ladakh. The move brought an end to the erstwhile state's own constitution and laws, including those related to land ownership.
What Have Politicians Said?
Former J&K state chief Omar Abdullah said the use of bulldozers to demolish properties of people should be the last resort. "People should be served notices and given a chance of explaining themselves. Instead, we are seeing use of bulldozers," said Abdullah, who also argued that the eviction drive is giving a chance to bureaucrats to extort money by promising gullible people that their property won't be demolished.
Former Cabinet minister Sajad Lone said the government wanted to invent homelessness. "What is the objective? Is it to retrieve state land or humiliate people? I believe humiliation is the main purpose," Lone said.
Former state chief Mehbooba Mufti at a press conference in New Delhi compared Kashmir to Afghanistan, and said bulldozers were roaming around everywhere.
© AP Photo / Mukhtar Khan
A Kashmiri man lights a cigarette using a fire pot as a shopkeeper waits for customers on a cold evening in Srinagar, Sunday, Jan. 8, 2023.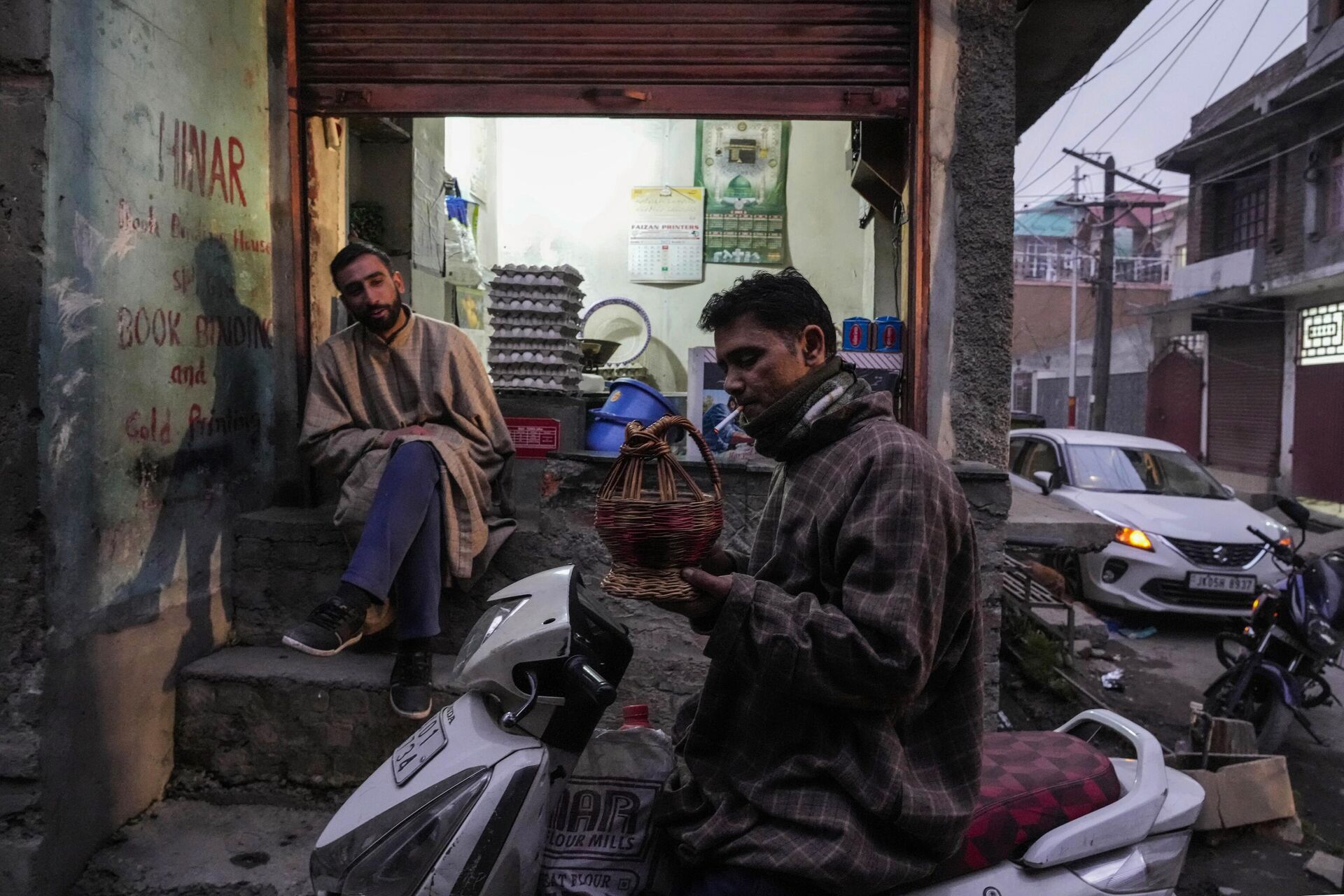 A Kashmiri man lights a cigarette using a fire pot as a shopkeeper waits for customers on a cold evening in Srinagar, Sunday, Jan. 8, 2023.
© AP Photo / Mukhtar Khan
The statements come despite assurance by Lieutenant Governor Manoj Sinha that only the rich and influential who had misused their power to grab land will be targeted.
Over the last week, properties of several Kashmiri politicians have either been retrieved or demolished by the government in J&K. The Kashmiri politicians, however, contend that the poor are being targeted as well, a charge denied by the Bharatiya Janata Party.
"People are happy about the eviction. Some people tried to spread misinformation that common man will be impacted in the anti-encroachment drive," Sinha said at an official event in Jammu on Friday.
Militant Threats
Meanwhile, militant group the Resistance Front has also issued threats, stating that officials taking part in the eviction drive will be targeted and that there will be no "distinction between good employee and bad employee." Senior government officials said all threats are taken seriously by the security establishment and that personnel will prioritize maintaining order during the drives.