Prime Minister Narendra Modi on Friday welcomed the Indian armed forces' push to acquire defense equipment from local companies after the Ministry of Defense inked deals worth $3.4 billion on Thursday.
"A welcome development, which will boost self-reliance and particularly help the MSME sector," Modi stated in response to Defense Minister Rajnath Singh's tweet about the development.
Launched in 2014, the Make in India initiative is the Modi government's flagship program to boost indigenous production of defense equipment. It also aims to make New Delhi a major exporter of arms and ammunition.
What New Weapons Will Indian Army Get?
On Thursday, Singh shared that his ministry would procure 12 Weapon Locating Radars (WLR) Swathi (Plains) and improved versions of the Akash Weapon System (AWS) under the Make in India campaign.
The AWS, developed by India's premier Defence Research and Development Organisation (DRDO), is a short-range surface-to-air missile defense system of the country.
Both radars and the missile system were being acquired for the Indian Army in a deal that would cost the ministry over $1.1 billion.
© AFP 2023 PRAKASH SINGH
A tank equiped with Surface-to-air Akash missiles manoeuvers past Vijay chowk on Rajpath in New Delhi (File)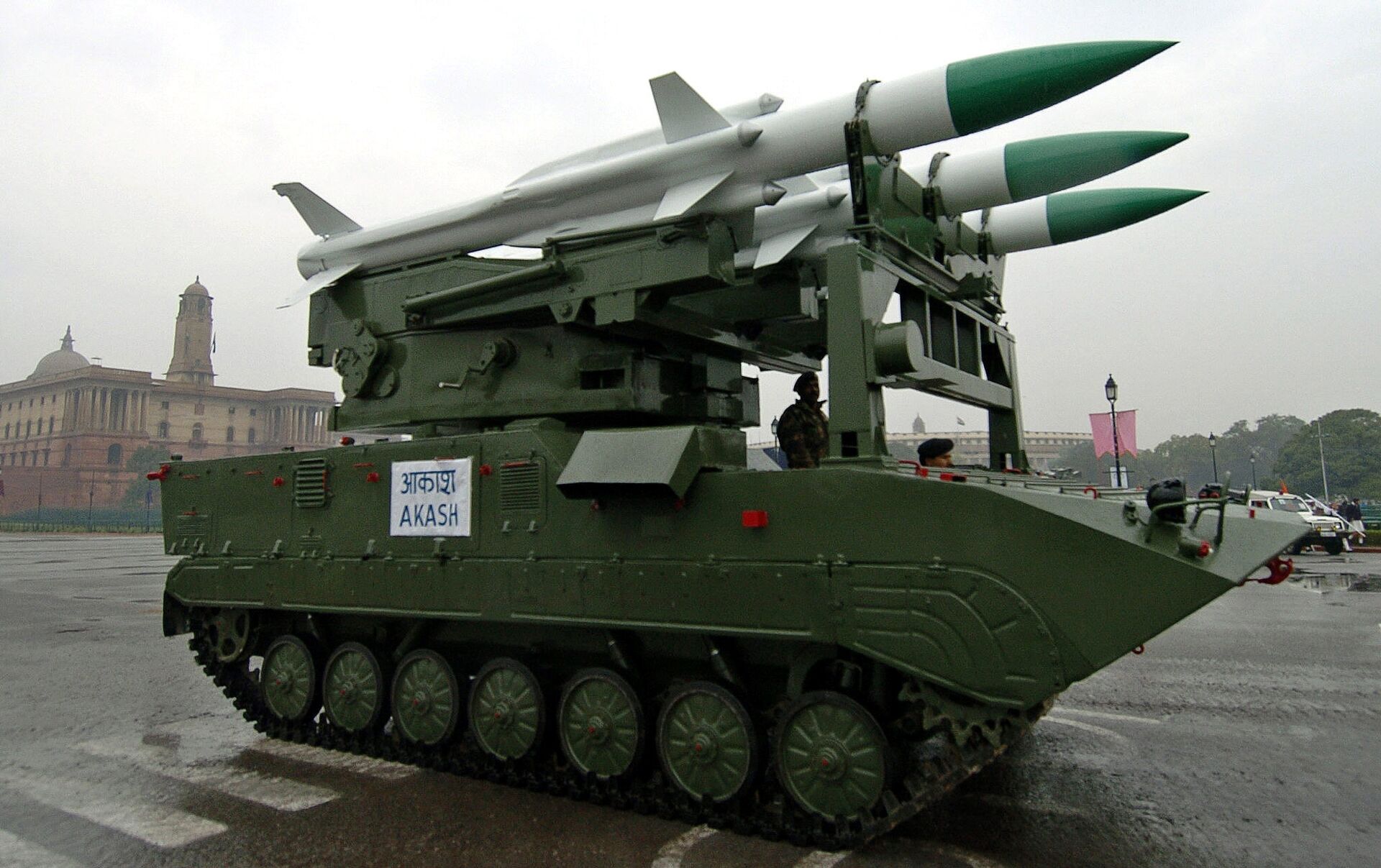 A tank equiped with Surface-to-air Akash missiles manoeuvers past Vijay chowk on Rajpath in New Delhi (File)
The contract to acquire the improved AWS, which comprises missiles, launchers, and vehicles, was agreed upon with the public sector defense firm Bharat Dynamics. The deal with the government enterprise is worth $992 million.
On the other hand, the $120 million contract for the procurement of Weapon Locating Radars was signed with Bharat Electronic Limited (BEL), the state-owned aerospace and defense electronics firm.
The announcement of the contracts for the Indian Army came hours after the ministry in a statement said that it had signed a $2.3 billion agreement with domestic shipyards to manufacture
offshore patrol vessels
and
next-generation missiles
.
Seven of the 11 offshore patrol vessels, would be built at the state-owned Goa Shipyard Ltd. (GSL), the rest would be manufactured at the Garden Reach Shipbuilders and Engineers (GRSE), another state-backed defense firm.
The two contracts would cost $1.18 billion. The first of these ships is set to be delivered to the Indian Navy in September 2026.
Meanwhile, the government-owned Cochin Shipyard Limited (CSL) has been chosen as the developer for the next-generation missile vessels that may cost $1.2 billion.