Even though India's multi-lingual and multi-religious characteristics offer it a unique identity in the world, the country of over 1.4 billion people is yet to have its national language.
Hindi
, widely used across the country, happens to be the
third most-spoken language
across the world. However, it is yet to be officially accepted as the national language of
India, that is Bharat.
Interestingly, most Indian parents are still quite drawn to English. They want to see their children grow up with it. The general mindset is that it offers a competitive edge in any sphere of life and offers a sense of being elitist in society.
Sputnik India interacted with a few youngsters who have opted for Hindi as their medium for professional studies ahead of 'Hindi Diwas' (Hindi Day) on September 14. They shared interesting perspectives about the language and their aim to share its spoils in future in view of India's steady evolution as a global power.
© Sputnik / Sandeep Datta
Hindi journalism students at Delhi located Bharatiya Vidya Bhavan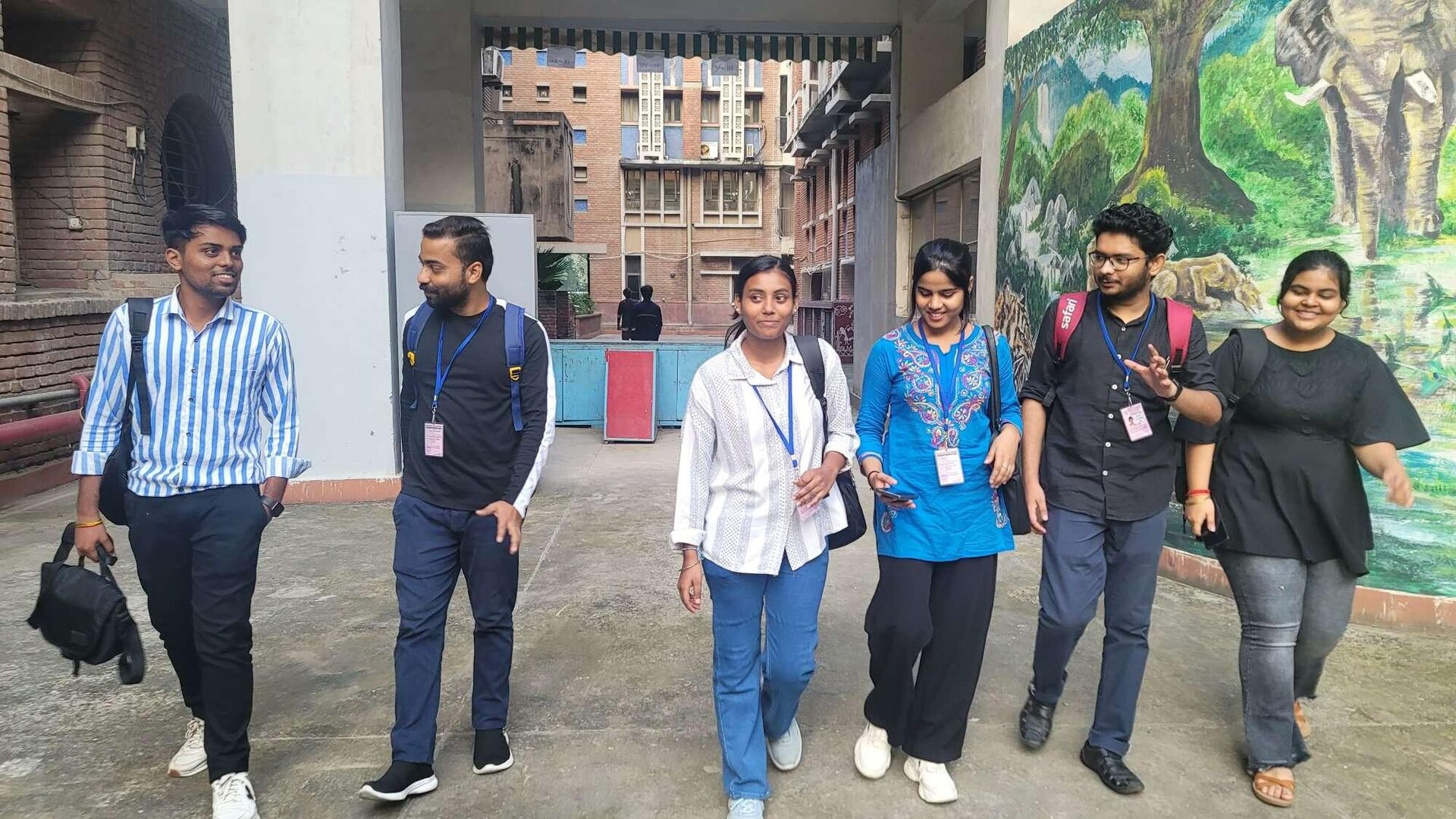 Hindi journalism students at Delhi located Bharatiya Vidya Bhavan
© Sputnik / Sandeep Datta
Hindi Over English in Modern Times
Shubham, a 21-year-old journalism student of Delhi's Bharatiya Vidya Bhavan, believes as an Indian, learning is much more comfortable and joyful in Hindi.
He says one can describe anything to anyone quite easily using our traditional language. "Its use can make things sound easy to explain and understand."
"Few people feel it reflects inferiority if you converse in Hindi. They feel English adds aristocracy to their image. Recently our PM Modi made his speech in Hindi before the world leaders at G-20. It created an impact and took the message to the masses as well," feels Shubham.
He went on to say that Hindi comes as a boon to understanding how new policies are going to serve or affect us. "Perhaps, that's why the government ensures that its policies are communicated in this language understood by millions in the country."
© Sputnik / Sandeep Datta
Hindi journalism students at Delhi located Bharatiya Vidya Bhavan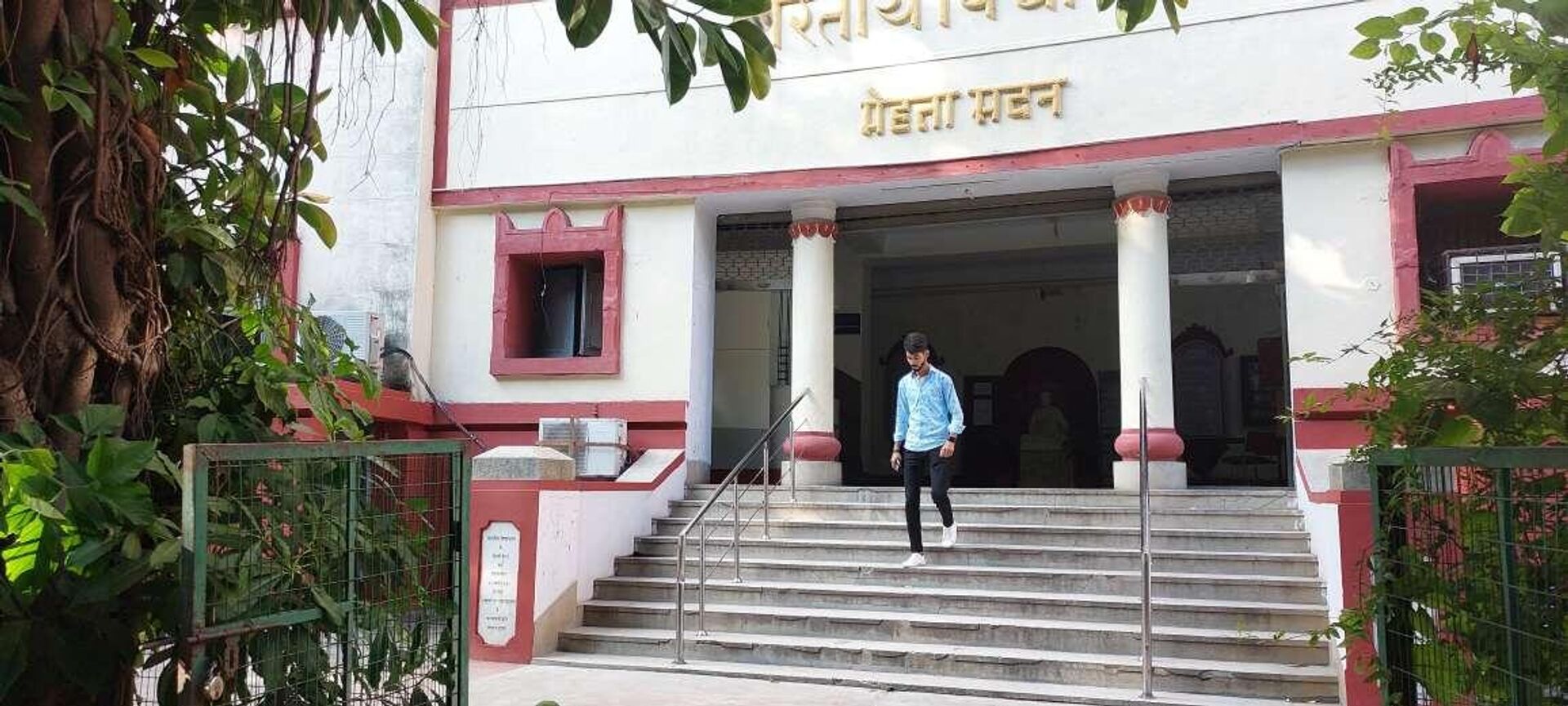 Hindi journalism students at Delhi located Bharatiya Vidya Bhavan
© Sputnik / Sandeep Datta
Be Proud of Your Hindi, Respect Its Users
Shubhra, a fellow journalism student from Bihar in Delhi, feels surprised at people's derision for their own language."In foreign [places], you may never come across anyone mocking their own native language. Then why criticize your own Hindi even locally? Sadly, many do."
Stating that there are incidents when during a group's chit-chatting in English if someone uses Hindi, they are looked upon as a misfit or mediocre.
"But why be scornful toward the ones using India's own language? The government is justifiably promoting its respect," she stated.
Master the Language the Masses Speak
Dilip Badkar, head of the Film and Television Department and Studies of the Bharatiya Vidya Bhavan, Delhi, shared that their students aim to work in the media industry. They may work for either a news or entertainment channel and, that's why they are encouraged to follow a three-language policy from day one.
"Hindi is a national language to us. So, its knowledge is a must for them. In case of anyone not being well-versed with it, we ask them to learn it during the course's one-year duration. We motivate them to learn it," Badkar said.
"Second is English. We tell them the kind of career they may purse may taken them to foreign [jobs]. Besides, if they work in any TV channel and they are assigned work to interview an ambassador, then English is a must for that situation."
He said, thirdly, they stress one's mother tongue -- the language one has grown up with.
"There are so many languages used in India. We encourage them to develop a good grip of them as well. There are times when any TV channel in the north may require anyone familiar with a regional language like from South India," Badkar stated.
© Sputnik / Sandeep Datta
Hindi journalism students at Delhi located Bharatiya Vidya Bhavan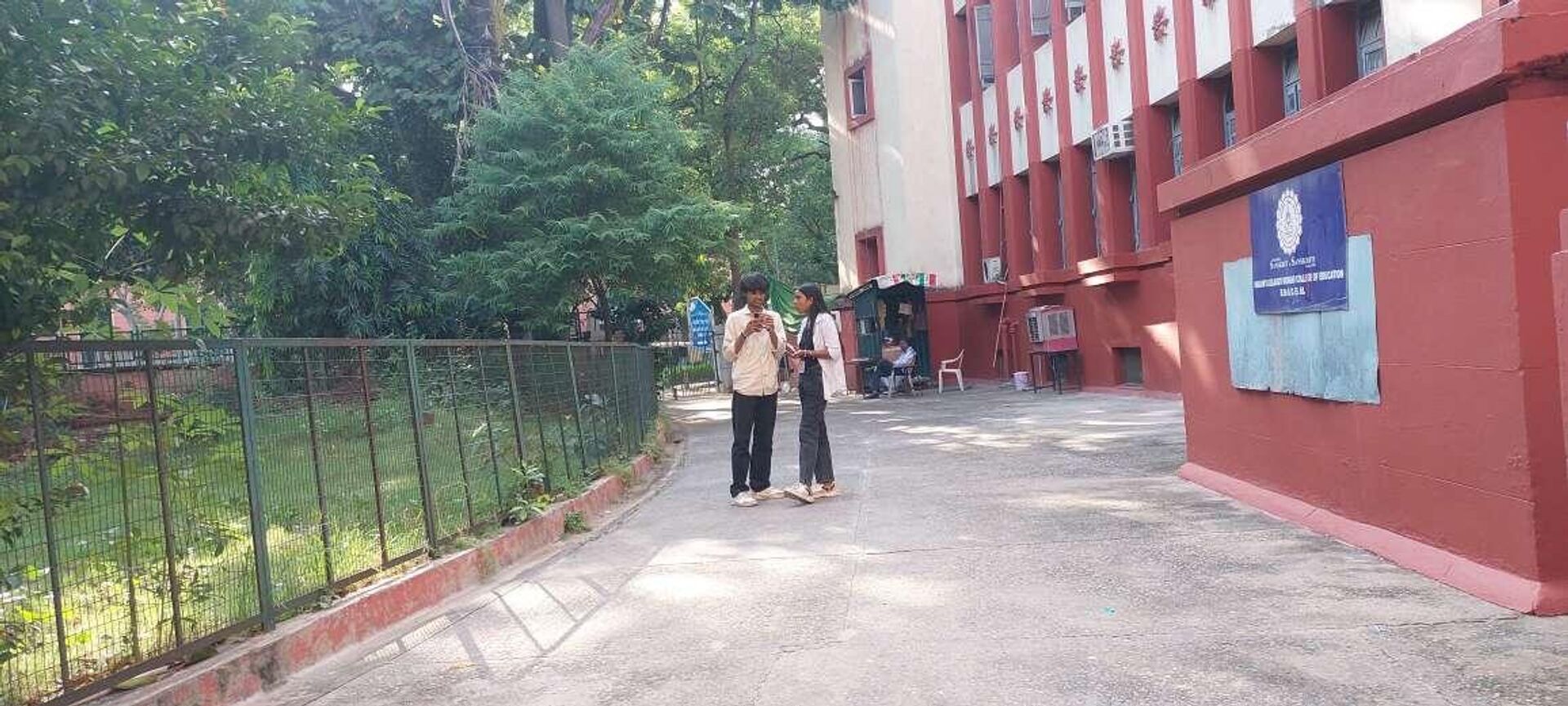 Hindi journalism students at Delhi located Bharatiya Vidya Bhavan
© Sputnik / Sandeep Datta
Optimism to See Hindi as India's National Language
According to Ashish Kumar Mandal, a mass media student, it's no more a secret that Hindi is getting recognition at a global level. This new reality holds significance as India evolves from a developing to a developed nation.
He highlighted that during the recent G-20 Summit, a lot of focus was laid on India's culture and heritage.
"Still there is lot of work that's pending for Hindi. If a language won't get a boost at home, it would be tough for a widespread rise. Be it the northeast or southern parts of India, a bit of promotion or encouragement is needed. The local misconceptions about its usage need to be addressed," Ashish believes.
He is, however, optimist that Hindi will gain acceptance as
a national language
from an official language.
New-Age Media, Bollywood Serving Hindi
Talking to Sputnik India,
Shreenarayan Jha, a senior journalist
from a leading media group, shared that in the last decade, Hindi has gained much acceptance especially among
millennials and Gen Z,
courtesy of stand-up comedies or reels as digital amusements.
He said the old generations hesitate to use Hindi to put across their viewpoint in official meetings or switch to half-broken English, despite leaving people in chuckles, is no more visible.
"The local dialects are steadily overcoming or sidelining Hinglish. The Hindi cinema or Bollywood has immensely popularized Hindi too. Plus the government's active inclination to promote it has helped Hindi as a mode of communication."
Most importantly, it inspires anyone every time Prime Minister Modi addresses world leaders in Hindi at international summits. "Overall, the rise in public usage of the language is good for Hindi's wide acceptability," Shreenarayan opined.