Pakistani President Arif Alvi recently pointed out that skewing role of women could be one of the key factors badly impacting the economic-crisis hit nation.
He wished them to be part of decision-making roles, as he felt that it could be a reason why Pakistan lagged behind in terms of prosperity.
Alvi, however, also remarked that expenditure on women education was getting wasted because of them being compelled to stay home-bound in place of "entering practical life".
Sputnik India tried to know from experts the existing reality and reasons that have led to women not being so visible in leading roles in Pakistan over the decades.
A Welcome Sign from Pakistan About Women
According to geopolitical expert Dr. Priyanka Singh of IDSA, India's foremost think tank for advanced research in international relations, especially defence, strategic and security issues, Pakistani President Alvi has talked about women issues on previous occasions as well.
He also spoke on strengthening institutions that work for protecting the rights of women, the Indian expert observed while remarking: "It is indeed a welcome sign that the President of Pakistan - a country experiencing steep political and economic regression is consistently talking about women related issues in progressive ways."
Despite the fact that problems faced by Pakistani women broadly resonated with issues that inflict women across the globe, in Pakistan the complexities were acute, the Associate Fellow at the Manohar Parrikar Institute for Defence Studies and Analyses (IDSA) pointed out.
"The influence of religion and clerics has been sustained for political reasons and these kinds of inhibiting forces (including with regard to women) have only grown in the last few years," she added.
© AP Photo / B.K. Bangash
The World Hijab (veil) Day in Islamabad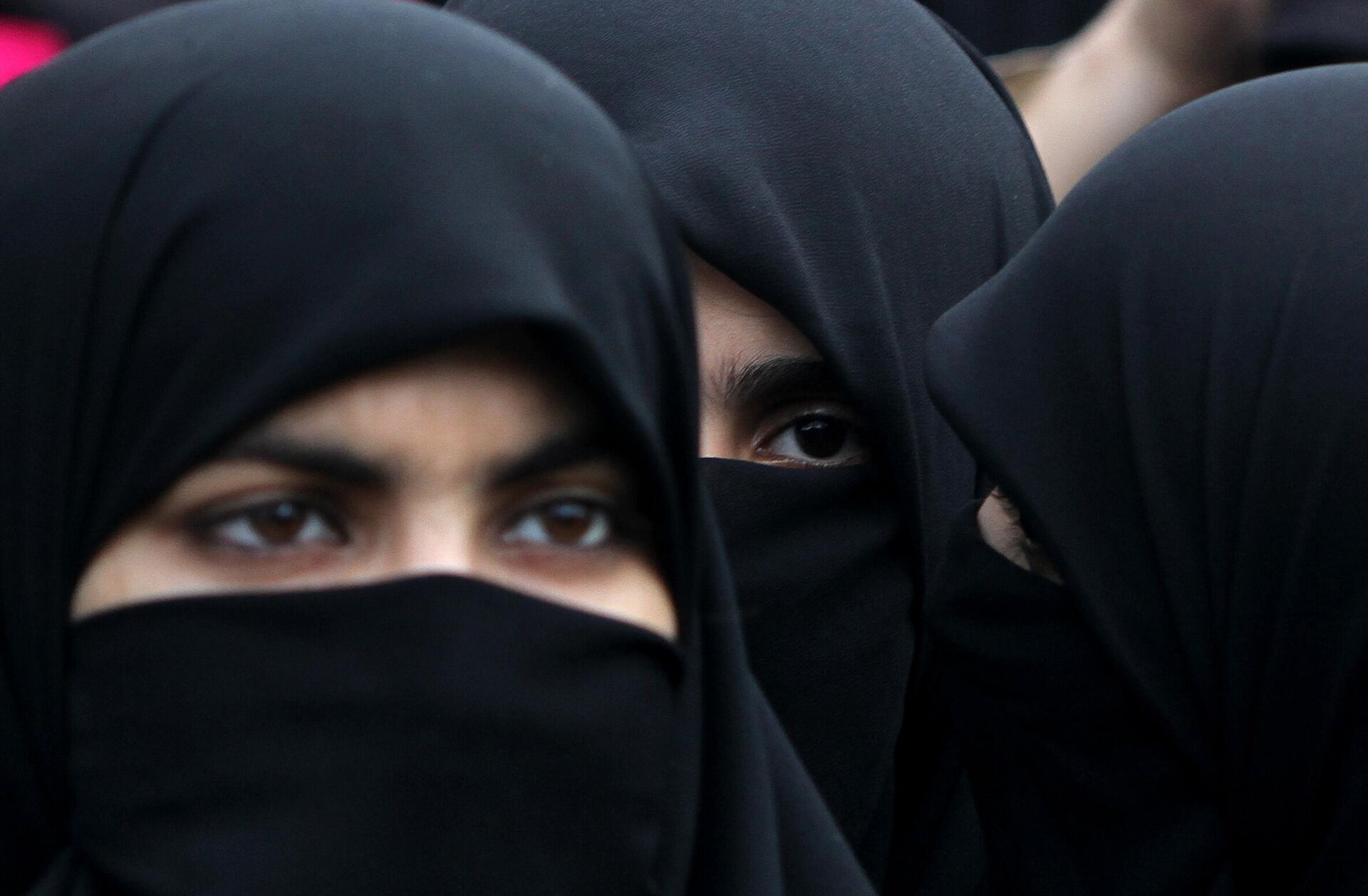 The World Hijab (veil) Day in Islamabad
© AP Photo / B.K. Bangash
Irrespective of what the Pakistani president might have to quote from religious texts about the wellbeing and participation of women as per Islam, Dr. Singh observed that the fact remained "the interpreters of those texts have hardly allowed the rights and freedoms to percolate in the social networks and processes, more so, in a constructive/productive way".
Why Few Women Are in Key Decision-Making Roles
Pointing out how Pakistan has witnessed a mammoth security crisis in the past several decades, the expert underlined, "In his backdrop, whether workplaces are safe for women is a huge question mark."
Within Pakistan, there is definitely a lack of an enabling environment to perform and grow for most individuals, even men, she opined. "Therefore, it is not hard to imagine the poor state of women participation in the workforce- be it decision making positions or the lower rungs," the analyst stated.
"The fact remains it is
a daunting challenge
to uplift the status of women in a country like Pakistan where women continue to be shackled socially at home and outside," the geopolitical expert remarked.
According to Dr. Sheetal Sharma, a well-known Speaker on Gender and Empowerment of Women, Higher Education, and Social Issues, it's not just the women who do not want or the institutional factors or the government not supporting them. "It is a combination of all because among different categories, different actors and factors play an important role."
In some cases, it is like, for instance, if the school, college or any institution of higher education is at a distance then women safety is one of the important issues. They might not like to send their girl child despite the fact that they want to do a lot, she stressed.
"Therefore, the thing is that it is multiplicity of factors that play an important role. But out of these factors the sum total, the vector that emerges out of this is that it's conservative flavour that reflects the general nature of the society," the professor from Delhi's premier Jawaharlal Nehru University stated.
That is why we have to be very specific in terms of understanding, she emphasized, adding that the "time and space play an important role in determining that how women would be liberated, how they should utilise their potential".
Whatever little they have got, they must be able to use it in the right direction, she suggested.
"Even if the state has spent even a small amount that must not go in waste, it must be put to proper use for education or even changing their outlook or worldview. That is something which is paramount," the expert stated.