Showcasing the nation's military might and cultural diversity, India's 74th Republic Day celebrations were highlighted by an all-women marching contingent on Thursday.
In what was a clear break from tradition, a women's contingent belonging to the Central Reserve Police Force (CRPF) marched down Kartavya Path before saluting the commander of the Indian armed forces, which in this case is President Droupadi Murmu.
Several other contingents, including one from the Navy, saw the active participation of women during the parade. The Naval contingent which was led by a highly decorated woman officer comprised three women.
The parade kicked off after President Murmu and chief guest Egyptian President Abdel Fattah El-Sisi's arrival at Kartavya Path.
Before Murmu flagged off the parade, Prime Minister Narendra Modi accompanied by Defence Minister Rajnath Singh and the three tri-service chiefs, paid homage to the martyred soldiers at the National War Memorial.
The first program of the parade was a march by a contingent of Egyptian soldiers, featuring 144 troops from various branches of the Armed Forces of the Arab country.
© AFP 2023 MONEY SHARMA
Egypt's Armed Forces march past during India's 74th Republic Day parade in New Delhi on January 26, 2023.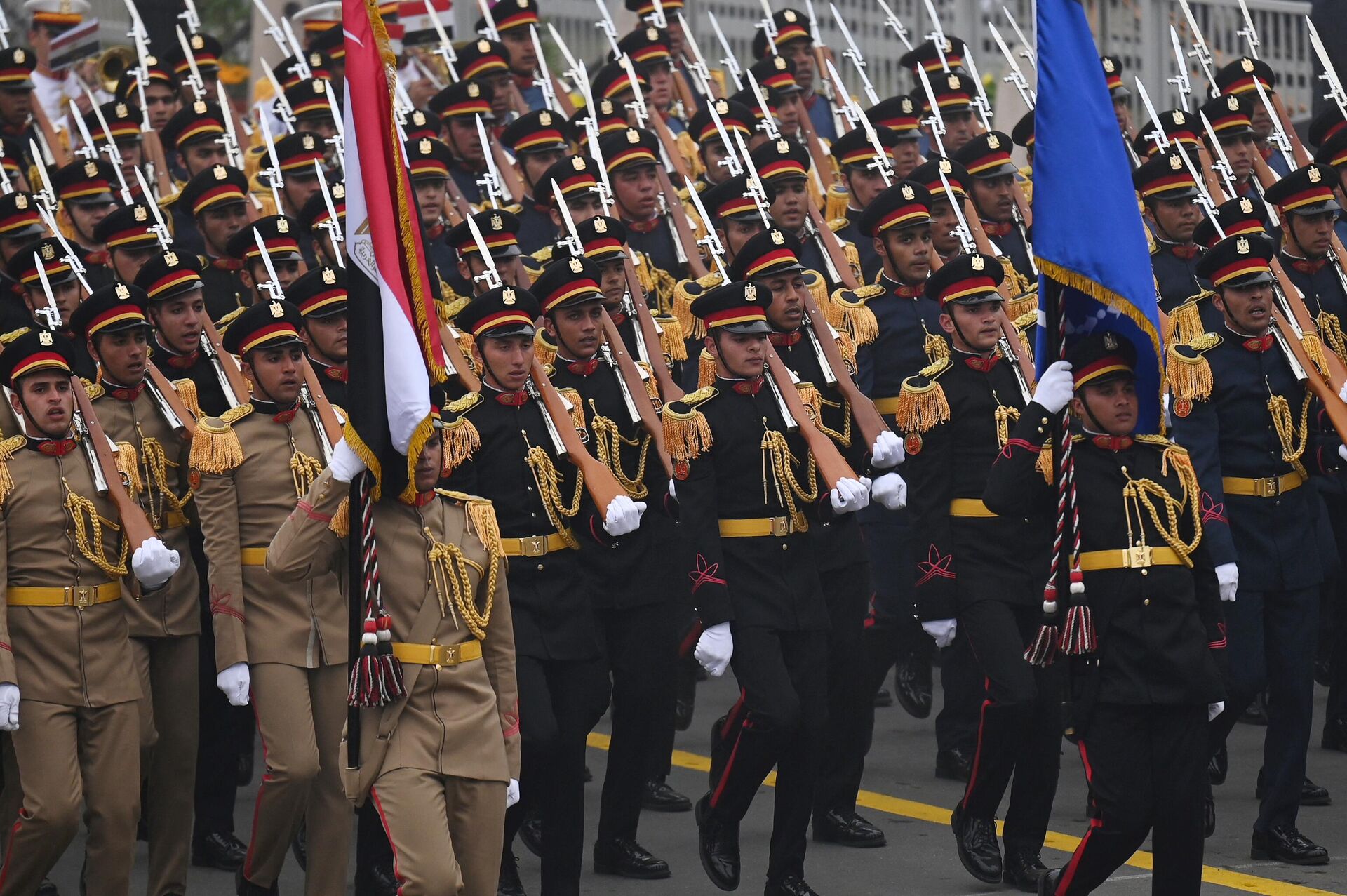 Egypt's Armed Forces march past during India's 74th Republic Day parade in New Delhi on January 26, 2023.
This was only the 2nd time when troops of a foreign country took part in the Republic Day parade. In 2016, the French Army became the first overseas force to participate in the event.
Moreover, for the first time, no foreign-made weapons systems were on display, in line with the theme of Atmanirbharta (self-reliance) for this year's parade.
Only domestically-manufactured equipment, including Arjun tanks, Akash missiles, and other systems, were displayed during the parade.
The parade concluded with a mesmerizing flypast featuring aircraft from the Army, Navy, and Air Force.
The air show, having 45 planes in total, included the newly inducted Rafale jets to the Russian-origin Sukhoi aircraft and the Jaguars.
Though the French-made Rafales have performed at the parade in the last two years, this was the first occasion when a fleet of nine aircraft took part in the flypast.