The Narendra Modi-led Indian government recently made a landmark law, giving one-third reservation to women in Lok Sabha, the lower house of Parliament, state legislatures, and Delhi.
The government, during the parliamentary discussion, also
assured the Lok Sabha
(the lower house) that any required changes could be made in the law as and when needed after its implementation by the government of the day.
Sputnik India talked to a few distinguished women from different spheres of life to explore the areas or concerns that women wish the government to also take care of to pave the way for
women's holistic development
and true empowerment.
Sense of Equality, Participation, and Trust
Dr. Meeran Chadha Borwankar, an Indian Police Service officer (Retd.), Maharashtra cadre, and ex-Mumbai Crime Branch Chief believes there's need to prepare the women and show faith in them.
Now with the 70-plus years of national independence, the women expect their participation, equal treatment, and respect, she opines. "They are not asking for any mercy kind of attitude."
"If we want their (women) actual participation and if we want to hear from them the field reality, we have to invest in training them in not just their knowledge part but also their articulation part," stated Borwankar, the Thought Leader in issues concerning Criminal Justice system, Gender Studies, and Human Rights.
She says women are honest by nature. So they expect an honest, and transparent service delivery. "But today the government, including our police, don't seem to be in service delivery mode. They are still in Raj
(the British Raj)
mode where we feel you are the petitioners and if we are doing something for you, we are doing a favor."
© AP Photo / Mahesh Kumar A.
Women dressed in traditional saris take a selfie during festivities marking Onam in Hyderabad, India, Tuesday, Aug. 29, 2023. Onam is an annual harvest festival celebrated mainly in the southern Indian state of Kerala.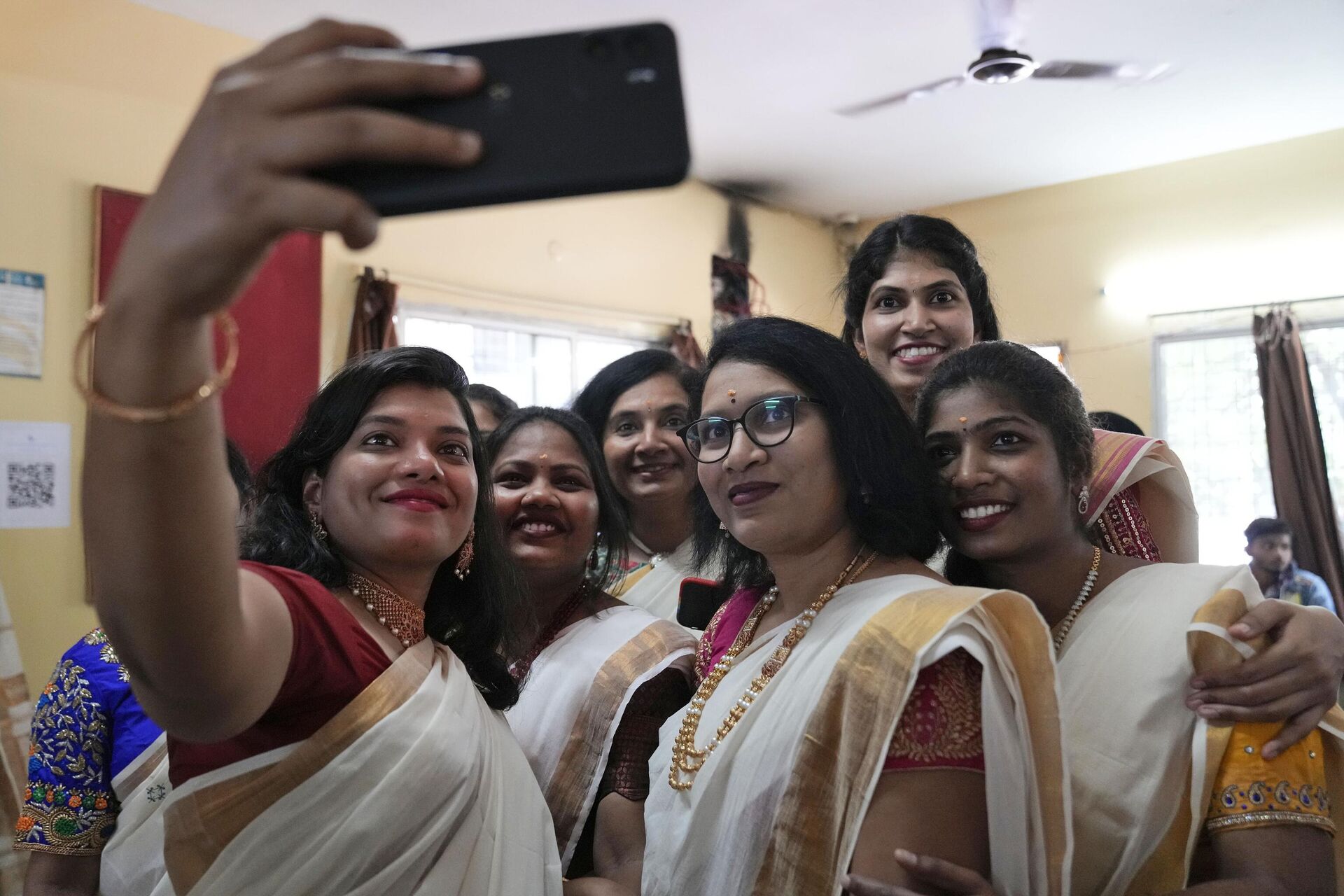 Women dressed in traditional saris take a selfie during festivities marking Onam in Hyderabad, India, Tuesday, Aug. 29, 2023. Onam is an annual harvest festival celebrated mainly in the southern Indian state of Kerala.
© AP Photo / Mahesh Kumar A.
Women and Their 'Unique Needs' to Access Opportunities
Talking of the women's economic and political expectations from the government, Sushmita Dev, national spokesperson, West Bengal's ruling Trinamool Congress party, and ex-Parliamentarian, underlined that in last many assembly and national elections the number of women voting has risen. It means they are becoming more and more politically aware.
The women, as a section of voters, have unique needs like they expect employment geared towards them, they want to be self-employed, and be able to work out of home, she told Sputnik India.
"So, they need schemes and policies enabling them to work out of home. Because, generally, women are primary caretakers of their children and the home in India. It's just one unique need – self-employment from home."
The TMC politician pointed out that in the health sector, for instance, for women it is not good enough to simply have a general physician.
And, for instance, it is very difficult for girls especially in the rural area to walk five kms and go to school. So, what do women need? They need better public transport, she added.
Or, we have seen in the Bengal government, Tamil Nadu etc. they have given cycles to girls. So, they have this as a unique need. "Unlike boys, for safety reasons or whatever, a girl needs better public transport. It's a very big issue for her. It facilitates her access to opportunities. Giving girls a big quota in schools may not be enough until you facilitate their access."
In Bengal, State Chief Mamata Banerjee gives a one-time scholarship to girls on turning 18. It's to incentivize her to do higher education. So, you see women need to have unique needs. And women representatives generally understand that better, said Sushmita Dev, the ex- All India chief of Congress party's women wing.
Equal Partners, Stakeholders in Development
As per Dr. Sheetal Sharma, an expert and well-known Speaker on Gender and Empowerment of Women, Sociology, and International Relations, the gender inequality or the gap between gender is universal. It's omnipresent. And this is a practice all across the world. In some areas, some countries have made good strides. In some, they lag behind.
The Delhi's Jawaharlal Nehru University (JNU) professor observes that these concepts like glass ceiling, discrimination,
marginalization of women
, weight of patriarchy… this is all across there. In some regions, it's less. In some regions, it's more.
"We are much more ahead of those times when we were seen as a backward country. We are much, much far ahead of that time. We are the leader of Global South. We are a developing country almost matching our steps with the developed world. And in this case, women expect to be equal partners and stakeholders in the process of development."
The expert observed globally, they are discriminated against. And so is the case in India. But then steps and proper provisions will bridge this gap, as it is happening in the world. "Slowly, it will happen here also. And it's a matter of time and conviction and commitment to these steps that would actually make
a huge change
."
On 20 September, the Lok Sabha passed the bill with 454 votes in favor and two against. And, a day later the upper house (Rajya Sabha) passed it unanimously with 214 votes in favor and none against it. India's President Droupadi Murmu gave it her assent last week.
During Parliamentary debate, Home Minister Amit Shah clarified that Women Reservation law would be effective after 2029 due to pending census and delimitation.