South Asia accounts for 85 percent of the 20 million bonded labourers globally. Bonded labour is an old system in which an employer, usually a landlord, provides workers with a loan in advance of the work being completed. The loan, known as 'peshgi', is paid back by the employee by providing labour in the form of farming, mining, fishing or brick kilns. The practice is recognised as a form of slavery under the United Nations.
Bonded labour is illegal in Pakistan, yet more than 3 million people are estimated to be working in modern slavery conditions. The practice has plagued the country for decades, but is intensifying due to the
changing climate
, making it imperative to examine the causes and consequences of this deeply entrenched issue.
"My father is a farmer and so are his brothers and most of our family members. We reside in Arifwala, near Bahawalpur in Punjab. Last year's floods took a heavy toll on the agriculture sector of Pakistan and affected our region also. This year the yield of crops is not good, only a small amount of crops is healthy as the land remained flooded for months, but landowners do not compensate us for our losses," farmer Sher Ali told Sputnik India.
Ali has recently relocated to the city of Lahore to earn a living as a house servant. He relocated to the city alongside several male relatives due to their substantial debt to the landowners and the pressing need to repay the borrowed funds.
Climate change has disrupted the traditional agrarian cycle in Pakistan, making it increasingly
difficult for farmers to sustain
their livelihoods. The erratic monsoon rains, shifting weather patterns and prolonged droughts have resulted in unpredictable crop yields and economic instability. As a result, many farmers find themselves unable to repay loans taken from powerful landlords, perpetuating a cycle of debt bondage.
Debt Bondage Fuels Suffering in Poor Communities
Last year's floods in Pakistan led to
extreme devastation
as they caused the deaths of more than 1,700 people and displaced 33 million after losing their homes, land or jobs. Two-thirds of the country's land was flooded, destroying thousands of acres of crops and millions of cattle.
As climate-related catastrophes increase, it is the poorest communities that suffer the most as they have little or no savings to fall back on. When their livestock and crops are destroyed, they find themselves in a vulnerable state. These financial failures not only impact their physical and
mental health
, but also lead to diseases and even suicide.
© AP Photo / Muhammad Sajjad
A boy on a bicycle makes his way through a flooded street during heavy rainfall, in Peshawar, Pakistan, Saturday, July 15, 2023.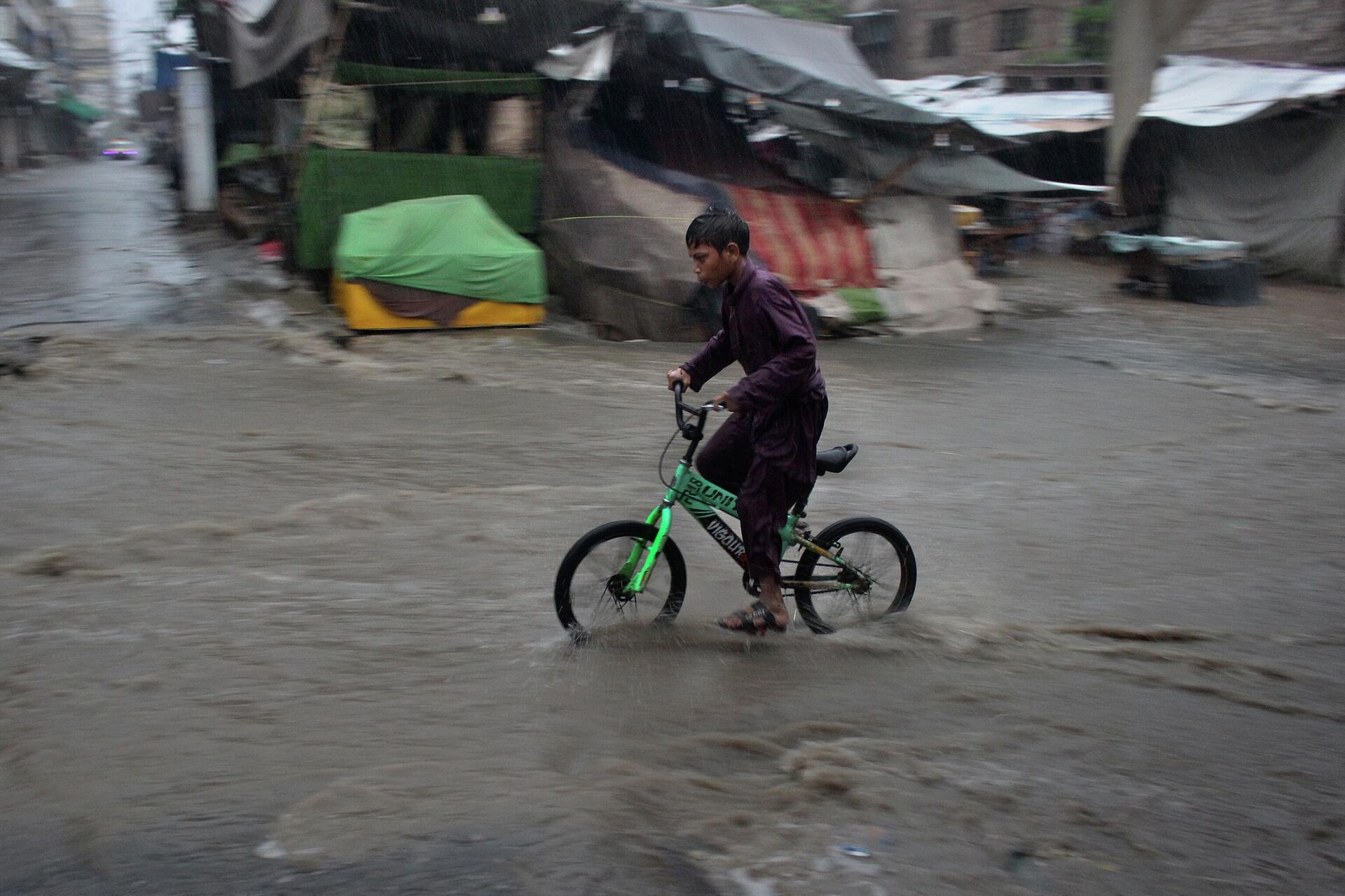 A boy on a bicycle makes his way through a flooded street during heavy rainfall, in Peshawar, Pakistan, Saturday, July 15, 2023.
© AP Photo / Muhammad Sajjad
Across Pakistan small farmers risk losing their land to local merchants and moneylenders, who charge interest rates as high as 40 percent for loans. The high interest means that if the crop fails even once, the farmer falls prey to
debt trap
for a long time period. Often such debts go on for generations and sons work to pay off their father's debts, resulting in a new generation of bonded labour.
"It was a very difficult decision for me to move to the city as I had just gotten married last year. My wife could not come with me because I had no savings or a place to live when I first came here. She called me from the village and cried all the time asking me to come back, but how can I? I have to help my father repay our debts to the Malik (landowner)," the 27-year-old Ali explained.
Pakistan has introduced a number of measures against modern slavery, but with little success in terms of actual implementation. Climate change is amplifying abuses due to growing personal debt and the
economic relationship
between small farmers, landlords and local merchants.
As last year's floods resulted in crop failures, many farmers were unable to meet their financial obligations. To bridge this gap, they often turn to landlords, who provide 'peshgi' loans but at exorbitant interest rates. When the crops do not yield enough, the debt spirals out of control, forcing these farmers into a state of bonded labour to work off their debt.
© AP Photo / K.M. Chaudary
A car drives along a flooded road caused by heavy rains in Lahore, Pakistan.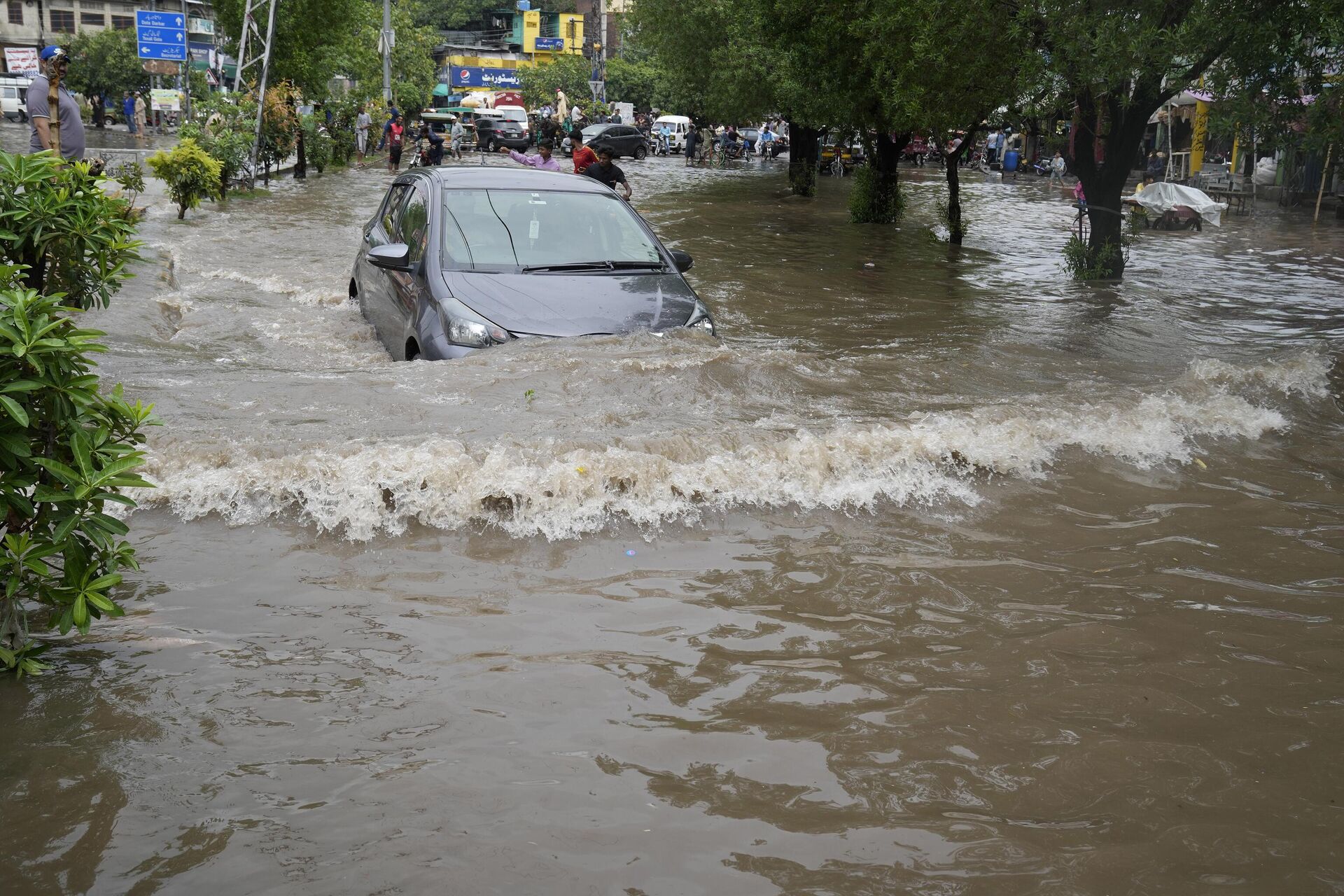 A car drives along a flooded road caused by heavy rains in Lahore, Pakistan.
© AP Photo / K.M. Chaudary
This year, people fear that
monsoon rains
may bring more flooding and further contribute to the displacement of rural communities. Families uprooted from their homes often have no choice but to seek work in urban areas just like Sher Ali.
In the absence of sufficient social support, these labourers who have been displaced face a significant risk of becoming trapped as bonded labourers in factories or brick kilns within urban areas.
"This month I have finally managed to bring my wife to the city so we are together now. She helps me in my work of cooking and cleaning in the house, so I am grateful. I don't want to go back to my village, life is very tough there, so I hope I can stay in the city and raise a family here," Ali shared.
Consequences of Bonded Labour
Urban migration offers an escape to some, but millions of bonded labourers across the provinces of Sindh, Balochistan and Punjab are unable to migrate so they are subjected to physical and psychological abuse, working in deplorable conditions for little to no pay. Moreover, they and their families are denied access to
education and healthcare
, perpetuating the cycle of poverty and illiteracy.
These labourers are marginalised and excluded from mainstream society, with limited opportunities for economic and social mobility.
Due to the lack of education and awareness many labourers are unaware of their legal rights, and even if they are aware, they often lack the resources and legal support to challenge their oppressors, who are rich and well-connected.
© AP Photo / K.M. Chaudary
Motorcyclists drive along a flooded road caused by heavy rains in Lahore, Pakistan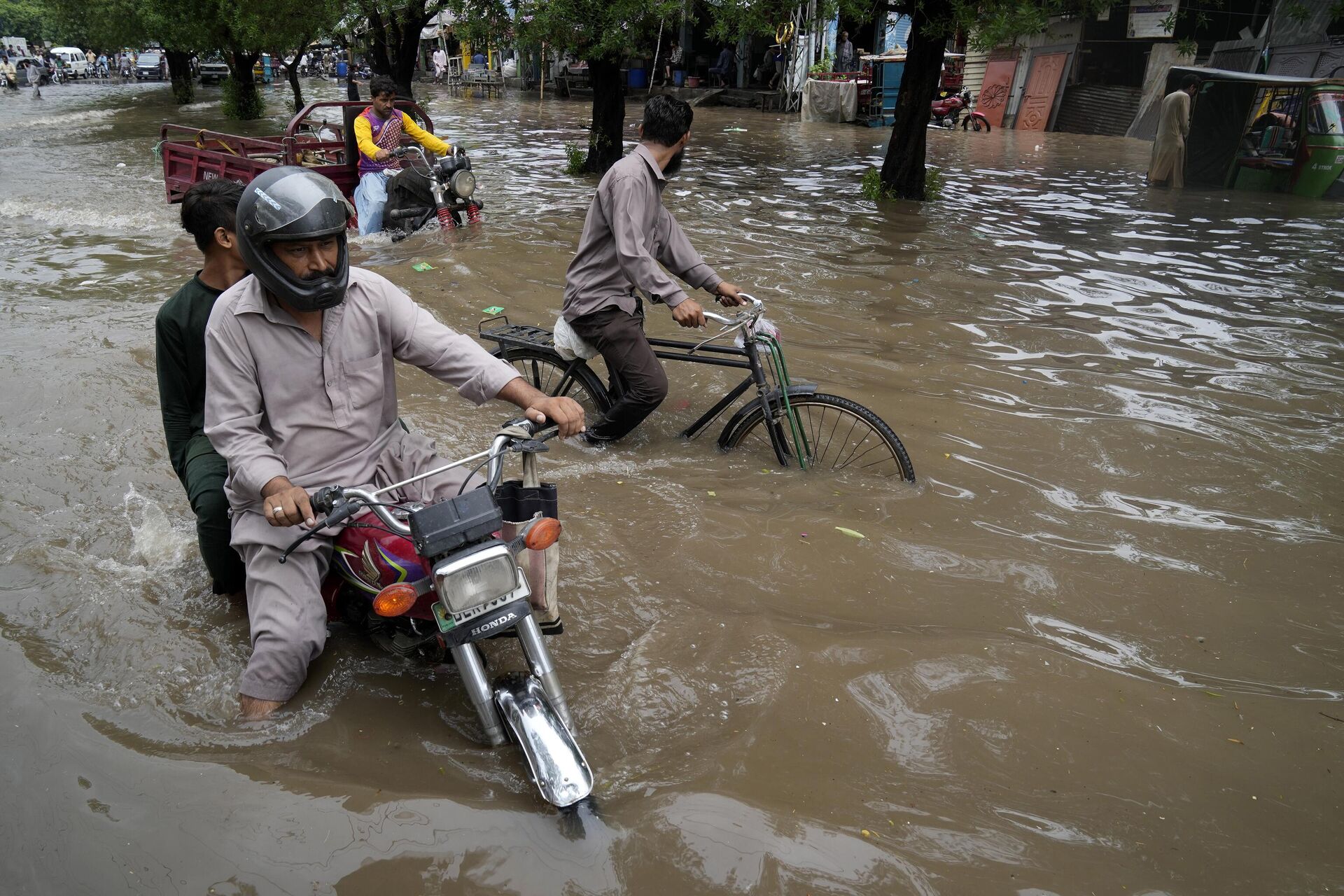 Motorcyclists drive along a flooded road caused by heavy rains in Lahore, Pakistan
© AP Photo / K.M. Chaudary
Breaking the Cycle
To combat the intertwined issues of climate change and bonded labour in Pakistan, a
multi-faceted approach
is needed.
The government and relevant organisations may invest in climate-resilient agricultural practices and infrastructure that can help mitigate the impact of climate change on farming communities. Implementing policies that offer
debt relief
to struggling farmers and provide them with alternative livelihood opportunities can break the cycle of bonded labour.
Furthermore, strengthening labour laws, increasing awareness about workers' rights and ensuring access to legal aid for vulnerable labourers are essential steps.
Also raising awareness about the plight of bonded labourers and encouraging responsible consumer choices can help reduce the demand for products made through exploitative labour practices. As for now the entwined crises of climate change and bonded labour in Pakistan paint a bleak picture of the challenges faced by
vulnerable communities
.
There is an urgent need for action at the national and international levels to address both the environmental and human rights aspects of this issue. By recognising the connection between climate change and bonded labour, Pakistan can work towards a more sustainable and just future for its labourers.