India
's efforts to build a
long-range surface-to-air missile system (LRSAM)
for its military are an attempt to develop an
S-400
analog for an Integrated Air Defense System (IADS), an Indian Air Force (IAF) veteran has said.
The comments of defence expert
Vijainder K. Thakur
come days after media reports suggested that India's
premier defence research agency
Defence Research & Development Organisation (DRDO)
had intensified its work on the project.
According to Thakur, the IAF chief previously mentioned
Project Kusha
in the context of the S-400 deal which New Delhi signed with Moscow in 2017.
Project Kusha is India's Attempt to Develop a S-400 Analog
"That is suggestive of the fact that Project Kusha is India's attempt to build a S-400 analog. Furthermore, it is different from the country's other missile projects because India hasn't built an integrated system with different missiles," the former IAF officer told Sputnik India on Wednesday.
Explaining the prime difference between an IADS and a regular missile system, Thakur pointed out that a normal missile system has a radar, which can detect an enemy object depending on the capability of the system, when engaged
with a threat with
the missile's type it has.
Whereas, in an integrated air defense system like the S-400, one thing caters to all types of aerial threats.
"Whether the threat is 400 kilometers away or is 15 kilometers away, it has the capability to engage and neutralize that threat which is not possible with a short-range surface-to-air missile (SRSAM) system as it can only engage with short-range targets," he underlined.
For example, Thakur noted that the Akash missile system can engage targets up to a range of 30-40 kilometers. But the S-400, which is an IADS, can hit targets from 400 kilometers to about 10-15 kilometers.
Army-2023 expo (S-400 in the photo)
© Sputnik / Maksim Blinov
/
Building an IADS is a Complicated Process
The military analyst opined that building such a system takes a long time and that is why he termed it as a "complicated" process.
Also, he stressed that it becomes even more challenging as the developer needs to be able to integrate other systems with the country's IADS.
Thakur noted that like in the case of S-400, it doesn't work with just the missiles that come along with the system. It can work with any missile with which it is equipped.
"In India's case, it can integrate its short-range missile system or a long-range missile system with the S-400. This is what India is trying to do with Project Kusha, which is to build an integrated air defense system that can integrate the existing air defense systems that its armed forces have in their possession," the ex-IAF pilot expressed.
India Plans to Integrate Radars, MRSAM Into Its Homegrown LRSAMs
For instance, India has a medium-range surface-to-air missile system (MRSAM). So theoretically, India plans to integrate the MRSAM into the S-400 system, Thakur suggested.
Also, he mentioned that an IADS can integrate radars India has, allowing other independent radars that are not part of the original unit to be integrated into the missile system.
On being asked if the Russian experience inspired India to develop such systems, Thakur responded in the affirmative.
© Sputnik / Dmitry Vinogradov
 / Go to the mediabank
Russia's S-400 advanced air defense systems deployed in Syria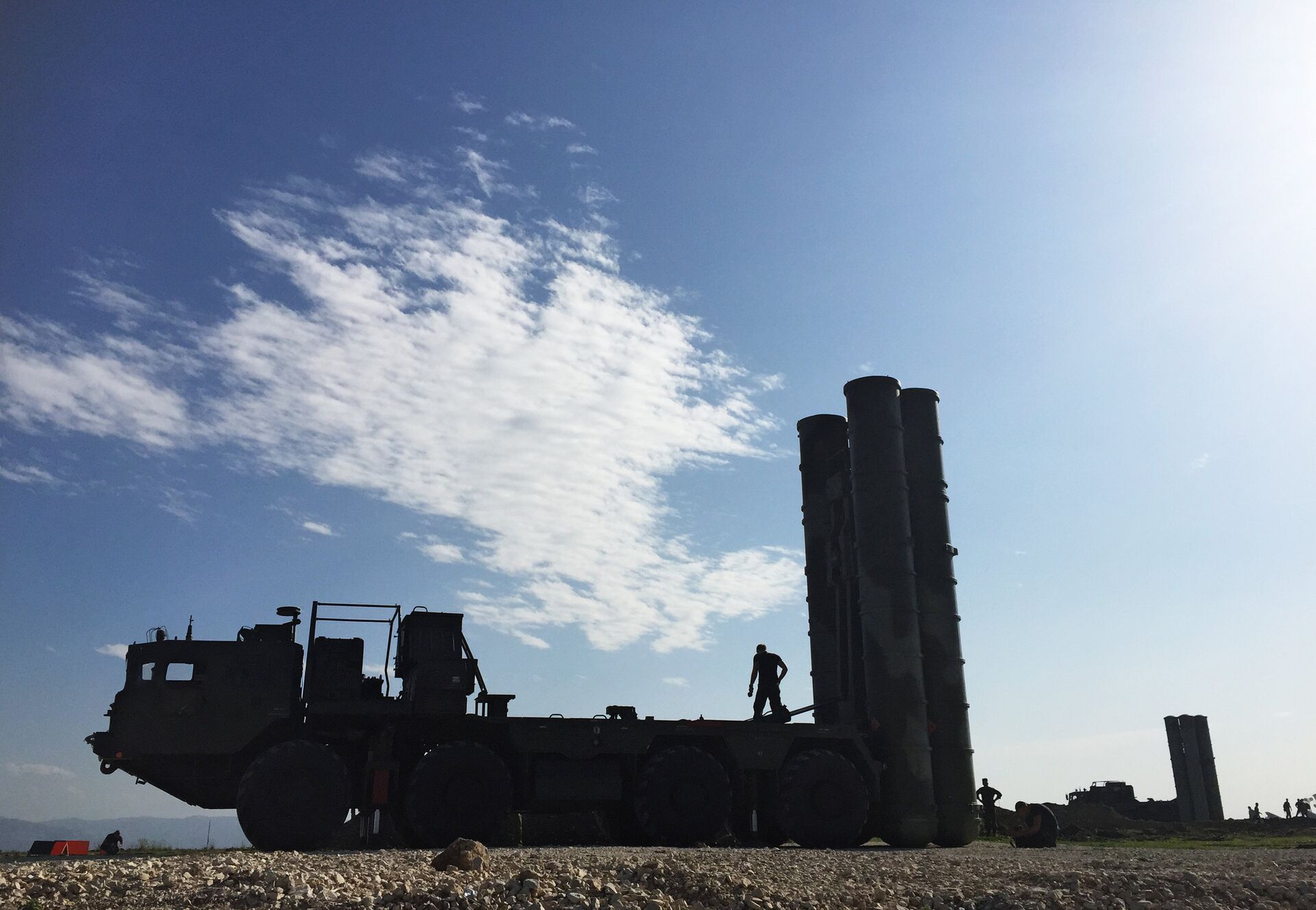 Russia's S-400 advanced air defense systems deployed in Syria
© Sputnik / Dmitry Vinogradov
/
New Delhi Inspired by Russian Success
He emphasized that India was technically doing what it has done in the past and it was the path that China also followed about the development of IADS.
"The Chinese acquired a Russian IADS and then they tried to emulate the capability of the system because once one acquires an integrated air defense system, one understands its operational capabilities and then the country's defense scientists work on developing a system of a similar capability," The retired Indian Air Force officer remarked.
Long Road Ahead For Project Kusha
Thakur then indicated that Project Kusha wasn't a five or ten-year project. As per his estimates, it would take about 25-30 years to develop such a system.
In his view, these were baby steps that India was taking as it would take a long time because integrating other systems under a single umbrella requires a lot of electronic programming, electronics, and mobility capabilities, and that's why I believe it is a process which could take up to three decades to accomplish.
Meanwhile, ex-DRDO scientist Ravi Gupta, the LRSAM project was crucial for the South Asian sovereign state, considering it has two hostile neighbors that were developing their military capabilities at a fast pace.
Why is Project Kusha Important For India's Air-Defense Network?
He noted that India was a vast country in terms of length and breadth and a long border, a major part of which is hostile and it has witnessed hostilities right from its independence in 1947 both at the western and the northern border.
"Therefore, India has a basic need to defend itself. India believes in living peacefully and for that, it needs to have strength and capability to defend itself. So keeping with that ground reality, an LRSAM which is effective is very very essential," Gupta said in a conversation with Sputnik India.
He asserted that this need is further enhanced because today India is a rapidly rising economy and as the country's economy is growing, its assets
are also increasing
and these assets are spread across the length and breadth of the nation.
Different Eras Different Needs
If one talks about air defense in the 1950s, 60s, or 70s, short-range systems were good enough because India had to defend its military assets adjoining the border and its neighbors also did not have capabilities to strike deep inside its territory.
"But today the situation is different. On one hand, the enemy is getting weapons from different sources. There's no hiding the fact that Pakistan receives most of its weapons from China. Moreover, China has acquired a range of deadly weapons, and Beijing antagonism against New Delhi is very well established," Gupta added.
On that account, if India has to defend itself against the aggressive postures of these two powers or against any other country that is hostile, it needs to have LRSAMs, he summed up.