Introduction
While US officials and main stream media (MSM) go around telling the world that the US is successfully reducing "New Delhi's long-term dependence on Russian weapons," officials of Russian state owned weapons export company, Rosboronexport, oblivious to US claims, continue to tempt India with weapon system offers that defence leadership and policy planners in India could find hard to refuse.
The US is trying to wean India away from its long standing defence partnership with Russia using a carrot and stick approach. For example, "generously" offering co-production and ToT (carrot) to India of "thousands" of Stryker Armoured Fighting Vehicles (AFVs) while pushing India to purchase, sans ToT, billions of dollars worth of MQ-9 drones (stick), which will gather intelligence as much for the US, as for India!
The
US approach appears to mock India
- it offers co-production of Stryker AFVs ten years after India embarked on a project to indigenously develop a state-of-the-art AFV. The US made the offer after two leading Indian private sector firms - Tata Motors and Mahindra - successfully collaborated with DRDO's Vehicle Research & Development Establishment (VRDE) to develop in record time an impressive AFV that met very stringent specifications of the Indian Army.
The US leadership doesn't see anything wrong in arm twisting India into procuring exorbitantly priced weapon systems of dubious utility, facetiously packaged with shallow technology transfer offers. The US is no champion of India's Aatmanirbharta aspirations and, going by its past record and hegemonic aspirations, it never will be.
Dubai Airshow 2023 Revelations
In contrast, Russia appears to be deferring to India's rapidly improving defence manufacturing capability and the Make-in-India paradigm by offering joint development and local manufacture of Russian weapon systems in India.
Rosoboronexport, is discussing with Indian enterprises the creation of a
joint production of aviation weapons
for the Indian air force, Director General Alexander Mikheev told Sputnik at the Dubai Airshow 2023.
"Rosoboronexport is working with Indian private and state enterprises to organise joint production of aviation weapons and integrate them into the existing aviation fleet in India," Mikheev said.
The Dubai Airshow 2023 opened in the UAE.
© Sputnik / Пресс-служба ОАК
/
He noted that Rosoboronexport is not afraid of India's strict requirements for its military-technical cooperation partners as part of the Make In India program, which provides for maximum localization of arms production at Indian enterprises and technology transfer.
Russian Aviation Weapons Likely of Interest to India
Russian air launched weapons that are likely to be of great interest to the Indian Air Force (IAf) likely include the RVV-BD (R-37) long range air-to-air missile and RVV-MD2 within visual range air-to-air (WVRAAM) missile.
© Sputnik / Kirill Zykov
 / Go to the mediabank
Air-to-air Missiles Exhibited at the International Military-Technical Forum "Army-2023"
Air-to-air Missiles Exhibited at the International Military-Technical Forum "Army-2023"
© Sputnik / Kirill Zykov
/
The RVV-BD missile has built a
formidable reputation
in the ongoing Russian Special Military Operation (SMO) in Ukraine. Its long range (over 200 km), jam proof DRFM active radar terminal homing, hypersonic speed (Mach 5 to Mach 6), large warhead (60-kg), and intense manoeuvring capability (8g) give its target aircraft no chance to evade destruction.
A day after the IAF struck Balakot in the early morning hours of February 26, 2019, Pakistan's tit-for-tat air strike against India would have proved very costly for the Pakistan Air Force as the IAF Su-30MKIs guarding the Indian skies were armed with the RVV-BD missile.
© AP Photo / ALEXANDER ZEMLIANICHENKO
Su-30MKI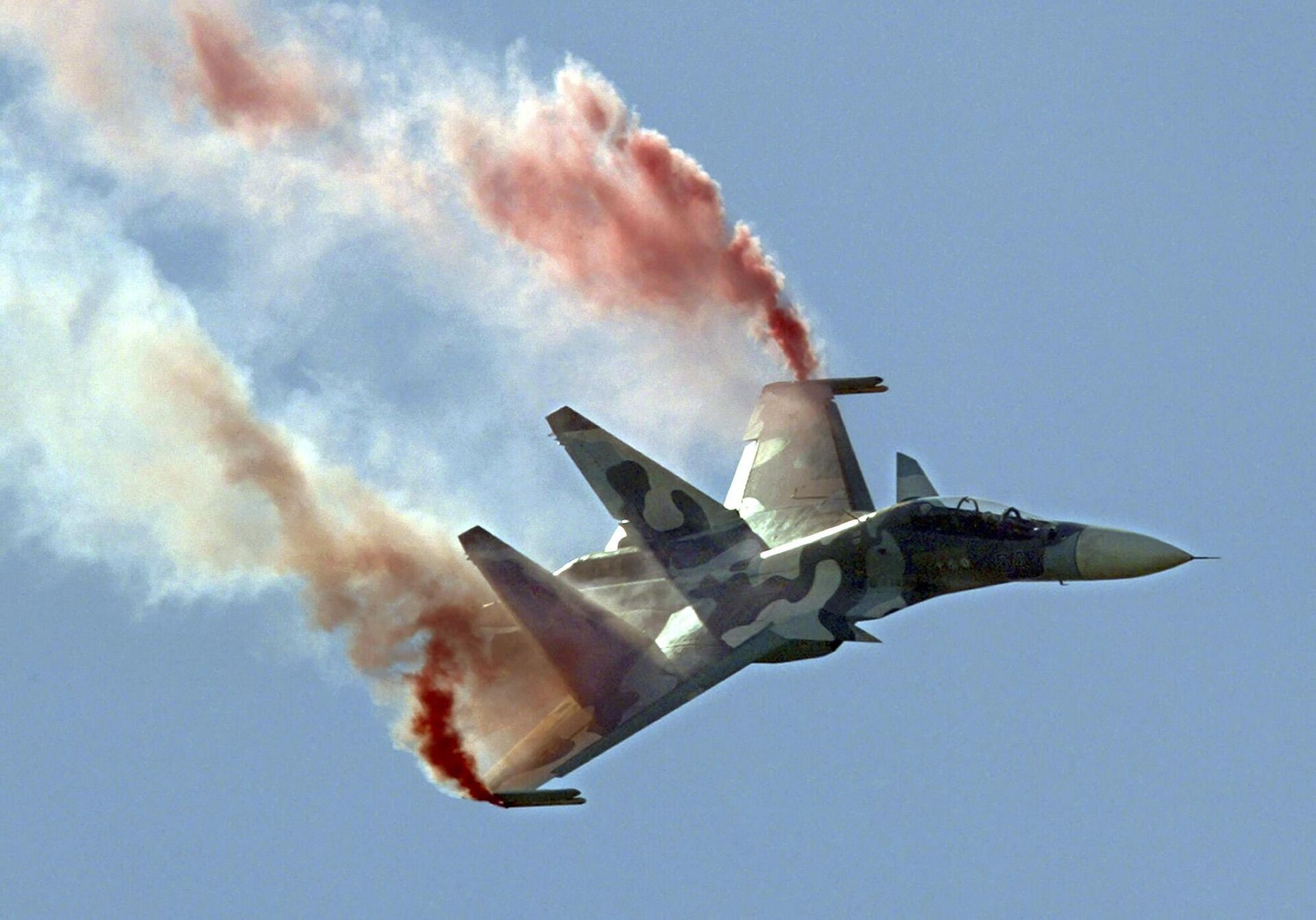 Su-30MKI
© AP Photo / ALEXANDER ZEMLIANICHENKO
In the context of IAF plans to upgrade its fleet of Su-30MKI, locally manufactured RVV-BD missiles would be a more cost effective alternative to western long range air-to-air missiles. Integrating the RVV-BD with the upgraded Su-30MKI would also be more straightforward.
The RVV-MD2 WVRAAM, besides being an extremely manoeuvrable missile, is designed for internal carriage. In view of the proximity of IAF and adversary airbases, WVR air combat will always remain a possibility, despite the availability of beyond visual range (BVR) missiles. As such, the IAF's Sukhoi fleet would need to upgrade its WVRAAMs at some point of time. Additionally, the RVV-MD2 could be carried internally by the Advanced Medium Combat Aircraft. (AMCA).
Igla-S Local Manufacture
Also at the Dubai Airshow 2023, Alexander Mikheev, CEO of Rosoboronexport, announced that Russia & India had signed the contract for the supply and licensed production of the Russian Igla-S MANPAD.
"We have already signed the corresponding document and now, together with an Indian private company, we are organising the production of Igla-S MANPADS in India," Russian media quoted Mikheyev as saying.
In 2020, the Indian Army declared Igla-S system as the winner of the Very-Short-Range Air Defense, or VSHORAD, program after nearly 8 years of tendering and trial.
The Igla-S will replace its predecessor Igla-M which has been in the Indian Army inventory from the early '80s.
Igla-S has a longer range, improved seeker and a significantly larger warhead.
The contract for local manufacture of Igla-S is likely to lead to follow-up contracts for more advanced MANPADS which Russia has already deployed operationally.
© Sputnik / Vitaliy Timkiv
 / Go to the mediabank
Военнослужащий с переносными зенитным ракетным комплексом (ПЗРК) "Игла" на показательных выступлениях в честь Дня ВДВ на полигоне Раевский в Краснодарском крае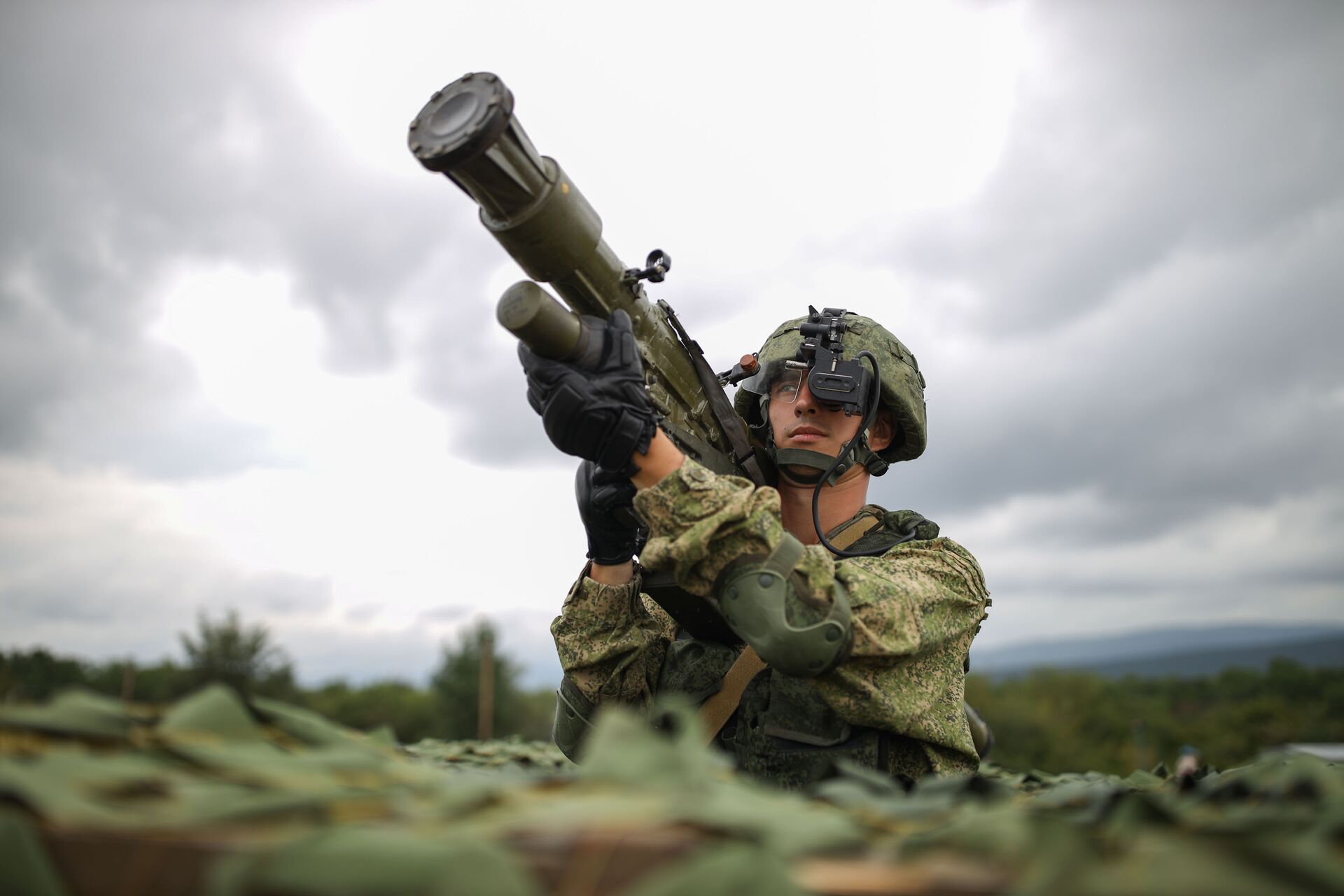 Военнослужащий с переносными зенитным ракетным комплексом (ПЗРК) "Игла" на показательных выступлениях в честь Дня ВДВ на полигоне Раевский в Краснодарском крае
© Sputnik / Vitaliy Timkiv
/
Russia Offers Make-in-India Light Tank
Rosoboronexport has offered to create a light tank to meet Indian Army requirements in partnership with a private sector Indian company.
Rosboronexport head, Alexander Mikheev told Russian media, "We are currently successfully cooperating with Indian state and private enterprises, jointly entering tenders of the Ministry of Defence of India, taking into account all the requirements of localization of production."
"Together with our partners, we plan to offer a light tank that will be jointly developed on the basis of the technological reserve available in Russia and India."
In April 2021, the Indian Army issued an initial Request for Information (RFI) to vendors for the procurement of 350 new generation light tanks, less than 25-tonne in weight, in a project under the "Make in India ethos" with requisite transfer of technology.
According to the RFI, the shortlisted vendor will retain ownership of the tank's design and technologies to further the Indian government's push to achieve material self-reliance.
The leading contenders to fulfil the IAF requirement are:
1.
Russia's 18-t, 450-hp Sprut SDM1 light tank.
2.
South Korea's Hanwha Defence's 25-t, 750-hp K21-105 light tank
3.
DRDO's under development light tank Zorawar, which is poised to start winter trials in December.
DRDO's Zorawar tank is likely to be the front runner for procurement, if it meets user expectations. However, Rosoboronexport's Sprut SDM1 has some significant advantages - it can be airdropped and features a 125 mm tank gun which can use all the ammunition
produced in India
for T-72M1 and T-90S tanks.
Russia First Floating Tank
© Sputnik / Rostech press service
/
Conclusion
Despite US efforts, Indian interest in Russian weapon systems is likely to remain strong because:
1.
Russian weapon systems often represent a more cost effective alternative to Western weapon systems;
2.
Russia is more amenable to technology transfer than any western country;
3.
Russia has never resorted to sanctions in the past and factoring in its experience with the West, is unlikely to ever resort to sanctions.
The surge in India's import of US weapon systems over the past decade is better explained as a quid-pro-quo for lifting of US championed nuclear power generation fuel and equipment sanctions against India, than a truly deepening defence partnership.
Russia is likely to remain a leading supplier of defence equipment to India, not only because of India's past investment in Russian weapon systems, but also because Russian weapon systems often make more sense for countries with limited defence outlays.
According to the Stockholm International Peace Research Institute (SIPRI) figures quoted by a Reuters report, Russia accounted for 45% of India's arms imports between 2018 and 2022, with France providing 29% and the United States 11%.
As to US sanctions, Russian Federal Service for Military-Technical Cooperation chief Dmitry Shugaev told Sputnik on November 13 that the
demand for Russian military equipment
abroad is not decreasing despite sanctions, with the portfolio of arms orders remaining at a level of $50-55 billion.
"...Despite attempts to put pressure on our partners and discredit Russia, the demand for Russian military products is not decreasing. And we are confident that the export targets set for this year will be met," Shugaev said on the sidelines of the Dubai Airshow-2023 international exhibition.