Therefore, this column aims to provide a research-based analysis of the current situation, focusing on the nuclear capabilities of India and Pakistan, analyzing the nature of the arm race between two countries, uncovering the role of international players in promoting the culture of weaponization in South Asia, and its implication on the peace of the region.
It is nicely said by Carl Sagan: "The nuclear arms race is like two sworn enemies standing waist deep in gasoline, one with three matches and the other with five."
Both countries are beefing up their nuclear and conventional arsenals, increasing tensions. Both sides'
missile tests
and military drills have increased the likelihood of a devastating conflict. As India and Pakistan continue their arms race and develop ever-more-powerful weapons, their neighbors in South Asia grow increasingly concerned. Ababeel, Pakistan's medium-range ballistic missile, was the first in South Asia to feature
multiple targetable re-entry vehicles
.
India has been busy creating and testing cutting-edge weaponry. Their most recent medium-range ballistic missile, the Agni Prime (Agni-P), had its maiden
successful pre-induction night launch
in June 2023. The Agni-P is a two-stage, solid-fueled rocket that can deliver nuclear or conventional warheads over a distance of 1,000 to 2,000 km. In addition to the Nirbhay class long-range cruise missiles, India is also purchasing the Russian-made Igla-S man-portable anti-aircraft missile system for its armed forces.
© Photo : DRDO India
First Pre Induction night launch of New Generation Ballistic Missile Agni Prime was successfully conducted off the coast of Odisha on 07 June 2023.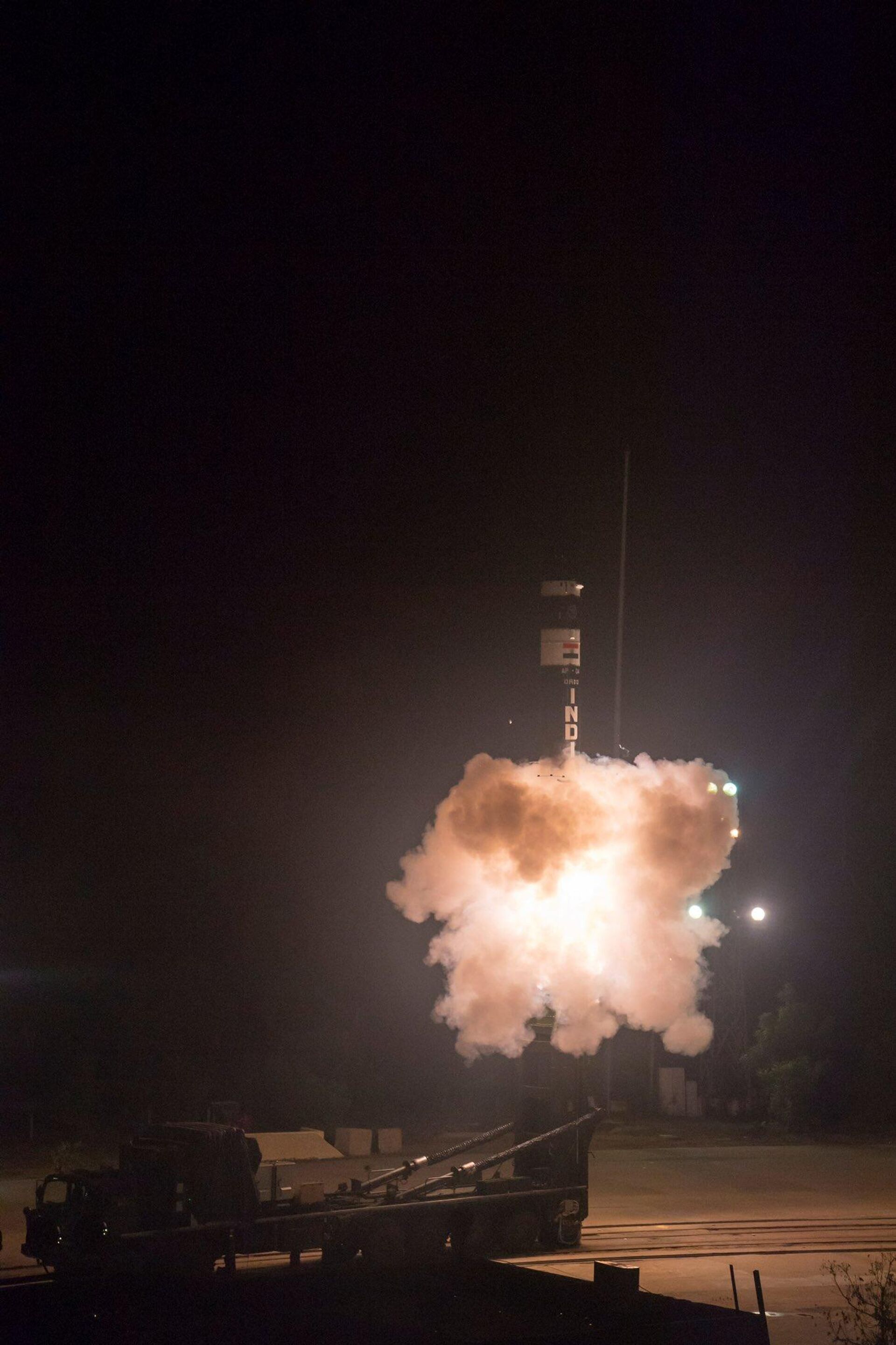 First Pre Induction night launch of New Generation Ballistic Missile Agni Prime was successfully conducted off the coast of Odisha on 07 June 2023.
To confront China's air defense system and the BrahMos Supersonic Cruise Missile,
India recently tested the Pralay Missile
. According to the experts, the key goals of India's missile development program are to increase the country's ability to repel threats and to preserve its strategic independence. They say India's missiles are primarily for defense and not offense.
© Photo
Surface-to-surface missile 'Pralay'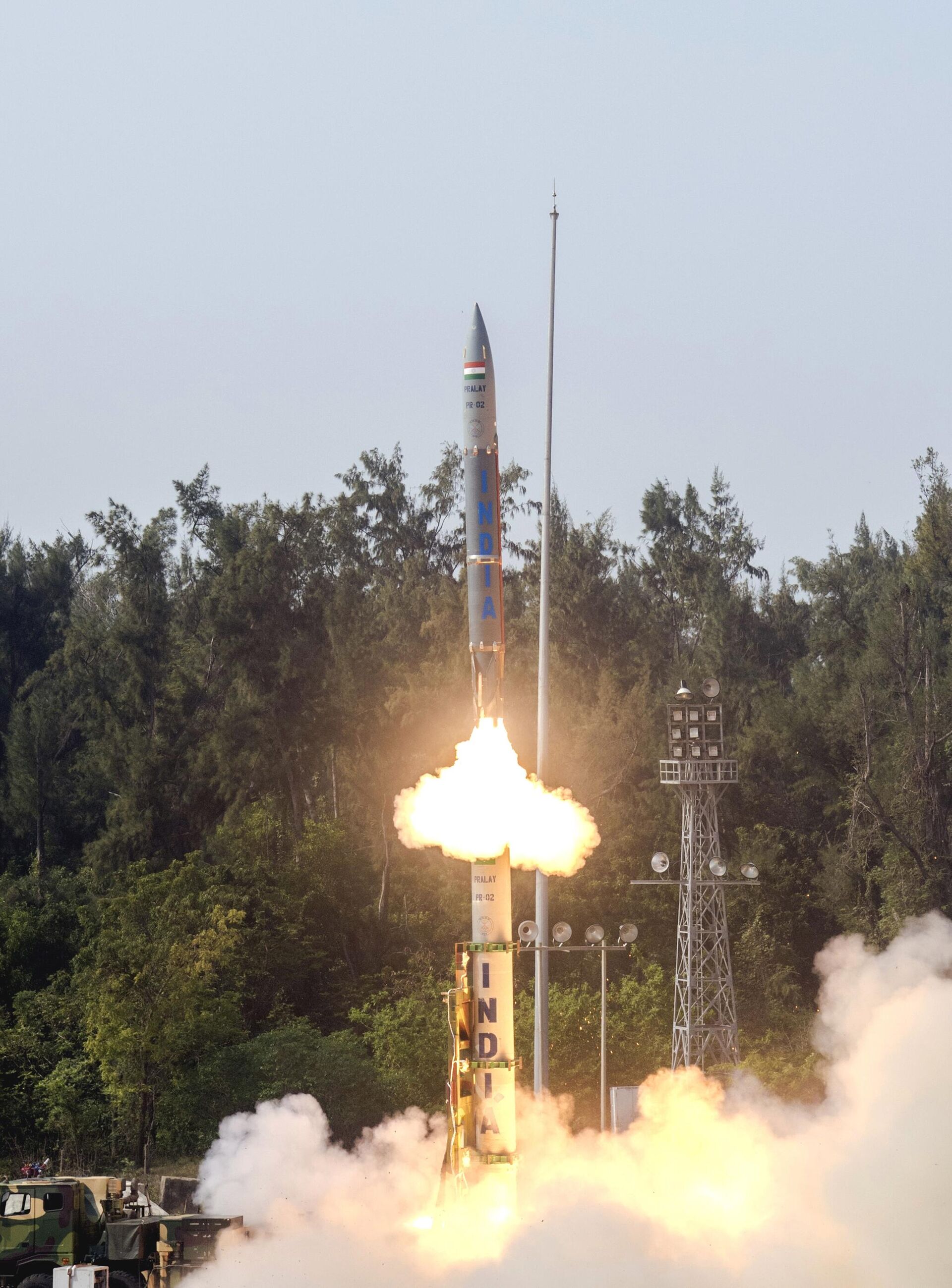 Surface-to-surface missile 'Pralay'
Reports that Pakistan has successfully tested its new Ababeel missile system have stoked worries about a regional arms race. Analysts who follow India's defense advances have also taken note of the country's missile testing.
Pakistani origin Zafar Nawaz Jaspal, a defense analyst and professor, points out that "the Cold War's aftermath, the balance of power game, and the security dilemma have led to an arms race, nuclear proliferation, and missile development among South Asian nations, especially India and Pakistan. The area has continued to experience a weapons race and terror due to India and Pakistan's refusal to hold further negotiations."
The Escalating Arms Race in South Asia: A Ticking Time Bomb
The growing arms race between India and Pakistan in South Asia is causing anxiety among security experts. India is in danger of a nuclear clash or a two-front war due to the proximity of these nuclear-armed countries in the event of a military confrontation. The lack of an explicit mutual defense pact in China and Pakistan's strategic alliance adds complexity to the situation.
Harsh V. Pant, a security analyst and professor, expressed,
"China and Pakistan have strengthened their nuclear arsenals and military technologies, posing a security hazard and nuclear conflict. Changes in global power dynamics and advancements in military technology, such as nuclear weapons and more sophisticated delivery systems, have eroded South Asia's strategic stability. This instability is the result of many different factors, including accidental nuclear escalation, terrorism, border disputes, and poor ties between India and Pakistan due to both internal politics and external factors."
Moreover, India and Pakistan have been modernizing their nuclear arsenals for twenty years. Pakistan employs a strategy known as "full spectrum deterrence," which allows for nuclear war in response to limited conventional conflict. They created both ground-based and airborne cruise missiles with the capability of delivering nuclear warheads. However, India is expanding its arsenal of cruise missiles, reentry vehicles, and independent targetable reentry vehicles in order to create a flexible preemptive counterforce nuclear capability. India's "triad" of delivery technologies enables the country to fire nuclear weapons from aircraft, land, and sea.
© AP Photo / Gurinder Osan, File
Brahmos Missiles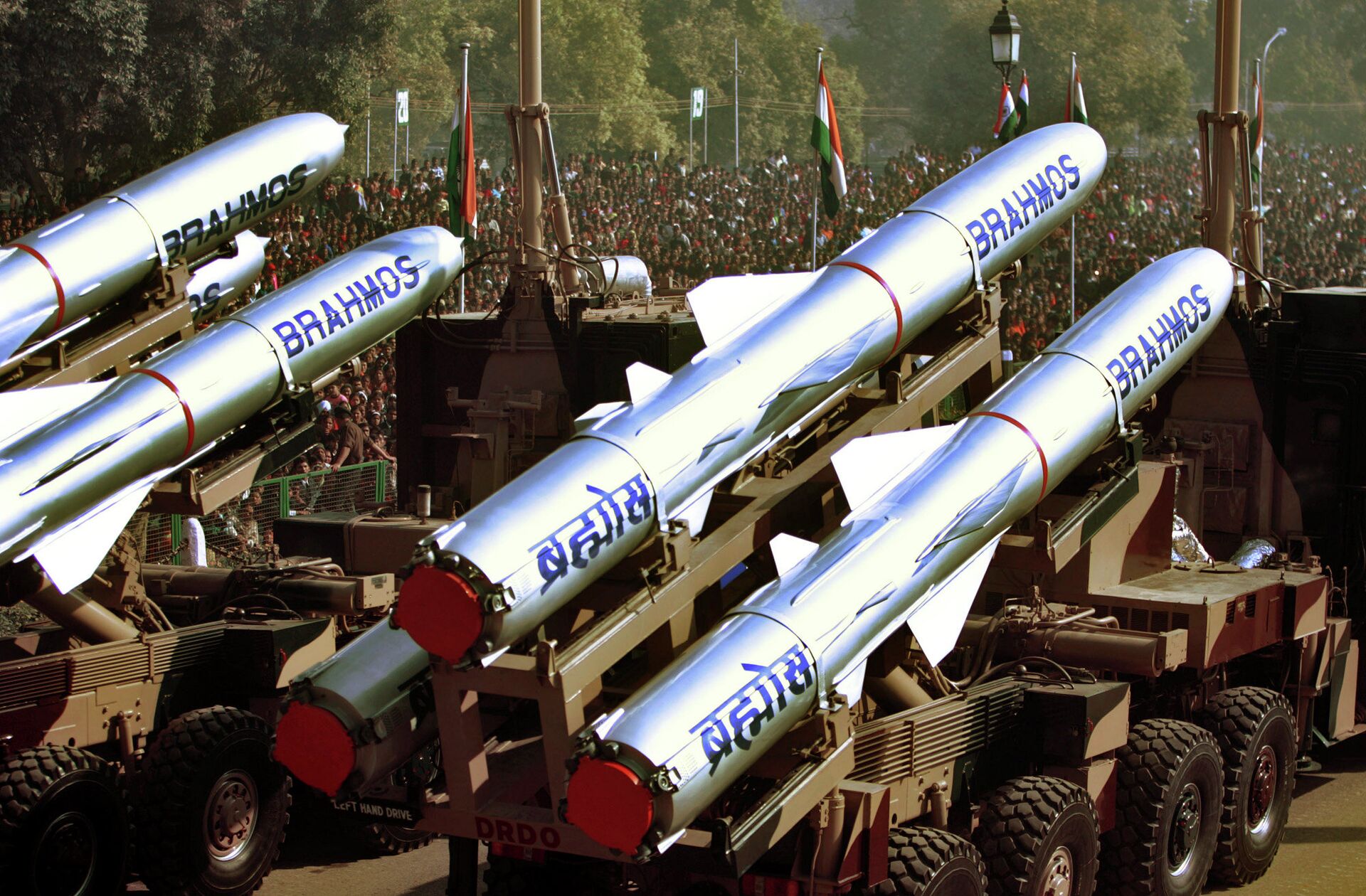 Brahmos Missiles
© AP Photo / Gurinder Osan, File
Both nations are vulnerable to preemptive strikes due to their improved nuclear arsenals. This security hole could potentially trigger a nuclear arms race with catastrophic consequences. The fear of China and Pakistan is what motivates India to develop its nuclear arsenal.
Galwan Clash
2020 has amplified the tensions between China and India, which is fueling India's nuclear expansion. India is looking for a reliable defense mechanism. In this regard, India has developed the Prithvi missile with a range of 350 kilometers, while Pakistan has developed the Ghaznavi missile with a range of 290 kilometers. Strategic goals in their domains are both discouraged and targeted. Pakistan's Shaheen III missile can travel 2,750 kilometers, while India's Agni IV can travel 4,000 kilometers. The intermediate range of ballistic missiles allows them to strike deep inside enemy territory.
Moreover, India has contemporary air-to-air missiles like Python, Meteor, and Astra to defend its airspace, while Pakistan has air-launched cruise missiles (ALCMs) like Ra'ad I and II for precision strikes. India's BrahMos supersonic cruise missile is versatile and fast and can be set up in a number of different ways. With the launch of the Ababeel medium-range ballistic missile, Pakistan took another step toward evading India's missile defenses, thanks to the missile's incorporation of multiple independently targetable re-entry vehicles (MIRVs).
Brahma Chellaney, India geostrategic, said, "Modern missile systems are seen as crucial to the safety and prosperity of India and Pakistan. But both nations need to exercise restraint and keep lines of communication open in order to avoid missteps and unintended consequences. To address the underlying causes of the arms race, both countries should promote engagement and confidence-building with India and Pakistan."
"The armaments race between India and Pakistan in South Asia is a ticking time bomb. Both countries' armed forces are getting more sophisticated missile weapons. If we want to keep the peace, diplomacy has to win out over military advancement. There must be talks, diplomacy, arms control, and regional cooperation between India and Pakistan. The international community is helping to keep peace in South Asia by encouraging diplomatic talks between India and Pakistan," Zafar Nawaz Jaspal, a professor of international relations and security strategy, said in Arab News.
Historical Background: The Unveiling of the Untold Saga of the Indo-Pak Conflict
"The ghosts of British colonialism continue to haunt South Asia, with hatred, arm races, security issues, territorial disputes, and conflicts among countries still raging on. The Kashmir issue is a prime example of the dirty policies and agendas of the colonizers. The British sowed the seeds of division and discord, pitting India and Pakistan against each other. It's high time we break free from this colonial legacy and work towards a peaceful resolution for the people of Kashmir, who have suffered far too long," Shashi Tharoor, a former international civil servant, diplomat, bureaucrat, politician, noted writer, and public intellectual.
"The sun never set on the British Empire, an Indian nationalist later sardonically commented, because even God couldn't trust the Englishman in the dark."
Since
disintegration of the British Raj
in 1947, the tensions have been escalating over territories between India and Pakistan. The Kashmir issue has not been resolved until today. In terms of military capability, both countries have developed their capacities to contest other states at the demise of the Soviet Union in 1991. Recent studies found evidence that India and Pakistan are actually increasing the trend of developing weapons of mass destruction (WMD), particularly nuclear weapons. One huge security issue occurred in 1998 when India decided to conduct nuclear tests, followed rapidly by Pakistan in the following years. It was considered a contested nuclear and military power by two great nation-states in the South Asia region. Regardless of the fact that some progress toward a peaceful resolution between India and Pakistan has been agreed until today (such as line control between India, Pakistan and China), the shootout occurred in Line of Control in 2012 contributed to the complexity of the region. Thus, we can see that the legacy of the Cold War is still competing in India-Pakistan relations.
© AP Photo / Anjum Naveed)
A Pakistan army soldier stands guard at hilltop post at a forward area on the Line of Control (LOC), that divides Kashmir between Pakistan and India. (File)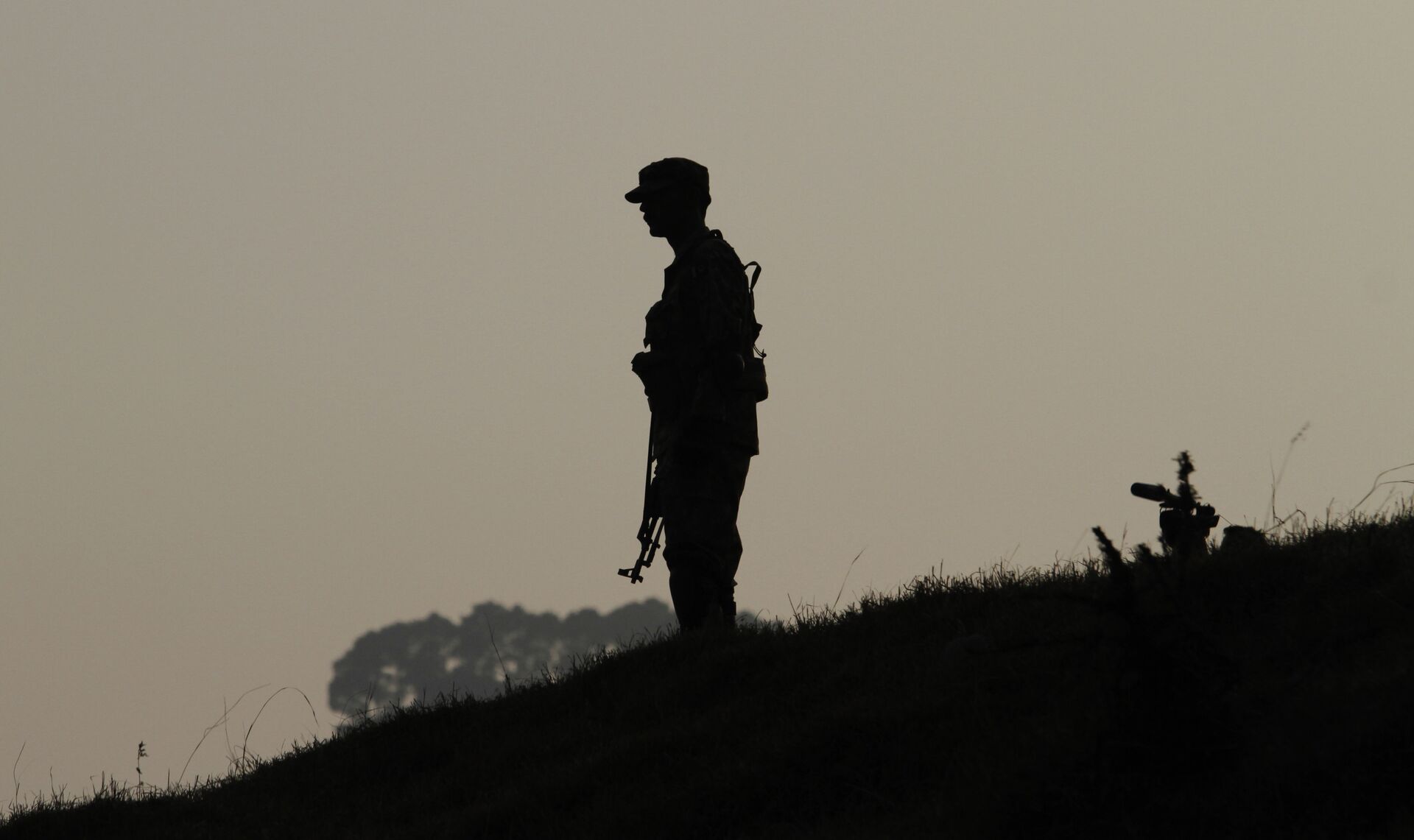 A Pakistan army soldier stands guard at hilltop post at a forward area on the Line of Control (LOC), that divides Kashmir between Pakistan and India. (File)
© AP Photo / Anjum Naveed)
Conflict between India and Pakistan has plagued South Asia for many years. Both countries have been at odds over Kashmir since they gained independence from the British rule in 1947, which has resulted in four wars between them. This rivalry has led to the creation of cutting-edge military systems, including nuclear-capable missiles, as a result of historical grudges, territorial disputes, and ideological divisions.
Since 1947, when British rule in India came to an end and it was partitioned, India and Pakistan have been at war with each other. There was an escalation when
India backed the Soviet Union
and Pakistan backed the US. India had to reevaluate its security strategy after the fall of the Soviet Union because it no longer had access to Soviet aid. In order to protect itself from Pakistan and China, India bolstered its armed forces.
India and Pakistan both joined the nuclear club after withdrawing from the Nuclear Non-Proliferation Treaty (NPT). Both India and Pakistan conducted nuclear tests in 1998, setting off a nuclear arms race. Their conflict brought attention to the so-called "balance of power and security dilemma," which ultimately led to higher levels of defense spending and more advanced weaponry.
© Twitter/@NewsIADN
11 May marks the 25th anniversary of National Technology Day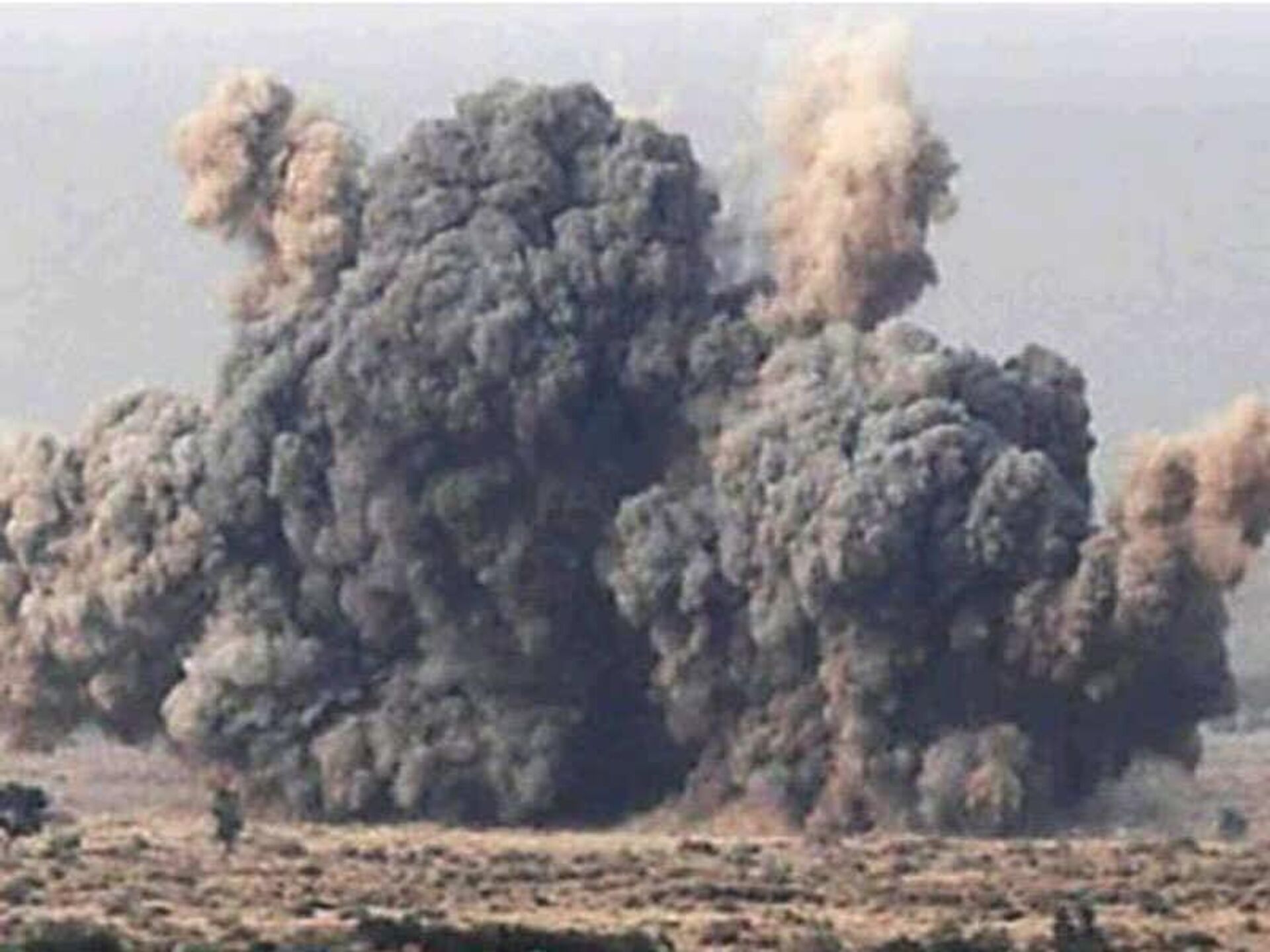 11 May marks the 25th anniversary of National Technology Day
A Complex Landscape of Rivalry and Weaponization
"The uneasy nuclear balance between India and Pakistan is being unsettled by India's competition with China and Beijing's competition with the US," said Debak Das, a professor of Stanford University and Security and an affiliate of the Center for International Security and Cooperation (CISAC).
"The India-Pakistan nuclear dynamic has long been a concern, indeed a nightmare, for security analysts. The Korbel School's Debak Das argues that the growing India-China rivalry and China's growing nuclear competition with the United States add new dimensions to this long-standing problem and create additional risks for nuclear escalation," said Daniel Byman, an expert at the area of terrorism, the Middle east, and Asia.
The potential for a regional escalation is higher as a result of the competition between India, Pakistan, and China, which has led to improvements in military technology and organization. India's comments about abandoning its no-first-use policy and Pakistan's deteriorating domestic political situation with frequent civilian-military disagreements are both sources of international concern.
The Shaheen III missile test launch strengthens Pakistan's commitment to credible minimum deterrence. The arms race between India and Pakistan will only lead to tragedy for both countries. The insecurity in South Asia has been worsened by India's attempts to counter China's military might. India's nuclear program is critical since China is expected to have 1500 nuclear bombs by 2023.
© AP Photo / Anjum Naveed
Pakistani-made Shaheen-III and Ghauri missiles, that are capable of carrying nuclear warheads, are displayed during a military parade to mark Pakistan National Day, in Islamabad, Pakistan, Wednesday, March 23, 2022.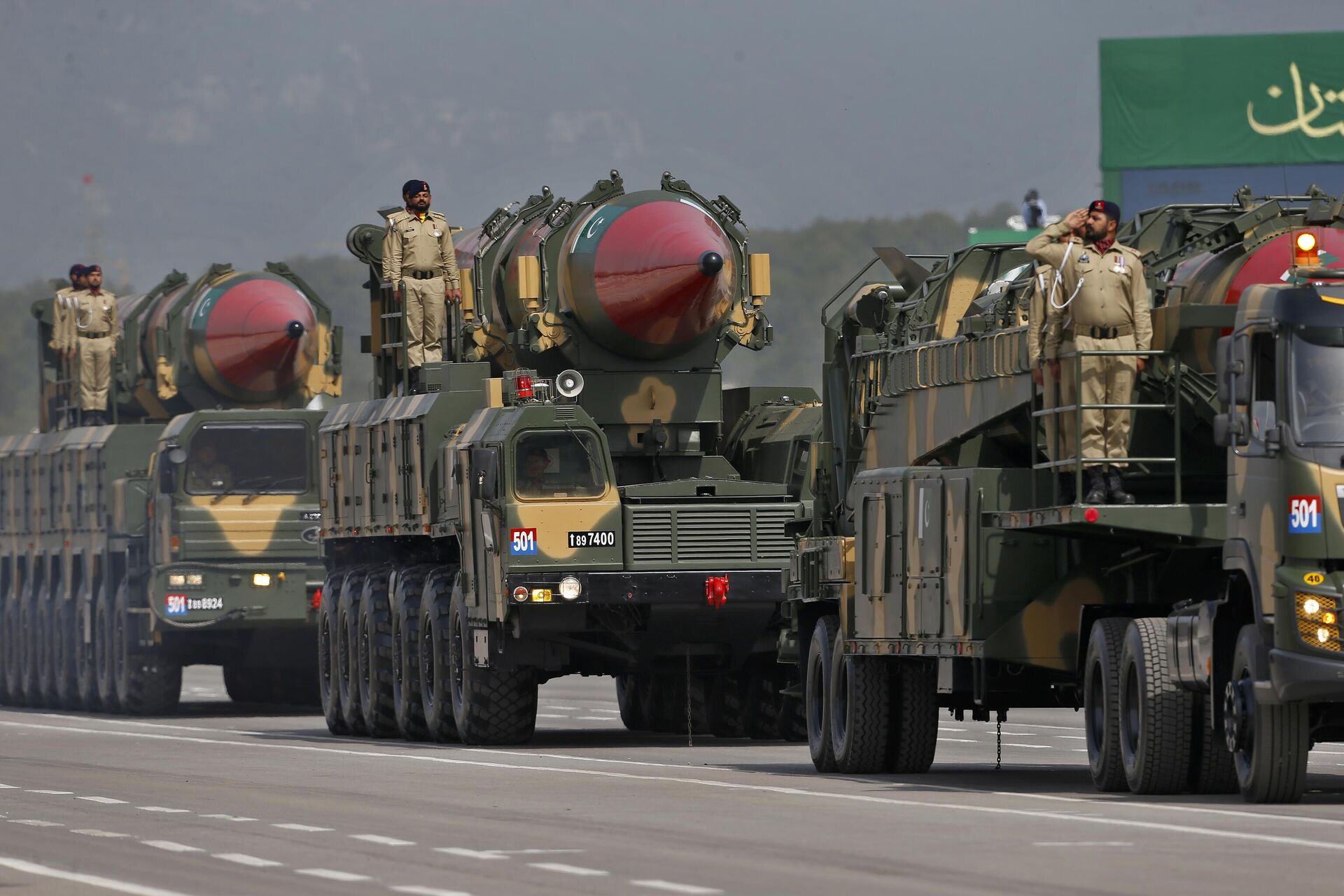 Pakistani-made Shaheen-III and Ghauri missiles, that are capable of carrying nuclear warheads, are displayed during a military parade to mark Pakistan National Day, in Islamabad, Pakistan, Wednesday, March 23, 2022.
© AP Photo / Anjum Naveed
According to the professor of International Relations and Strategic Culture Rajesh Kapoor, "the case of deterrence, balance of power, and security dilemma in the region are all important theoretical debates and concepts to grasp in this volatile area. Pakistan and India developed nuclear weapons to deter each other. India is making its arm forces strong by making advanced weapons, missiles, and modern nukes to not only deter Pakistan but also giant China and its large and advanced arm force. Stability requires no single state or combination of states to dominate, according to the balance of power theory. Boosting security tends to lead to a security paradox when the acts of one state are regarded as a threat by another."
The human rights activist and ex-federal minister of Pakistan, Shireen Mazari, said: "The growing arms competition between India and Pakistan has serious potential consequences. The economies and human development landscapes of both countries may suffer if military spending is prioritized over development and human welfare. Whether accidental or deliberate, a nuclear battle between the two countries may have disastrous effects on the area and the world. It is worth mentioning that global powers with an economy dependent on weapons and arms stand to gain from the increasing militarization of Pakistan and South Asia. It's possible that these countries aren't motivated to end the territorial conflicts between Pakistan, India, and China because doing so could hurt their military and arm sales."
The Role of Great Powers: Shaping South Asia's Security Landscape
South Asia, a region brimming with diversity, geo-economic and geo- strategic significance, is unfortunately also a hotbed of political tensions and security concerns. The ongoing conflict among India, Pakistan and China, simmering for decades, has been intensified by the involvement of major global powers, each with their own geopolitical, geo-economic interests and strategic ambitions.
The great powers, their war- based economy and geo-strategic and geo-economic interests have played a destructive role in shaping South Asia's security landscape, often providing advanced military support that has intensified the arms race between India and Pakistan. While these great powers may claim to be promoting peace and stability, their actions have often had the opposite effect, fueling tensions and making it more difficult for the two nuclear-armed rivals to resolve their differences amicably.
In this regard, geostrategic experts have long cautioned about the dangers of great power interference in South Asia's unpredictable dynamics. As Professor Sumit Ganguly of Indiana University states, "The involvement of external powers has made it more difficult for India and Pakistan to find common ground and negotiate a peaceful resolution to their disputes."
At the same way, As renowned geo-strategic analyst Brahma Chellaney aptly puts it, "The Sino-American rivalry has turned the Indian subcontinent into a battleground for strategic supremacy, with India and Pakistan becoming pawns in this dangerous game."
Conclusion
Therefore, in order to prevent a disastrous consequence, it is imperative that the ongoing conflict and arms race between Pakistan and India be addressed. The presence of nuclear weapons in South Asia presents a significant risk; thus, measures to decrease the quantity of nuclear weapons in the area and to maintain open lines of communication are crucial. Only if the international community continues to support diplomatic interventions and regional collaboration will peace and stability be preserved. Crucially important territorial disputes, like the one in Kashmir, can be resolved with the assistance of Russia.
It is a new time, a new horizon, and the emergence of a new world order for the two countries to set aside their disagreements and historical grudges and begin cooperating for the greater and collective benefit.
However, as Ban Ki Moon rightly says, "The world is overarmed and peace is underfunded."